Commentary
Be careful with this team, Eugene
Less than a week after Eugene Melnyk made an ill-advised suggestion to fans -- saying if they thought the Ottawa Senators needed to be rebuilt, they should bomb themselves -- the mercurial owner approved the firing of coach Craig Hartsburg, signaling the official end of the Senators' long run as Cup contenders and playoff regulars.
Speaking of bombs, were you a bit surprised to find that one went off so close to you, Eugene?
What was that you were saying about the team needing just 26 or 27 wins down the stretch to make the playoffs, Eugene?
[+] Enlarge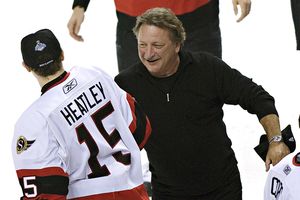 AP Photo/Frank GunnEugene Melnyk bought the Ottawa Senators and their arena out of bankruptcy in August 2003.
Funny how you never hear Mike Ilitch suggesting to Red Wings fans that they should detonate themselves when things go bad in Detroit or San Jose president and CEO Greg Jamison suggesting Sharks fans can drown themselves in the Pacific when the Sharks don't meet expectations.
Somewhere there's a lesson, don't you think, Eugene?
Reminds us of the title of an old Pink Floyd song, "Careful With That Axe, Eugene." A word to the wise perhaps? Careful with that team, Eugene. Or is it too late?
If the Senators' march to the 2007 Stanley Cup finals represented a high watermark for a team that for the better part of a decade was a model of drafting and development and regular-season success, then the ensuing 20 months are a sobering reminder of how chaos, just like success, runs downhill.
No mistake, this is a team in transition, if not total chaos.
When a team goes through four coaches in about a year -- John Paddock, Bryan Murray, Hartsburg and new coach Cory Clouston -- it's hard not to draw the conclusion that this is a ship adrift.
Murray, who coached that Senators team to the 2007 finals before assuming the GM title that offseason, can certainly be held accountable, and he said as much Monday morning when he introduced his former AHL coach as the man to lead the Senators out of the wilderness.
"It definitely is on my shoulders," Murray said.
Murray, who helped build the Anaheim Ducks into a Stanley Cup champion as GM before taking the head-coaching job in Ottawa ostensibly to return home after the lockout, is a smart hockey man. That's what makes this team's dramatic decline so puzzling. Even Murray seemed perplexed Monday as to what happened to the once-dominant Senators.
But as much as Murray's personnel and coaching decisions are subject for debate and criticism, Melnyk's fingerprints are all over the Sens' decline.
In hindsight, it seems to have been a rush to judgment to fire John Muckler weeks after the 2007 playoffs ended. While Murray had a strong record as a GM, the hiring of Paddock, long removed from being an NHL coach, to replace Muckler was a disaster. Paddock was fired with 18 games left in the season and Murray took over to guide the Sens to a first-round sweep at the hands of the Pittsburgh Penguins.
Then, this past summer, when top young coach Peter DeBoer was available, sources tell ESPN.com it was Melnyk's abrasive style that cooled DeBoer on the Senators' job. In fact, it was immediately after DeBoer's visit to Melnyk's home in the Barbados that DeBoer was hired by Florida Panthers GM (and former Ottawa coach) Jacques Martin. It is no coincidence DeBoer has the Panthers in a playoff spot and the Senators are now looking like a draft lottery team.
Other sources told ESPN.com Murray has privately lamented his decision to hire Hartsburg in the offseason and wishes he had hired a coach more closely tied to NHL coaching, like Bob Hartley.
Now, with this season a wash, Murray hopes he has finally got his DeBoer in Clouston.
"This is a good coach and I say that wholeheartedly," Murray said of the 39-year-old Clouston, a former University of Alberta player and successful Major Junior A coach.
A cynic will suggest that Murray simply promoted Clouston to save costs. Yet Murray said Monday he had full control over replacing Hartsburg, including hiring a veteran coach, but believes Clouston is the right man for the job. That Murray didn't get the right man in the offseason is an indictment of both ownership and the inability of management to do what was best for the team.
What now?
Murray had better hope he is right and Clouston is the kind of coach who can discern the wheat from the chaff in the Senators' dressing room. The March 4 trade deadline is a month away and, over that time period, Clouston and Murray will try to determine who deserves to be part of this team's future.
"We have to watch the players over the next period of time and determine who stays and who doesn't stay," Murray said. "There will be judgments made before the trading deadline."
Murray met with his team Monday morning and told them he believes there are good people in that dressing room.
For the sake of Ottawa fans, here's hoping ownership finally lets the hockey people make the hockey decisions and finds out whether Murray is right.
Scott Burnside covers the NHL for ESPN.com.
Hockey writer for ESPN.com
10 years at Toronto Sun, Windsor Star and National Post
Wrote best-selling true crime book "Deadly Innocence"
EDITORS' PICKS
McDonald: Vezina champ Henrik Lundqvist returned for the Rangers but it wasn't enough as the Bruins came up with a big win Saturday.
Story »

The fall of Jimmy Howard will only help the rise of Petr Mrazek in Detroit's net. Who else is making noise in the push for the playoffs?
Strang »

With seven guys within five points of the league scoring lead, who better to break down the Art Ross Trophy race than The Great One.
LeBrun »
MOST SENT STORIES ON ESPN.COM