Commentary
Devils' circle of shame now complete
Take all the emotion of the season out of the equation and the New Jersey Devils' firing of coach John MacLean two days before Christmas still remains one shoddy piece of work.
It is the work of an organization without a soul, and without a clue.
With Thursday morning's announcement -- that president and GM Lou Lamoriello followed a well-worn, circular path and brought back Jacques Lemaire for a third stint behind the New Jersey bench starting Thursday night against the equally inept New York Islanders -- the Devils' circle of shame is now complete.
For years, in many people's eyes, Lamoriello could do no wrong. He built a three-time champion out of a raggedy organization and he did it with quiet ruthlessness. It was Lou's way or the highway. And there was a kind of reverence at how Lamoriello managed to create a kind of cult of success even though his style seemed more than a little counterintuitive.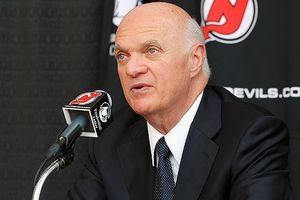 Andy Marlin/Getty ImagesLou Lamoriello has been the Devils' GM since 1987, the longest tenure of any current GM in the NHL.
But those days of winning are long gone; so, too, is any reverence for how Lamoriello conducts his business. Or at least it should be.
Top players have been fleeing Lamoriello and the Devils at the first opportunity since the lockout, and coaches have come and gone like last-minute shoppers at Macy's. And there comes a time when winning fails to cover up the disconnect with the realities of the "new" NHL. Like the sad little drama that played out Thursday morning, for instance.
You can blame owner Jeff Vanderbeek for pursuing free-agent forward Ilya Kovalchuk no matter the cost (and the cost was incredibly steep); and if the rumors are true that Vanderbeek pushed Lamoriello into the deal against his will, then Lamoriello should have done the honorable thing and walked away with his integrity intact this past summer.
If, as Lamoriello has stated all along, the deal was his and his alone (as are all the decisions related to how this team came to be), then the hard truth is Lamoriello should be fired for having run this once proud organization into the very ice of the Prudential Center.
Let's be clear, the Devils' problems go far beyond the Kovalchuk signing and its cost (a cadre of young talent in the initial trade with Atlanta before last season's trade deadline, and a $3 million fine and two draft picks in the subsequent sanctions from the NHL after the first contract offer was ruled to have contravened the collective-bargaining agreement). But the costs are at the core of a host of interconnected issues that suggest this season's freefall is not a blip on the radar, but a harbinger of things to come.
There were the ill-advised contracts offered to Brian Rolston, Bryce Salvador and Dainius Zubrus and the ill-advised reacquisition of Jason Arnott. The current salary cap situation makes re-signing Zach Parise, who is set to become a restricted free agent July 1, problematic if not impossible.
MacLean was an iffy replacement for Lemaire, who was forced out of the position after the team's third straight first-round playoff exit. The longtime Devils player and assistant/minor league coach was chosen because the Devils do things their own way, which means rarely jumping outside the box, not because he was considered a great coaching mind, a la Guy Boucher or Dan Bylsma.
There is a reason there are laws against marrying within a family. It destroys the gene pool, produces physical and mental deficiencies. The Devils have never learned this lesson. Instead, they recycle and recycle, a shocking conceit that only Devils know how to be Devils. Larry Robinson, Lemaire, Bobby Holik, Arnott, Rolston. "Out with the old and in with the old" is the mantra by which the Devils live and die.
Instead of reaching out to the kind of coach he should have hired this past offseason -- a guy like Bob Hartley, who won a Cup in Colorado and coached Kovalchuk when the Russian sniper was at his best in Atlanta, or Ken Hitchcock, or Craig MacTavish -- Lamoriello hired MacLean.
Then, after defending him to the hilt, after pledging to "stay the course," after insisting over and over he had no problem with the coaching staff, Lamoriello fired MacLean two days before Christmas. Even after making the move, Lamoriello was telling reporters Thursday he still thought MacLean was a fine coach.
Huh?
One person who isn't likely to be laughing at the latest recycling job in New Jersey is captain Jamie Langenbrunner. Langenbrunner and Lemaire didn't exactly see eye-to-eye last season, and with Langenbrunner set to become an unrestricted free agent at the end of this season and the Devils having grossly mismanaged the salary cap, you don't need to be clairvoyant to see Langenbrunner's time in New Jersey is limited.
Yes, Langenbrunner does have a no-trade clause, but one would have to assume getting out of New Jersey would be a welcome relief for the classy Langenbrunner if he was approached about waiving his no-trade clause. Langenbrunner won't likely be the only player asked about moving out; the Devils will have some serious housecleaning to do before the trade deadline if they're going to try to right the ship financially, let alone on the ice.
If Lamoriello's motivation for bringing back Lemaire appears clear -- do what's easiest, do what's most familiar -- you have to wonder about Lemaire's motivation for coming back to a club that is the worst in the NHL.
He looked tired by the end of his one-season stint behind the Devils' bench last season when the seventh-seeded Philadelphia Flyers ate the Devils' lunch in five games in the first round.
What is Lemaire's appetite for coaching a team that was 18 points in arrears of the last playoff spot as of Thursday? More to the point, what does Lemaire bring to the table for a team too short on top young talent and too long in the tooth to jump back into the playoff hunt regardless of the nonsense Lamoriello was talking Thursday about it not being too late?
There are rumors Lemaire has agreed to come back for the remainder of this season and Lamoriello will go after Hartley in the offseason. Whether or not it's true, why not go after Hartley now?
The Devils will never be right again until Kovalchuk finds some sort of groove. The team has committed 15 years and $100 million, plus the other assets/fines, to Kovalchuk, so they better make him as comfortable as possible. The sooner Kovalchuk starts to make good on that commitment, the better for this team; logic suggests Lemaire isn't the answer for that, short term or long term.
Of course, logic seems now to be a forgotten element in how the Devils do business, and Thursday's shuffling of the deck chairs on their sinking ship illustrates that perfectly.
Scott Burnside covers the NHL for ESPN.com.
Hockey writer for ESPN.com
10 years at Toronto Sun, Windsor Star and National Post
Wrote best-selling true crime book "Deadly Innocence"
SPONSORED HEADLINES
MORE NHL HEADLINES
MOST SENT STORIES ON ESPN.COM
EDITORS' PICKS
LeBrun: The van Riemsdyks are putting family pride on the line when they faceoff on Saturday.
Story »

Watch: Man, these are some serious plays of the week. Totally.
Video

Hockey Today: Jason Spezza has found something special in Dallas.
Podcast
MORE FROM ESPN NEW YORK

Check out ESPN New York, your destination for sports coverage in the Big Apple.