Commentary
Owners to blame for Thrashers' failure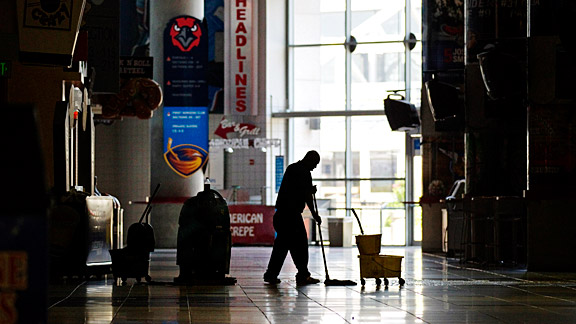 AP Photo/David GoldmanThe deal to bring the NHL back to Manitoba is worth $170 million with a $60 million relocation fee, a source told ESPN.com.
So hockey goes out in Atlanta not with a bang, but a whimper.
It goes meekly, a beaten dog with its tail tucked between its legs.
Driven out by foolish, incompetent owners, it goes into the welcoming arms of a city that couldn't hang on to its own NHL team the first time around.
Good for Winnipeg that it gets a second chance.
But good for the game?
That's another matter entirely and a question that won't be answered until the Jets Deux or Frostbitten Thrashers, whatever the former Thrashers will be called, go four or five more years without making the playoffs. We'll see how mediocrity plays in Winnipeg the second time around.
For all the flag-waving that the impending move of the Thrashers to Winnipeg has generated throughout Canada (or at least in much of the Canadian media), Winnipeg is a small outpost city in an unforgiving prairie. Players will not flock to play there. That is the reality.
Thrashers Attendance

Since the NHL lockout ended, the Thrashers' attendance has steadily declined and remained near the bottom of the league.
| Season | Attendance | NHL Rank |
| --- | --- | --- |
| 2010-11 | 13,469 | 28th |
| 2009-10 | 13,607 | 28th |
| 2008-09 | 14,626 | 29th |
| 2007-08 | 15,831 | 22nd |
| 2006-07 | 16,240 | 21st |
| 2005-06 | 15,550 | 22nd |
Think Edmonton has it tough? That city has hosted five Stanley Cup parades, yet players stay away in droves. They will stay away in droves from Winnipeg, too, no matter how much the city embraces this team.
Good for the game?
Winnipeg has a fraction of the corporate community that Atlanta has and even a fraction of the corporate community that beleaguered Phoenix has.
A corporate community is valuable only if it is committed to the franchise, if the business leaders can be sold on the team's value. It's no different than a coach selling his players on a system. There has to be buy-in, which often fosters success.
It has been so in Nashville, once considered the top candidate to relocate to Canada. Maybe Winnipeg will break even or turn a small profit even with its inherent corporate limitations. With ownership that appears to be content to withstand significant if not annual losses, maybe none of that matters.
It hardly seems like a guaranteed recipe for success, but that tells you just how badly things have gone in the South.
In Atlanta, for all its corporate might, the city never connected with the team. We know key sponsors who left the Thrashers in recent years for the simple reason that they did not believe in the team. They did not believe the Thrashers would be good enough to waste their precious money on. They did not believe in ownership or the product that ownership was putting on the ice.
And the sponsors reflected the feelings of most fans.
Who could blame them?
The very owners of the team didn't believe in the Thrashers, secretly trying to sell the team almost from the beginning in spite of the pap they tried to sell to their ever-shrinking fan base about being committed to the community.
One thing is certain as this sad little scene plays out: The demise of the Thrashers should be a cautionary tale to markets everywhere.
First, the Atlanta Spirit Group and its bungling of the team represents a blueprint on how to ruin a franchise, especially one in a nontraditional market.
We were asked recently, what was the high-water mark for this franchise? Was it the two lone home playoff games in 2007, when netminder Kari Lehtonen dyed his hair blue before then-coach Bob Hartley yanked him en route to a four-game sweep by the New York Rangers?
NHL Teams To Relocate
| Season | Move |
| --- | --- |
| 1997-98 | Hartford Whalers become Carolina Hurricanes |
| 1996-97 | Winnipeg Jets become Phoenix Coyotes |
| 1995-96 | Quebec Nordiques become Colorado Avalanche |
| 1993-94 | Minnesota North Stars become Dallas Stars |
| 1981-82 | Colorado Rockies become New Jersey Devils |
| 1980-81 | Atlanta Flames become Calgary Flames |
| 1978-79 | Cleveland Barons franchise merges with Minnesota North Stars |
| 1976-77 | California Seals become Cleveland Barons |
| 1976-77 | Kansas City Scouts become Colorado Rockies |
There were electric moments from Ilya Kovalchuk before he fled the team for New Jersey.
Dany Heatley was, along with Kovalchuk, the team's first bona fide star. Had a modicum of talent surrounded that duo, the Thrashers should have been able to generate something akin to a following in the city. But Heatley pleaded guilty to second-degree vehicular homicide in a 2003 car crash that took the life of teammate Dan Snyder, then asked to be traded in 2005.
And there was never enough of anything else -- goaltending, defense, structure.
Eleven years of futility, mediocrity and, in the end, indifference.
Apparently ignorant of how to build a fan base, ownership made no inroads in selling the game. It had no commitment to build a minor hockey program in Atlanta the way Dallas did when the Stars first moved there. There was nothing in Atlanta to compare to the grassroots initiatives in Anaheim, San Jose and Nashville.
In those markets, kids play the game, connect with the team, drag their parents and friends to games, buy merchandise and build a bond. Homegrown players' names from Texas and California and yes, Tennessee are called at NHL entry drafts every year. Ownership made sure of that in those markets, and if those teams left, there would be a scar on the community, a sense of loss.
In Atlanta, the Thrashers leave without creating a ripple on the surface of the community.
At a recent rally, the Atlanta Journal Constitution reported that a couple of hundred fans showed up. That isn't a market failing; that is a market that was failed by owners.
In the end, NHL commissioner Gary Bettman is making sure they pay the price for their failures. The NHL will exact a $60 million relocation fee from the Atlanta Spirit Group, along with other potential fees. So with the purchase price of the Thrashers at $170 million, a source told ESPN.com, the Atlanta Spirit Group will see just $110 million of it.
The only shame is that the owners will get that much for having ruined a market forever. Because know this: The NHL will never come back here. Thanks for that, Atlanta Spirit Group.
There is a common misconception that the NHL chose not to fight for the Thrashers. That theory is born out of ignorance. For months and months, Bettman and team president Don Waddell beat the bushes for an owner or ownership group to buy the team and keep it in Atlanta.
Bettman has shown himself to be resourceful in these matters, covering up ownership messes in Tampa with Jeff Vinik and Buffalo with Terry Pegula. He may even end up covering the sinkhole in Phoenix with Matthew Hulsizer.
No one stepped forward in Atlanta because it was a mess beyond saving, and the only alternative was to sweep that mess into a corner and give the people of Winnipeg the team they have been craving.
The only justice is that it cost the Atlanta Spirit Group dearly, being that it was its mess and its alone.
Scott Burnside covers the NHL for ESPN.com.
Hockey writer for ESPN.com
10 years at Toronto Sun, Windsor Star and National Post
Wrote best-selling true crime book "Deadly Innocence"
THRASHERS MOVING TO WINNIPEG