My plea to the NHL: Change the date
Updated:
October 8, 2006, 7:34 PM ET
By
Linda Cohn
| Special to ESPN.com
After just a few days, I have to say it: it's a great time to be a hockey fan.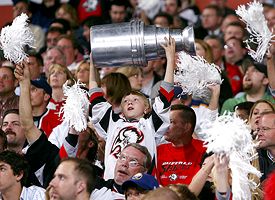 Photo by Dave Sandford/Getty ImagesLinda Cohn believes that die-hard hockey fans, young and old, shouldn't be the target for the NHL.
Unfortunately, I think you have to be a hockey fan to know, to feel that. You hockey fans see the NHL start date on the calendar, you know when it's coming. But if you're a casual hockey fan, do you look for that date? Do you really care that hockey is starting? Probably not, because you're locked into college football, the NFL, the MLB playoffs. You seriously are distracted by all of those things.
It's not easy being a hockey fan unless you're talking to a hockey fan. Why is it that when you tell someone you're a hockey fan, they give you a look like you just lost your wallet that held the winning lottery ticket? They proceed to sigh and say "I don't follow it" and quickly change the subject.
Bottom line: Hockey has been downgraded to a niche sport, it's not longer one of the "big four."
This is the one thing that really bothers me about the sport I love.
I love the NHL, but I wish the league would look at the bigger picture here in the sports world. The league always will have its core base of fans, the die-hard fans who will watch games on TV, the Internet, their telephones, on Mars!
But if the league really wants to build on the success of last season and really wants to increase its fan base, it seriously should consider starting the season three weeks later and shorten it by a month. You won't have players complaining that the season is too long. You can still make money with sellouts in the dog days of February.
It hurts me, and other hockey fans, to hear sports talk radio personalities rip the league, and that's when sports radio shows actually acknowledge that the sport even exists!
Maybe some of you who appreciate the sport will say you don't care if hockey isn't mainstream. You don't care if it's a niche sport, that it's "their loss" if sports fans choose to ignore hockey. I think it's the league's loss; the NHL never will see the potential gain in viewership and revenue if it doesn't fine-tune the schedule in the coming seasons.
So isn't it about time? Change the date on the calendar, NHL. Change it to help those lost souls fill that incredible void.
Hooked on hockey, Linda Cohn is an anchor for ESPN, ESPN2 and ESPNews. She has been with the network since 1992 and promises a gluttony of glove saves in her weekly column.
SportsCenter anchor
Linda Cohn joined ESPN as an anchor in 1992, was a SportsCenter staple and still hosts select SC shows. She has expanded her role with the network, hosting ESPNEWS' NFL Blitz and College Football Saturdays on ESPN2. She's also hosted coverage from the Super Bowl, WNBA Finals and the X Games.
SPONSORED HEADLINES
MORE NHL HEADLINES
MOST SENT STORIES ON ESPN.COM
EDITORS' PICKS
Burnside: The defending champions are accustomed to stepping up at the most crucial times, but time might be catching up with them this season.
Story »

McDonald: As big as Johnny Boychuk's presence has been to the contender Islanders, his absence has been equally devastating for the Bruins.
Story »

Burnside: It is clear their hopes for winning are tied to Max Domi and the highly anticipated draft.
Story »