Ferguson Jr. starts in unkind conditions
John Ferguson Jr. is qualified to be an NHL GM. But Toronto isn't the best place to be starting a career.
Updated:
August 30, 2003, 4:50 AM ET
By
Damien Cox
| Special to ESPN.com
First it was an American. Now a U.S. college boy.
One can only wonder how many times Conn Smythe can spin in his grave.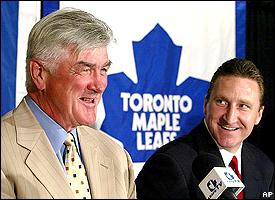 APPat Quinn, left, and general manager John Ferguson Jr. parted ways on Thursday.
The founder of the once great Maple Leafs franchise, of course, had trouble seeing eye-to-eye with French Canadians, let alone interlopers from across the U.S.-Canada border.
So, as if the trouble the franchise has had getting back to the level of NHL champion wouldn't be bad enough for Smythe -- if he's still observing from the great press box in the sky and didn't give up after the league expanded beyond the Original 21 -- he had to get a severe case of indigestion when U.S.-born Mike Smith ascended to the role of general manager in the late 1990s.
Smith didn't last long, but yesterday the club named 36-year-old John Ferguson Jr. as its new GM. As the son of a former Montreal Canadiens great, Ferguson has good ol' Canadian hockey bloodlines and was born in Montreal.
But he cut his competitive hockey teeth as the assistant captain of Providence College, once upon a time, and even managed to pick up a degree along the way.
So now Hockey East gets to exert its influence on English Canada's most famous team.
Spin, spin, spin.
Of course, if Ferguson can get the Leafs back to winning Stanley Cups on a semi-regular basis, say one every 15 years or so, the ghosts of old Maple Leaf Gardens will rest easier.
But man-oh-man, does this young man have a big job ahead of him.
For starters, he emerges from the most absurd, fouled up job search imaginable, a process that involved a three-man search committee made up of three men who don't like one another very much and included the outgoing GM, Pat Quinn, who will stay on as coach.
How do you think Ferguson managed to come up with the right answer in the interview when Quinn asked him whether he thought the team's coaching staff was solid?
Second, he moves into an organization in which all the jobs have been filled by Quinn loyalists, from the director of player personnel to the scouts to the head coach with the minor-league affiliate in St. John's, Newfoundland.
Third, he inherits a team that has decided, largely because of the influence wielded by the teachers pension fund that exerts majority control at the ownership level, to cut back on spending and stay out of major new player acquisitions.
Other than well-traveled defenseman Bryan Marchment, the Leafs didn't enhance their roster over the summer months at all. Veterans such as Jyrki Lumme, Shayne Corson and Jonas Hoglund were cut loose, while minute-munching rearguard Robert Svehla went home to Slovakia and apparently isn't coming back.
Finally, Ferguson has never run an NHL team before, or, for that matter, a team at any level. He did oversee the operations of the AHL Worcester IceCats, but that's a rather different job that doesn't involve trades, contracts, free-agent signings, drafting or other tasks normally associated with operating a team.
So this young man has to learn on the job while surrounded by pals of the old boss with no money to spend.
Congratulations, son.
Leafs fans, it's fair to say, were hoping for something more grand when team president Ken Dryden said the team was looking for a "star" when it commenced its search in late June. To many, it seemed possible the club would reel in a big name like it did in 1991 when it hired Cliff Fletcher away from the Calgary Flames.
But as the process moved forward with glacierlike speed, multiple candidates refused even to talk to the team because of the ridiculousness of the hiring process, specifically the presence of Quinn on the search committee.
| | |
| --- | --- |
| | So this young man has to learn on the job while surrounded by pals of the old boss with no money to spend. Congratulations, son. |
By the time the final candidates were announced, three -- Ferguson, Hockey Canada president Bob Nicholson and Vancouver assistant GM Steve Tambellini -- had no experience running an NHL team and never had been part of a Stanley Cup champion. Former Rangers GM Neil Smith was the exception to that rule and seemed for a time to be the favorite. But in the end, it seemed clear Quinn would use his influence to make sure a powerful, experienced new exec would not be brought to town to pull apart his carefully constructed hockey kingdom.
Ferguson's resume is eerily similar to that of Vancouver GM Brian Burke, also a former Providence player who became a lawyer, dabbled with being an agent, worked in the NHL offices and spent time as an assistant GM in the NHL.
Burke, who also worked with Quinn, has developed over time into a solid NHL manager after making lots of bold moves and few errors along the way in Hartford and Vancouver. That suggests that Ferguson, too, will need time to figure his way around the NHL maze and has the smarts to realize that his new peers will be looking to take advantage of him in the short term.
In turn, that's just more evidence to suggest the Leafs have no intention of going hard after a Stanley Cup this season but instead are, like many clubs, looking at the 2003-04 campaign as the beginning of a holding pattern that will last until a new collective bargaining agreement is constructed between the players and owners sometime in 2004 or 2005 ... or 2006.
Given that nobody in the Eastern Conference has done much to get better in recent months, this may not be terrible news for the Leafs. On the other hand, the Leafs share the province of Ontario with the Ottawa Senators, a team that came within one game of making it to the Stanley Cup finals last spring and has been newly solidified by the ownership of billionaire and hockey enthusiast Eugene Melnyk in recent days.
The flashy Canucks and Edmonton Oilers figure to be on the way up, and the Montreal Canadiens went out and hired Bob Gainey to be their new GM. Gainey is the same man who nearly became GM of the Leafs a year ago but was blocked by Quinn.
So within Canada, the Leafs remain hugely popular but may find themselves slipping to the lower part of the competitive pack with the Calgary Flames.
Ferguson won't be able to do much to halt this process in the short term as he'll be up to his eyeballs looking for friends in the organization and finding the key to the executive washroom.
He's considered a bright, young hockey guy, and brains from Sam Pollock to Keith Allen to Harry Sinden to Lou Lamoriello all had to get their start somewhere.
You just have to wonder whether a fellow who emerges from such a screwy, dysfunctional organization as the new savior really has much chance to succeed.
Damien Cox, a columnist for the Toronto Star, is a frequent contributor to ESPN.com.
Damien Cox, a columnist for the Toronto Star, is a regular hockey contributor to ESPN.com. In this role, he writes numerous columns on the NHL.
EDITORS' PICKS
LeBrun: With a quarter of the season remaining, we predict the winners of the NHL's biggest awards.
Story »

Hockey Today: What's it like to be traded? Ben Lovejoy, formerly of the Ducks but currently of the Penguins, lets us in on it.
Podcast

Roberto Luongo went from a hospital to the ice on Tuesday, meaning Florida's goaltending coach didn't have to play.
Pucks Central »
MOST SENT STORIES ON ESPN.COM