Here's who will be sitting at the NHL turkey table
Updated:
November 22, 2006, 11:08 PM ET
By
Damien Cox
| Special to ESPN.com
One of the great things about the NHL is that Thanksgiving comes twice.
Which, for many of us, means a double dip of turkey. Or turkeys, as the case may be.
Canada, home to six of the 30 NHL squads, celebrated Thanksgiving last month, while this weekend marks America's opportunity to give thanks, join hands with family and limp around on Sunday or Monday after playing that ill-advised, once-a-year game of football.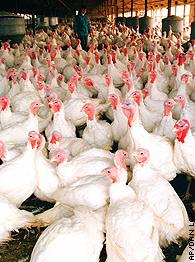 AP Photo/Dan Loh"Gobble, gobble. We want to see more goals from Rick Nash."
You'll notice that as one ages, even touch football leaves a bruise.
But back to the turkeys.
So far, the NHL season has been relatively low-key with precious little controversy, but that doesn't mean there haven't already been more than a few missteps and goof-ups worthy of mention.
Some teams that started off as turkeys have already managed to evolve into higher forms of life. The defending champion Carolina Hurricanes, for example, began the season last month with four straight defeats.
Since then, however, the Canes have been a solid 12-5-2, so they escaped the tag of early-season turkey.
Ditto for the New York Islanders. There was, you may remember, all that silliness in the offseason. Neil Smith, Pat LaFontaine and Ted Nolan were all brought aboard, but then Smith was fired as GM and replaced by backup goalie Garth Snow, and then LaFontaine just walked away. The scenario seemed ripe for a season that would make the Arizona Cardinals look like a steady-as-she-goes operation.
But a funny thing happened. The Isles did, in fact, steady themselves, and have been playing more than competent hockey for a while now. As of Tuesday, they sit one point out of an Eastern Conference playoff berth.
So, they're off the list for now. But by Easter, we may be able to make fun of 'em again. The turnarounds by the Hurricanes and Islanders, however, don't mean there aren't other turkeys to talk about.
• Let's start with Ed Snider, boss of the bumblin,' stumblin' Philadelphia Flyers. Being caught unawares that his main man, Bob Clarke, was burned out and ready to quit was one thing. Making the corporate decision to can coach Ken Hitchcock was another.
But giving Paul Holmgren the interim GM tag -- and then doing a very public dance with NHL vice president Colin Campbell -- was awkward business, made doubly so when Campbell rebuffed Snider's overtures. Now, Holmgren has been given the full-time job. Coach John Stevens has a two-year contract. But does anybody believe the ground has settled in Philly?
• Tough guy Georges Laraque, still the NHL's heavyweight champ, depending on who you talk to, tried to make the argument just this week that the league is on a slippery downward slope because fighting is down and the role of enforcers in the game may soon be extinct.
"We're turning hockey into a ballet league," harrumphed Laraque.
Now, let's see. Laraque, an interesting fellow but a player with almost no discernible hockey skills, has managed nonetheless to make $5.3 million over the course of his NHL career, not including the $2.4 million he'll make this season and next because the Phoenix Coyotes decided to generously overpay him. Instead of bitching about the direction of the game, he should give thanks that he was permitted to make such a handsome living (because dinosaurs ruled the sport for so long) and get busy actually making himself into an athlete rather than a professional thug.
• To be fair, Pavel Datsyuk of the Detroit Red Wings had a tricky task to tackle this fall. With captain Steve Yzerman's retirement and veteran winger Brendan Shanahan's departure to the Rangers via free agency, it was Datsyuk's turn to become the focal point of the Detroit attack.
So far, not so much.
At No. 133 on the NHL scoring list, Datsyuk has hardly taken the league by storm, scoring only three goals and assisting on 10 others. Moreover, of the three times he has scored, none were game-winners, shorthanded or power-play goals or overtime winners. In shootout attempts, he's at least clicking at 50 percent, 1-for-2 on the season. But the Wings need more than this.
• It was going to be nearly impossible for Jonathan Cheechoo of the San Jose Sharks to match his 56-goal, Maurice Richard Trophy-winning output of last season. But seven goals in 20 games before being hurt Saturday night would suggest Cheechoo has come down to earth this season. Will last season prove to have been a fluke? It's up to Cheechoo to demonstrate that wasn't the case.
• It's hard to blame the fine folks of St. Louis. They saw a lousy Blues team last season, and then watched new ownership raise ticket prices, some by as much as 62 percent. Still, the acres of empty seats for Blues home games is not doing wonders for the image of St. Louis as a dependable hockey city. So far, there have been eight crowds under 10,000, demonstrating Dave Checketts and John Davidson have an awful lot of work to do.
• Nobody said being a goalie in the shootout is easy. But given that shooters have been successful this season about 30 percent of the time, Los Angeles netminder Mathieu Garon can't be too proud of his shootout stats (he's been beaten five times on 11 attempts). That .545 save percentage is the worst in the NHL for goalies who have faced 10 shootout attempts or more.
• Enver Lisin, a rookie winger with the Phoenix Coyotes, might be happy that he didn't start the season in the NHL or he'd be rocketing toward Bill Mikkelson numbers. Mikkelson, you may or may not recall, holds a dubious NHL record for amassing a minus-82 with the 1974-75 Washington Capitals, a mark that has never been topped (or bottomed).
In 16 games with Desert Dogs this season, however, Lisin has managed to record a minus-17, the worst in the NHL. Lisin has yet to be a plus player in a game this season, he's been minus-2 four times, minus-3 once and minus-4 once. Even on a Phoenix team that has been defensively deplorable this season, those are extraordinary numbers.
• The trade was actually made back in August, but the results have turned it into a turkey. On Aug. 2, the Chicago Blackhawks accepted an arbitration award of $2.9 million per season for winger Kyle Calder, who enjoyed a 26-goal effort a year ago. Two days later, the Hawks dealt Calder to Philadelphia for center Michal Handzus, the big, strapping center GM Dale Tallon believed the Blackhawks needed.
Well, the Hawks definitely had the edge for eight games & until Handzus went down with what may be a season-ending knee injury. Calder, meanwhile, has yet to score a single time in 18 games with the Flyers this season. Through a combination of bad luck and bad play, neither club won with this deal.
• Martin Gerber, it's fair to say, is finding that it was a lot more comfy to play goal under the radar in Anaheim, Carolina or for his national Swiss team than in hockey-mad Canada.
Gerber signed a three-year deal with Ottawa as a free agent during the summer that started with a $3.7 million salary this season. For the most part, he has stunk with a 3.45 goals-against average and an .890 save percentage.
After a slow start, the Senators have turned it around lately, but that has been with Ray Emery in net, back from injury and giving the team solid netminding.
• Finally, no list of turkeys would be complete without mentioning the Columbus Blue Jackets, a horribly disappointing set of garments this season. GM Doug MacLean is catching lots of flak and coach Gerard Gallant lost his job because of the team's lousy start.
But how about winger Rick Nash? In 2004, he shared the Maurice Richard Trophy with fellow snipers Jarome Iginla and Ilya Kovalchuk. During the lockout, he starred with Joe Thornton on a championship team in Davos, Switzerland, and he was so dominant at the 2005 world championships in Austria that many believed he had become the best player in the world.
Last season, he missed 28 games but still managed 31 goals. This season, however, he has only six goals as the Blue Jackets have stumbled out of the gate, notably because of their puny offense.
Given what he was projected to become, Nash has delivered gobbler-like stats so far this season.
Damien Cox, a columnist for The Toronto Star, is a regular contributor to ESPN.com.
Damien Cox, a columnist for the Toronto Star, is a regular hockey contributor to ESPN.com. In this role, he writes numerous columns on the NHL.
SPONSORED HEADLINES
MORE NHL HEADLINES
MOST SENT STORIES ON ESPN.COM
EDITORS' PICKS
NYR 3, NJ 1: Derek Stepan provided all the scoring as the Rangers made it eight in a row.
Recap »

Strang: A dramatic shift in the landscape has left many enforcers being escorted out of the game.
Story »

LeBrun: We predict who's in and who's out of the playoffs.
Story »