Commentary
Here's how the first round rolls in my make-believe world
Updated:
March 5, 2008, 4:40 PM ET
By
Damien Cox
| Special to ESPN.com
It's been a few years since the fantasy went out of sports for me.
Maybe it's just age. Or laziness. Or maybe the constant need for reading glasses. Or a realization that poring over possible trades with my buddies rather than paying attention to my kids probably wasn't a quality life decision.
So, like every retiring pro athlete, I gave up the fantasy to spend more time with my family.
[+] Enlarge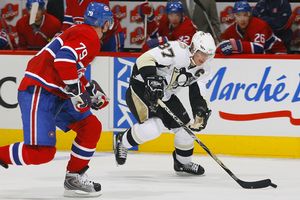 Phillip MacCallum/Getty ImagesC'mon. Wouldn't you want to see Sidney Crosby skating in Montreal in the first round of the postseason?
No, really. Stop giggling.
But I never said I wouldn't consider a comeback -- listen up, Mr. Favre -- and with some prodding, here we go.
We're not talking about drafting a lineup for the playoffs. We're talking about drafting the entire playoffs, picking the eight first-round matchups that, in this fantasy world, would be the most fun to watch.
Now, be aware, these matchups have only a passing relationship to the current NHL standings. I'm putting Washington and Chicago into the Stanley Cup dance not because they'll make it, but because I like watching Alexander Ovechkin and Alexander Semin and Mike Green and Jonathan Toews and Patrick Kane and Brent Seabrook.
The Capitals and Blackhawks are more fun than Minnesota, Boston and Dallas, for sure, but you can't boot out all the boring teams.
Instead, Carolina and Nashville, two teams that actually aren't particularly boring at all, have to pay the price to get the Caps and Hawks in.
Sorry, but that's just the way I roll in my make-believe world.
So here are my most desirable first-round Stanley Cup playoff matchups:
Eastern Conference

Pittsburgh vs. Montreal
Right now, the Bell Centre in Montreal is arguably the best place to watch a hockey game in the world, so having Sidney Crosby in that atmosphere to start the postseason just makes sense. Crosby played junior in Quebec, plus his dad was a Canadiens draft pick. Plus, these are two teams with offensive, creative personalities and, frankly, it would be a lot more interesting watching Marian Hossa and Evgeni Malkin trying to outdance Andrei Kostitsyn and Tomas Plekanec than watching enemy checkers shut them down. Finally, it would be a superb, intriguing matchup between two young goalies, Marc-Andre Fleury and Carey Price. Maybe Mario Lemieux would even make the trip north to his home province.
Washington vs. New York Rangers
If Crosby's tied up in La Belle Province, well, Ovechkin should be on Broadway. The Russian star has never been in the postseason, and GM George McPhee's multiple moves at the trade deadline deserve some kind of playoff reward. Rangers superstar Jaromir Jagr, of course, played for the Caps before deciding not to try anymore. In general, getting the Caps into Manhattan for a significant playoff struggle would have to help that franchise get some badly needed face time. Finally, Bruce Boudreau, the Caps' coach, is the patron saint for all those minor league bench bosses who had to wait and wait and wait for their chances to coach in the big leagues while others less qualified got their shot.
New Jersey vs. Ottawa
OK, not every one can be a dream series. But this one would have meaning given that the Senators managed to beat Martin Brodeur -- who remembers the Devils couldn't score to save their lives in last season's second-round series? -- and would be hard-pressed to do it again. This is a series with some history, which is nice, and the contrasting styles of the two teams offer the kind of matchup boxing fans love to see. The Sens, of course, have stumbled badly in recent weeks, and it's going to be fascinating to see which of their goaltenders, Ray Emery or Martin Gerber, is able to get on something even resembling a roll by April. For Devs coach Brent Sutter, meanwhile, this is going to be his first shot at coaching in the NHL postseason (Lou wouldn't fire him now, would he?) and a chance to prove the contention of this author that Sutter was the most significant free-agent signing last summer.
Boston vs. Philadelphia
This would be the throwback series, a chance for two teams that last won Stanley Cups in the 1970s to get at each other. Philly, you can imagine, should be hopping in the playoffs after the team finished dead last in the league last season. Boston, meanwhile, needs a rollicking playoff series to return that sense of spirit to the Beantown hockey public, and a collision with a team that would allow fans of both cities to travel back and forth would be perfect for that. Both teams were once among the meanest, baddest teams ever to don skates, but these days, it's the Flyers who do all the nasty stuff. The memory of Philly blueliner Randy Jones' awful hit on Boston's Patrice Bergeron earlier this season would add some emotional spice.
Western Conference

Calgary vs. Anaheim
Yeah, I'm thinking watching Ducks GM Brian Burke clash with old buddy (and now Flames coach) Mike Keenan could make for a spirited affair for two teams that like it rough and tough with a sprinkling of fights per period, not games. This has to be the first-round matchup the Ducks would like to avoid, if only because heading into Canada against a team with a host of its own big bodies would be a toughie to win en route to a potential repeat. You've got Ryan Getzlaf versus Dion Phaneuf, Miikka Kiprusoff versus Jean-Sebastien Giguere, Chris Pronger versus Jarome Iginla and, of course, George Parros versus Eric Godard. That last one would be only if either player ever saw the ice or left the press box. There wouldn't be nearly as much speed and skill in this one as ferocity and blood. Lots of personality and lots of crash-and-bang hockey.
Detroit vs. Colorado
Well, duh. Of course it would be great to see this rivalry rekindled, particularly with the Wings showing their mortality down the stretch and with Adam Foote and Peter Forsberg returning to Colorado. The curiosity element in this one would be the goaltending, with no one particularly certain whether the Jose Theodore-Peter Budaj matchup will stand up under playoff pressure or 35-year-old Chris Osgood and 43-year-old Dominik Hasek have a serious playoff run left in them. But it's the history between these two clubs that would matter most, and you could expect endless video replays of Claude Lemieux's hit on Kris Draper and Patrick Roy boxing with Osgood. Finally, it would include two of the classiest NHLers ever facing off in the late stages of their careers -- Joe Sakic and Nicklas Lidstrom. A little something for everyone.
Minnesota vs. Dallas
There's history here, too. Actually, a little incestuous history, for these teams are relatives, with the Stars having first been born as the Minny North Stars 41 years ago before pulling up stakes for Texas in the 1990s. They've honored the North Stars past, including keeping Bill Masterton's No. 19 retired rather than giving it to new kid on the block Brad Richards. Mike Modano, of course, was a North Stars draft pick who played for the team the last time The State of Hockey hosted a Stanley Cup finals. The Wild, meanwhile, have done a better job of understanding and capitalizing on Minnesota's rich hockey history than the North Stars ever did, while Dallas has actually planted some reasonably deep roots for the game in the heart of Texas. While the coaches, Dallas' Dave Tippett and Minnesota's Jacques Lemaire, aren't known to be controversial types, the GMs, loquacious Stars co-GM Brett Hull and Minnesota's fiery Doug Risebrough, might have a quote or two to offer before it's over.
San Jose vs. Chicago
There used to be some serious cross-pollination between these teams in the days when Bob Pulford ran the Blackhawks and his relative-by-marriage, Dean Lombardi, managed the Sharks. But this would be a series about personality, with San Jose still looking to establish a playoff persona and the Windy City looking to recapture the glories from when it was one of the league's signature franchises playing out of the old bandbox known as Chicago Stadium. For the NHL, getting some Bay Area-Chicago flavor would be terrific after so many years of seeing major cities like New York, Los Angeles, Boston and Chicago on the sidelines when the postseason began. These are young hockey teams, with the Sharks looking to fulfill their promise and the Hawks, featuring Toews and Kane, trying to demonstrate they are a team of the future. Joe Thornton of the Sharks, meanwhile, is going to have that playoff bugaboo lurking over his shoulder until he gets something serious done in the spring.
Damien Cox, a columnist for The Toronto Star, is a regular contributor to ESPN.com. He is the author of "Brodeur: Beyond The Crease" and "'67: The Maple Leafs, Their Sensational Victory, and the End of an Empire."
Damien Cox, a columnist for the Toronto Star, is a regular hockey contributor to ESPN.com. In this role, he writes numerous columns on the NHL.
EDITORS' PICKS
While it's too late for this season, the Blue Jackets are getting healthy and showing how tough they will be moving forward.
LeBrun »

Marc-Andre Fleruy has to prove he can dominate in the playoffs before anyone will expect the Penguins to make noise this spring.
Inside the NHL

Showdown: The Senators' Andrew Hammond faces off against a Red Wings duo with questions to answer.
Strang »
MOST SENT STORIES ON ESPN.COM