Commentary
The first-half story lines we can't forget
Updated:
January 22, 2009, 5:52 PM ET
By
Damien Cox
| Special to ESPN.com
Think of an NHL season as a rolled-up national flag you've never seen before.
Slowly it unfurls, and gradually you come to see the colors and the design, and by the end you decide whether it's to your liking or not.
Dates To Remember
There were story lines, and then there were moments. Here are some key dates from the season's first half.
Oct. 13
New York Rangers prospect Alexei Cherepanov dies of heart attack while playing for Avangard Omsk of the KHL. The charges and recriminations are still flying, and the incident still casts a pall over the young, ambitious Russian pro league.
Oct. 15
Dallas winger Fabian Brunnstrom pots a hat trick in NHL debut. The super recruit was only the third player ever to get three in his first game. Since then, not so much.
Oct. 31
Alexander Semin wonders "what's so special" about Sidney Crosby. Gutsy. Maybe not so smart. But added another layer of fire to the growing Pens-Caps rivalry.
Nov. 1
Martin Brodeur suffers torn bicep during game against Atlanta. Brodeur's hoping to be back early by late February. But the machine-like Devils have barely missed a beat.
Nov. 5
Steve Mason starts first NHL game against Edmonton and wins. And wins. And wins. Other Blue Jackets goalies may rue the day they gave up the net to the hot-shot youngster.
Nov. 16
Dallas traded defenseman Phillipe Boucher to Pittsburgh for rearguard Darryl Sydor. Yep, the season's blockbuster deal to date. We're not kidding.
Dec. 13
Don Sanderson, a 21-year-old playing in an amateur league in Canada, lost his helmet in a fight, fell to the ice and hit his head. He fell into a coma, and died on Jan. 2. Hockey fighting is now officially lethal. Some leagues are adapting new protective rules, and a new debate on fighting rages on.
Jan. 1
The annual Winter Classic in Chicago's Wrigley Field drew rave reviews. It was a boffo game. And it got boffo TV ratings.
Jan. 5
Super prospects John Tavares and Victor Hedman locked horns in a gold-medal game between Canada and Sweden at the World Junior Championship. No contest. Tavares and Canada win. Nobody questions any longer that he will go No. 1 in this summer's draft.
Jan. 20
The Islanders announced goalie Rick DiPietro is gone for season with knee problems. Maybe a 15-year, guaranteed deal wasn't such a good idea. Maybe none of these extra-long contracts are.
Well, the NHL campaign is a partially unfurled work as we head into All-Star Weekend, and people are still deciding whether they like what they see.
There's been a remarkable diversity of story lines and plot changes, both based on individual and team play. The larger story of deteriorating economic conditions is the cloud that hangs over it all, although it should be noted the game was able to survive having a vice-presidential candidate/hockey mom become the league's unofficial ceremonial puck-dropper.
Competitively, the fight for the Cup promises to be a fierce one, with defending champion Detroit having all but withdrawn its players from All-Star Game consideration as it prepares its title defense against a horde of tough challengers.
With much left to be unfurled, these have been the attention-grabbing story lines so far:
The Sean Avery "You Can't Say That!" scandal
Oh yeah, he did say it. But when
Dallas Stars
winger Sean Avery gathered the media on the morning of a game in early December to slag his ex-girlfriend, he finally went too far. Or maybe it was just the excuse the Stars and NHL, both sick of his act, were looking for. His six-game suspension ended long ago, but not a peep has been heard from Mr. Potty Mouth since the Stars told him not to bother reporting back for duty. Everybody loves a comeback, but going from pariah to re-employed NHLer is going to take some time.
Took the big Swede awhile. Too long for the tastes of many, and picking the
Vancouver Canucks
was a lot simpler, it seems, than helping them win. Sundin will collect about $5 million this season after skipping training camp and the first three months of the season, and then -- because he signed only a one-year deal -- the entire soap opera can start all over again this summer.
The resiliency, or lack thereof, of hockey heads
When Toronto winger
Ryan Hollweg
clocked St. Louis rookie defenseman Alex Pietrangelo with an illegal head shot in the Maple Leafs' first game of the season in October and was suspended for it, the move ignited the simmering debate over hits to the head in hockey. From that, it's just a short skip and a jump to arguing over whether fighting should be allowed in the game, and both issues are expected to be scrutinized closely when the NHL general managers next meet in March.
The game's hottest new rivalry
It's the Sharks and the Red Wings, a new rivalry made more intriguing by the fact former Detroit assistant coach Todd McLellan has crossed over to the San Jose side and made the Sharks the Western Conference's best team so far. The Sharks have won two of three meetings, including a terrific 6-5 home-ice triumph last Saturday in San Jose. The two clubs meet next Feb. 25 at The Joe.
The Coyotes looking more than a little mangy
Not the team itself, which has played very well most of the season. It's the franchise that's in big, big trouble, with
Wayne Gretzky
saying recently he can guarantee only that the club will finish the season in the desert. The NHL is scouring Arizona for potential owners, and current owner Jerry Moyes has little option but to go along with it if he hopes to recoup some of the millions he has lost on the former Winnipeg Jets. If the Coyotes are in trouble because of the downturn in the North American economy, meanwhile, many are wondering how many other franchises may be on fumes.
Go east, Brian Burke
Rather than California, the former Anaheim GM saw Canada as the land of opportunity and bolted from the
Anaheim Ducks
in the fall. As everyone expected he would, he resurfaced shortly thereafter with the Maple Leafs, a terrible, talentless club that will require all of Burke's considerable managerial skills to make the Stanley Cup playoffs during the Obama presidency, even if it's a two-termer.
Rebirth of two Original Six powers
The
Boston Bruins
have been the best team in the Eastern Conference this season, while the
Chicago Blackhawks
boast one of the game's most exciting young lineups and hosted a successful Winter Classic at Wrigley Field. Having Boston and Chicago be something other than embarrassing has been the best gift NHL commissioner Gary Bettman could have received.
The reclusive Mr. Gaborik
The season began with the
Minnesota Wild
trying to convince star winger
Marian Gaborik
to stay, then it turned into an explosion of speculation as to where he might be headed when it seemed clear he wouldn't sign, and ended in total frustration when injury problems sidelined the Slovak forward for the season. Hard to see how the Wild get value for their erstwhile franchise player now.
Those crazy dudes in Tampa
It's become hockey's most unpredictable franchise, and the fact the Lightning canned Barry Melrose as coach 16 games into the season may not even turn out to be the strangest episode. Prized rookie
Steven Stamkos
isn't
Alexandre Daigle
just yet, but the growing pains have been tough.
Vincent Lecavalier
trade rumors are everywhere, and there's lots of talk Tampa owners Oren Koules and
Len Barrie
may not be owners for long.
Plunge of the Penguins
The defending East champions are 10th in the conference heading into the All-Star break despite getting lots of points from
Evgeni Malkin
and
Sidney Crosby
, and despite signing
Jordan Staal
to a lucrative new deal. Coach Michel Therrien's head appears likely to be on the chopping block for the rest of the season, and goalie
Marc-Andre Fleury
hasn't been able to recapture his form of last season. Now Crosby is hurt, and the possibility of Pittsburgh missing the postseason isn't out of the question.
All that's missing is a debate over hanging chads
The computerized voting for the All-Star Game was a sham, leaving the hometown Canadiens with four starters, while Detroit won't even have a player in the game. Making the process interactive is one thing and, yes, the game is for the fans, but much of the remaining integrity the All-Star concept had left vanished with this year's silliness.
[+] Enlarge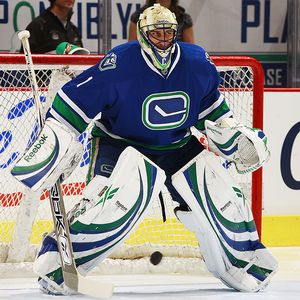 Jeff Vinnick/NHLI/Getty ImagesCanucks goalie Roberto Luongo missed 24 games this season with a groin injury.
Could the lives of these two aged stars be in reverse? Shanahan has gone back to the team that drafted him 22 years ago (New Jersey), while the 43-year-old Lemieux played seven minutes this week in a game for the Sharks after launching his improbable comeback. Both men have outstanding playoff résumés, which is presumably why the Devils and Sharks were interested. That
Chris Chelios
calls both "kid" remains a curiosity in a league apparently experiencing the "Cocoon" effect.
Ah, but for the wonky groin
Vancouver fans are convinced that if
Roberto Luongo
were consistently healthy, they'd have a contender on their hands. Unfortunately, that hasn't been the case, and when Luongo has been able to play, he hasn't been great. Add to that the injured status of New Jersey's
Martin Brodeur
and poor old Canada is left to wonder who will be in between the pipes when it seeks to win an Olympic medal in men's hockey on its home soil in 13 months.
Patience paying off
The Anaheim Ducks were considering trade offers for
Bobby Ryan
earlier this season, but they're sure glad they never got past that stage. Watching Crosby, the No. 1 pick of the star-studded 2005 NHL draft, set the league afire while Ryan, the No. 2 pick, tried to figure out how to become a professional hasn't been easy for the Ducks or Ryan. But now he appears ready to stay in the NHL, and may make a late push for the Calder Trophy as top rookie.
Young blood everywhere
It's not just Crosby and Malkin and
Alex Ovechkin
. There's
Patrick Kane
and
Ryan Getzlaf
and
Zach Parise
and
Jeff Carter
, as well. The fireworks in the NHL are increasingly being supplied by athletes well short of their 30th birthday, great news for a league that counted on Gretzky and
Mario Lemieux
for so long to carry the burden of superstars and ambassadors for the game.
Damien Cox, a columnist for The Toronto Star, is a regular contributor to ESPN.com. He is the author of "Brodeur: Beyond The Crease" and "'67: The Maple Leafs, Their Sensational Victory, and the End of an Empire."
Damien Cox, a columnist for the Toronto Star, is a regular hockey contributor to ESPN.com. In this role, he writes numerous columns on the NHL.
EDITORS' PICKS
Kyle Okposo's power-play goal helped push the Islanders past Jimmy Howard and the Red Wings to highlight playoff-drive action Sunday.
NYI 5, DET 4 »

The fall of Jimmy Howard will only help the rise of Petr Mrazek in Detroit's net. Who else is making noise in the push for the playoffs?
Strang »

With seven guys within five points of the league scoring lead, who better to break down the Art Ross Trophy race than The Great One.
LeBrun »
MOST SENT STORIES ON ESPN.COM