Avs turn back the clock with 1-2 punch
The reunion of Paul Kariya and Teemu Selanne could turn the Avs' into an '80s retro team.
Updated:
September 18, 2003, 1:07 PM ET
By
Terry Frei
| Special to ESPN.com
DENVER -- Teemu Selanne left the blind drop pass, and Paul Kariya swooped in and fired the laser from the top of the left circle that beat goaltender Phil Sauve for the first goal of the game.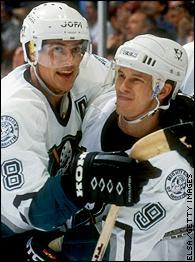 The last time either Teemu Selanne or Paul Kariya scored 40 goales was when they played together in Anaheim.
Seemed like old times.
After the first period, Joe Sakic -- the center on the line -- was joking on the radio about playing with a couple of puck hogs and deciding he should shoot for the Selke Trophy this season.
Those scenes unfolded as the Kariya-Sakic-Selanne line made its public bow earlier this week, ringing up five goals in the Colorado Avalanche's Burgundy-White intrasquad game at the University of Denver.
You know Sakic is a bit giddy when he shows off his wicked sense of humor in public, with the tape recorders or microphones on, rather than retreating into the "Quoteless Joe" persona he has embraced in the past.
However, the official debut will have to wait. The Avalanche have chosen not to play Selanne or Alex Tanguay tonight in the exhibition season opener against Dallas, so neither the Peter Forsberg-Milan Hejduk-Tanguay line nor the newly constructed Sakic-centered line will be on display for the huge season-ticket base that was asked to pay regular-season prices.
But when they are, pick your poison.
Which line do you play your top defensive pairing against? Or what you might consider your checking line, if that's the way you operate?
Some of the talk about the Avalanche got carried away in the wake of the Selanne and Kariya bargain signings, and the reuniting of the speedy forwards who were together for five years at Anaheim.
Colorado's goaltending is suspect, with David Aebischer and Sauve trying to take up the slack for a retired goalie now up in Quebec, energetically operating as a hands-on part-owner of the Quebec Remparts of the Quebec Major Junior League. It's suspect not because Aebischer, who will get the first crack, is guaranteed to be incapable of being a competent 60-game starter, but because of the inevitable uncertainty when a three-season backup gets his first chance to step into the No. 1 job.
Colorado also will be thin on defense, beyond Adam Foote, Rob Blake and Derek Morris. And although timely contributions from the third and fourth lines can be a difference-maker, don't expect much from them in Colorado.
But those top two lines potentially can be so productive, the Avalanche's best move would be to avoid trying to protect Aebischer and show him the compliment of playing wide-open, offensively aggressive hockey.
Forsberg won the Hart Trophy with a stunning and dominant run over the last half of the season. Hejduk led the league in goals with 50. Hejduk continued to show his old major junior center skills while contributing both playmaking and scoring from the left wing.
| | | |
| --- | --- | --- |
| | " | Joe also is the perfect centerman for me and Paul because we are not candidates for the Selke Trophy every year. Joe is unbelievable defensively. Of course, we have to play well defensively, too, but Joe's going to have to have big shoulders. " |
| | | — Teemu Selanne |
That's the first line.
The second line will have three future Hall of Famers.
Now that the two former Anaheim teammates have delivered themselves as a $7-million, one-season package to play on Sakic's wings, the only major issue is whether Kariya's offensive regression at Anaheim last season can solely be attributed to Mike Babcock's system, rather than the leading edge of slippage.
Given that he still is only 28 and as speedy as ever, the safest assumption is that reuniting with Selanne and their skating with Sakic will be rejuvenating.
"Anytime you can put three highly skilled offensive players together, what it does is make it easier on each one of them," said Colorado coach Tony Granato. "I think that's what the Tanguay-Forsberg-Hejduk line created for one another last year. They complemented each other so well because of the way they supported each other, the way they handled the puck. That's very similar to what those three do. They're excited to get the opportunity to play together."
The early returns, which approximate a single voter leaving a polling place in Maine that opens at midnight on election day, at least are promising. In camp, the Sakic line has looked immediately comfortable, and it was breathtaking in the intrasquad game -- for a time working against the Forsberg line.
"We have to make the game so much easier, so we know exactly what each of us is thinking out there," Selanne said. "It can look so easy, and feel so easy when you can do that. Of course, you want to get better every day, push, push, to do that."
The line is about speed and savvy -- the sort of savvy that can create instant chemistry. Sakic long has been one of the most intelligent centermen in the game, both intuitively and in the moments that call for split-second calculation, and that meshes perfectly with his new linemates.
"I always felt that Joe would be a perfect centerman for me, so it's great to finally get the opportunity to play with him," Kariya said. "He sees the game very well and plays the game at a high pace, and that's what Teemu and I love to do.
"Joe is north-south, so everything is give and go, drive the net hard, and not a lot of turnbacks and things like that. To be a centerman in the game now, you have to play the game like that to produce offensively."
Selanne said the linemates "all want to use the speed, make the give-and-go plays. Joe also is the perfect centerman for me and Paul because we are not candidates for the Selke Trophy every year. Joe is unbelievable defensively. Of course, we have to play well defensively, too, but Joe's going to have to have big shoulders."
Colorado's second line down the stretch -- and in the first-round flameout against Minnesota last season -- had Sakic centering Steve Reinprecht and Bates Battaglia. Reinprecht was traded on the day Selanne and Kariya were signed, as general manager Pierre Lacroix again signaled his comfort and preference with taking bargain approaches beyond the top two lines. Battaglia is penciled in for a spot on Colorado's third line -- which is another good fit among the forward ranks.
Yes, Colorado is loaded on the top two lines.
Now, we'll find out if that's enough.
Terry Frei is a regular contributor to ESPN.com. He is the author of "Horns, Hogs, and Nixon Coming," available nationwide, and 2004's "Third Down and a War to Go."
Special to ESPN.com
Terry Frei is a columnist for the Denver Post. He is also the author of "Third Down and a War to Go" and "Horns, Hogs, and Nixon Coming."
SPONSORED HEADLINES
MORE NHL HEADLINES
MOST SENT STORIES ON ESPN.COM
EDITORS' PICKS
The fun and games are over. It's time to prove who is No. 1 in the push to the playoffs.
Power Rankings »

John Tavares and Ryan Getzlaf are among those with momentum coming out of the All-Star break.
Eastern Conference »
West »

Pronman: The top 30 draft prospects
Story