Respect for game, fans, each other is key
There is one easy way to mitigate the negative effects of a work stoppage in the NHL.
Updated:
October 8, 2003, 6:46 PM ET
By
Terry Frei
| Special to ESPN.com
At least NHL and Players Association representatives are talking, beyond Gary Bettman and Bob Goodenow's visits to the golf course -- which is not always a great forum for communication. ("You're away, Bob." "No, you are, Gary." "What? Bob, are you blind?" "What's it matter, Gary? You'll just make up the numbers on the scorecard, anyway!")
But the beginning of formal negotiations, while both overdue and a step forward, shouldn't fool anyone.
Before he was buried under one of the nets in Continental Airlines Arena (you believe your legend, I'll believe mine) Jimmy Hoffa used to talk with industry insiders as Teamster contracts were expiring, too.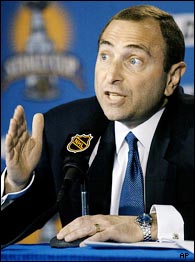 There are ways for Gary Bettman and the NHL to control the damage of drawn-out negotiations.
And, still the strikes came.
This still has every appearance of a lockout coming down next year. It won't do the NHL irreparable damage. Repeatedly, the game has shown its ability to withstand the cheap shots doled out by the folks in the business.
The wails about work stoppages in all major-league sports inevitably becoming their undoing never have been borne out, though every time someone is there to gloomily proclaim: "But this time, it's different."
No. It's not.
If teams fold or otherwise disappear after the next collective bargaining agreement goes into effect, that will be reflective of the same economic systems in which the owners (or their families) became rich enough to buy their franchises.
Contraction wouldn't be irreparable damage.
It would be a market correction.
The Players Association can't be so pigheaded to ignore the fact that some sort of flexibility, most likely in acquiescing to a luxury tax that will give owners more incentive to control themselves, will be necessary to maintain the number of NHL jobs.
But as the lockout approaches -- it's inevitable; the only question is how long it will last -- the NHL should be positioning itself to do all it can to mitigate the cost. By "cost," we're only indirectly talking about dollars and cents, but more about credibility and sense.
Here are some suggestions:
1. Don't ask without delivering
Bettman should order teams to delay sending out season-ticket renewal invoices next year for 2004-05, or at least to not require anything beyond modest deposit payments until after an agreement on a new collective bargaining agreement is reached.
The modest payment holds the account in the rights-holder's name.
That's all.
It's insulting to require fans to make very expensive payments for a product that might not be available, and for owners to reap the interest. It doesn't matter that at some point, the payments will be applied to real games after the lockout ends.
2. Don't fight in front of the kids
Stay away from the "he-said, she-said," finger pointing and silly posturing often prevalent in sports bargaining periods. Have enough class to at least grant that the other side wants what's best for the sport, at least as defined from its own side of the table.
3. It's OK to highlight the 'me' in 'team'
Get more teams to back off this "all-for-one" traditional hockey mentality and do more promotion, both official and subtle, of the game's younger stars -- the players who will be around for years after the lockout ends. Start with
Joe Thornton
,
Marian Gaborik
,
Milan Hejduk
,
Jarome Iginla
,
Marian Hossa
,
Roberto Luongo
,
Jean-Sebastien Giguere
,
Vincent Lecavalier
,
Olli Jokinen
and
Ilya Kovalchuk
-- and perhaps include
Dany Heatley
if and when he's ready. And those are just a few examples.
4. Hit pause with a bang
This is an old story, but wouldn't it be great if the final season before the lockout was a high-energy success? The mistake too often made is to measure that with the scoring numbers only. More important is the feeling that the ice has opened up, the forecheckers given more ability to operate, and that the obstruction, clutching and grabbing are diminished to the point where you're getting to see the great players at their best.
That takes gumption on the part of a lot more than the referees, of course. The most overlooked aspect is that if the coaches and player start to apply the standards across the board themselves and stop griping when the necessary call is made in the final three minutes, the chances of the crackdowns remaining in force greatly increase.
Isn't it funny how teams continue to complain about how their stars are targeted, often by the opposing top defensive pair, yet see nothing contradictory in the fact that they send out their top pair to fold, spindle and mutilate the other teams' stars?
When the men within the game show it more respect, that will be a huge step. And if it can happen this year, with the lockout looming, maybe it can give the fans some hope through the wait.
5. Play nice ... now
Actually, the smartest move of all would be to make gloomy stories like this one -- and all the others that take a lockout and a work stoppage as givens next season -- look ridiculous in retrospect.
Get the damn thing settled. Look, we all know a hard cap is an impossibility, and the compromise that will come out is some sort of luxury tax that makes it doubly painful to exceed a certain payroll figure, and also perhaps help the owners control those to "blame" for the salary structure -- themselves.
Terry Frei is a regular contributor to ESPN.com. He is the author of "Horns, Hogs, and Nixon Coming," available nationwide, and 2004's "Third Down and a War to Go."
ESPN.com contributor
Terry Frei is a regular contributor to ESPN.com. He is the author of "Third Down and a War to Go" and "Horns, Hogs, and Nixon Coming."
SPONSORED HEADLINES
MORE NHL HEADLINES
MOST SENT STORIES ON ESPN.COM
EDITORS' PICKS
Who are the top 5 players in the NHL?
Custance

Which were the 10 biggest trades of 2013-14? Hint: two of them involved Thomas Vanek.
Grantland »

Here is who you voted the face of your franchise.
#ESPNplayerNHL »