Instead of looking at themselves, B's blame Joe
Updated:
December 1, 2005, 8:16 PM ET
By
Terry Frei
| Special to ESPN.com
As soon as I'm done with this, I will have to battle the irresistible urge to call one of the Boston sports-talk radio stations and whine.
("Long-time listener, first-time caller, thanks for taking my call, hey, I mean, I gotta tell ya, was Mike O'Connell getting consulting advice from Theo Epstein on this one since Theo doesn't have anything to do these days?")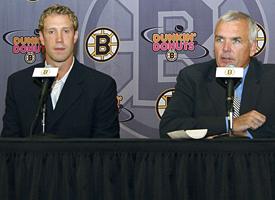 Steve Babineau/WireImage.comGM Mike O'Connell gave Joe Thornton a three-year, $20M deal in August.
It comes down to this: The Bruins are blaming Joe Thornton.
Their new-world, post-CBA strategy seemed to be waiting for great free-agent players to fall into their lap because of a love for Dunkin' Donuts, Bobby Orr, the North End, Legal Sea Foods, the Green Line, Phil Esposito, Faneuil Hall, Ray Bourque and maybe even the wit and wisdom of Carla Tortelli.
It didn't happen, despite Mike Modano's angst-filled negotiations and flirtation.
This organization was one of the militants in the lockout, seemingly poised to take advantage of a new system that put a cap on ambition and rewarded what passed for tight wallets in the big-money world of pro sports. Now they discovered it wasn't going to be that easy. It wasn't going to be that easy to win, and more important, win back the fans in a market that long has deserved something better than dime-squeezing inertia.
Blame Joe.
Look, Wednesday's trade of the Bruins' captain isn't demonstrably stupid, if the standard is to match up the two sides of the deal, jettison emotionalism and coldly evaluate Boston's status before and after the deal.
Thornton hasn't quite broken through to the megastar status the Bruins had every right to expect from him, and while Boston's back-channel knocking of him was calculated propaganda, it wasn't entirely ridiculous to question his fire and whether that "C" was earned.
Brad Stuart is, while not a cornerstone, at least capable of being a significant part of a winning foundation as a top-four defenseman. Though he has been curiously unproductive in an altered NHL, Marco Sturm can fly and act as an interpreter if the Bruins ever have an exhibition tour to Berlin and Munich. Wayne Primeau is better than if the Sharks had said, "And we'll toss in a bag of pucks, too."
And, what a surprise, it saves the Bruins money (at least in the short term) and comes in time to beat the no-trade clause that kicks in next season under the three-year contract Thornton signed in August.
In the New NHL, those savings would be significant to someone other than Scrooge, if only there was evidence and a faith that the Bruins would parlay them.
Maybe they will, but the track record has created such skepticism in that regard, the Bruins have to show us they will push all the envelopes in this scaled-down economic model they helped create.
Last week, when Bruins owner Jeremy Jacobs harrumphed his way through a public assessment of Boston's early-season struggles, it wasn't out of line to at least wonder if this was a setup for the firing of coach Mike Sullivan.
After all, Sullivan is in his third season on the Bruins' bench, an eternity for any coach who has GM-turned-president Harry Sinden within shouting distance and able to argue that it's time for a change, because it certainly can't be management's fault.
Instead, the Bruins blamed Joe.
Thornton is right about that, and you can bet his offseason contract negotiations -- hey, aren't these guys supposed to just grab the pen and ask where to sign in this New Order? -- were a background issue.
GM Mike O'Connell and the Bruins, who at one point in the offseason didn't have enough veterans under contract to form a basketball team, much less fill out a lineup, had a prime chance to fill in around Thornton and Sergei Samsonov with other re-signed holdovers and an elite free agent or two.
But Brian Rolston? Gone. Mike Knuble? See ya. Sean O'Donnell? History. Michael Nylander? Hej Då.
Great players? Of course not, though Rolston's jets are something to behold in this new landscape. But the Bruins also got nothing for them, not even for short-termer Sergei Gonchar, who received $25 million over five years from the Penguins.
And with all due respect to what Brian Leetch has been, and at times still can be, signing him and fellow homeboys Tom Fitzgerald and Shawn McEachern, plus Brad Isbister, the since-traded Dave Scatchard and the low-energy Alexei Zhamnov, wasn't an eye-popping working of the new system.
Yes, Modano's waffling and agonizing "victimized" the Bruins, but there were other opportunities for the Bruins to make a splash.
The Bruins had cap room and were in a unique position of strength. Scorned in the past for management's lower-scale financial ambition, they had dragged the NHL down to their level. They had the opportunity to make the 2005-06 season a model for how, ahem, "sound" management could better adjust to the new system than other franchises that had relatively stratospheric payrolls in the past.
A marquee market with renowned fans, a passion for the sport, and a constituency just dying to be won back and always fill whatever the arena is called in any given week.
It was a setup.
It was an empty net.
It was what Jeremy Jacobs and the hardliners dreamed about.
The Bruins didn't take sufficient advantage of it.
When you pick apart virtually anyone's game with the eye for looking for a scapegoat, the shortcomings are easy to find. That's what the Bruins were doing with Thornton. They can say all they want about how trading him for a package that could make them better, at least in the short term, doesn't necessarily mean they're "blaming" him, but that's what it was.
With hell to pay, the invoice had Joe Thornton's name on it.
Terry Frei is a regular contributor to ESPN.com. He is the author of "Third Down and a War to Go" and "Horns, Hogs, and Nixon Coming."
ESPN.com contributor
Terry Frei is a regular contributor to ESPN.com. He is the author of "Third Down and a War to Go" and "Horns, Hogs, and Nixon Coming."
SPONSORED HEADLINES
MORE NHL HEADLINES
MOST SENT STORIES ON ESPN.COM
Bruins Deal Thornton
In a blockbuster deal, the disappointing Bruins dealt captain Joe Thornton to the underachieving Sharks for three players. Story • Bruins win without Thornton
• Joe excited for San Jose opportunity
• Burnside: Thornton had to go
• Frei: B's mess not Joe's fault
• Melrose: Wakeup call
• Hradek blog: Trade breakdown

• How No. 1 picks have fared
• Melrose's take