Svatos shouldn't be rookie afterthought
Updated:
December 12, 2005, 1:11 PM ET
By
Terry Frei
| Special to ESPN.com
If one was handicapping for the Calder Trophy, the Colorado Avalanche's Marek Svatos probably would be a longer shot than, say, Luxembourg in World Cup soccer.
Sidney Crosby and Alexander Ovechkin are the prohibitive favorites, and Calgary's Dion Phaneuf at least is getting significant third-place mention as the best in an impressive group of first-year defensemen.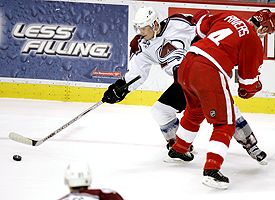 Gregory Shamus/Getty ImagesMarek Svatos is finally healthy, helping the Avs stay in the West hunt.
And what of Svatos?
The 23-year-old Slovak winger is getting noticed, but more as an afterthought. Going into Friday's games, Svatos had 13 goals, making him one of four rookies -- joining Crosby, Ovechkin and the Rangers' Petr Prucha -- in double figures. In Colorado's first post-Peter Forsberg season, Svatos is leading the Avalanche in goals, at least for the moment, ahead of linemates Joe Sakic, Milan Hejduk and Alex Tanguay. (It also raises the question of how many Svatos might have if he were in the Simon Gagne role on a line with Forsberg, and if Forsberg's muscle injury problems weren't popping up again.)
"I'm not thinking about attention," said Svatos, who understandably still can be a bit halting in English. "Attention is nice and it's not. Those two guys [Crosby and Ovechkin] have a lot of pressure. They are big players on their teams, [playing] 20 and 19 minutes. I'm not thinking about them. I'm trying to do the best I can for me. If I can impress the coaches, it can lead to more opportunities."
Svatos, who no self-respecting bartender would pour a beer without asking for ID, primarily played on a line with veteran Pierre Turgeon and Steve Konowalchuk -- until Konowalchuk suffered a season-ending wrist injury two weeks ago. The young Slovak combines abilities to create, convert setups or -- and this happens so often, it can't be coincidence -- simply be in the right place at the right time.
"He's got a real nose for the net," Colorado coach Joel Quenneville said. "He's willing to travel in the tough areas. He's got a quick stick and a great shot, and an edge to his game. He hits and he's taken on some big guys in the corners. He's absorbed and delivered some big hits, but that doesn't deter him at all from the places he should travel. He's a European with the puck, but away from the puck, he's got some grit to his game, which is nice."
So why isn't he getting more notice?
One possibility for his omission from some "hot rookie" lists involves a misunderstanding: A lot of NHL cognoscenti remember Svatos not only from his two-season stint with the Memorial Cup-winning Kootenay Ice, but also from 2003-04, when he made the Avalanche roster and played two games before undergoing shoulder surgery for the third time in three years.
Other Rookie Names Out There
Dion Phaneuf -- Calgary Flames, D
A physical defenseman who many say is one of the most talented rookies in the lot. While Crosby and Ovechkin can score goals, Phaneuf is already excelling at a position that is more difficult to master and adjust to in the NHL. After four seasons at Red Deer (WHL), he has already stepped and made a difference for the Flames this season.

Petr Prucha -- New York Rangers, F
He was one of the top players for the Czech National Team at the 2004 worlds. Like his Czech teammate Jaromir Jagr, Prucha can skate and has excellent puck-handling skills. He works hard around the net and creates chances for his teammates. Prucha was recently added to the Rangers' top power-play unit, giving them a four-forward attack. It's paid off for the Blueshirts.

Alexander Steen -- Toronto Maple Leafs, C/RW
Steen, 21, left Frolunda in the Swedish League last season to learn from Peter Forsberg, Markus Naslund and the Sedins with rival MoDo. The plan worked. In his first 21 NHL games, Steen, son of former Jet Thomas Steen, had 14 points."Thomas played well in every situation" says Leafs scout Craig Button."When Alex digs in, I see the same determination and two-way play." Leafs coach Pat Quinn does too; he plays Steen on his top line and on special teams, no matter what the score.

Jason LaBarbera -- L.A. Kings, G
The 6-foot-3, 224-pound LaBarbera came to the Kings from the Rangers in August as an unrestricted free agent, after posting a 1.84 GAA, .934 SP at Hartford. In L.A., he's 821 with a 2.44 GAA and .915 SP. In the long term, the 25-year-old must prove that his inconsistent play in the past is just that. Short term: he's pushing Mathieu Garon for the top job.

Ryan Whitney -- Pittsburgh Penguins, D
Last season at Wilkes-Barre, Whitney had 41 points in 80 games. This season, while the Pens limped to 045, the 6-foot-4, 215-pound Whitney helped the baby Pens to a 90 start. No surprise, then, that Mario & Co. called up the 22-year-old on Nov. 1, or that the QB-like blueliner tallied seven assists in his first four games.

-- ESPN The Magazine
Colorado spent most of the season touting him as a prospect and citing him when talking about their injury problems, and that was met with many raised eyebrows and considered a bit of a reach in excuse-making. How could the Avalanche so badly miss a kid who had played two NHL games?
"You don't want to know how hard it was to have to wait through that," Svatos said. "My dream came true, I started to play in the NHL, and then -- boom! -- my shoulder again! It was really tough for me."
When Svatos finally recovered from the surgery in time to play the final two games of the 2003-04 regular season, he showed why Colorado was so high on him. He scored twice against Columbus in his return to the ice after the nearly six-month layoff. In the playoffs, he spent a lot of time on one of the top two lines, and while he didn't take the league by storm, his one goal was an overtime winner in the first-round series against the Stars.
He was noticed, and two years later, it's easy to forget that he still technically is a rookie. What's the guy going to do, wear a huge asterisk on his sweater, where the "C" or "A" would go, to remind everyone watching the broadcasts or the highlights that he's Calder-eligible?
Bottom line: He's there, ready to step up as a Calder threat if Ovechkin and Crosby slow down or are injured, and if he stays healthy himself and puts up a 45- to 50-goal season.
However, complicating matters is the fact the lockout means there are two seasons worth of rookie prospects in the mix. In Svatos' case, he will have to overcome the loss of Konowalchuk. Turgeon, Konowalchuk and Svatos had formed a complementary and productive line, and the Avalanche probably will be on the lookout to exercise a long-term injury exemption opened by Konowalchuk's absence and try to land a veteran winger to plug in with Turgeon and Svatos, or perhaps even reshuffle completely and break up the Sakic-Hejduk-Tanguay line.
Svatos is an example of a European who benefited from coming over as a teenager and playing as an import in the Canadian Hockey League. At age 18, he left his home city of Kosice, where his father worked in a factory and coached youth hockey in his spare time, and came to play for the Cranbrook, British Columbia-based Kootenay franchise.
That involved considerable culture shock and angst.
Svatos had taken four years of English in school, but there are those of us who took eight years of a foreign language in North America and then went to that nation and wanted to scream: "SLOW DOWN!" In other words, he was bewildered at first.
"For the first three or four months, it was very hard, probably the hardest part of my hockey career," he said. "I went to school, too, but I picked up most of my English in the dressing room."
He smiled. "Of course," he added, "I picked up the bad words first."
Colorado drafted him after his first Kootenay season, in which he had 23 goals in only 39 games and battled shoulder problems for the first time. In 2001-02, he had 38 goals in 53 games and got to hoist the Memorial Cup. Colorado dispatched him to Hershey the next season, but a separated shoulder ended his season in January. The next fall, he was a camp and exhibition-game sensation before -- surprise -- he suffered another shoulder injury and underwent surgery. He was a prospect, but was also suspect physically, with the hope being that the latest surgery finally would end his shoulder problems. When he looked good in the 2004 playoffs, he seemed back on course.
Last season, he was eligible to play for Hershey, but he was both unimpressive and seemingly disinterested in a lackluster 18-goal season with the Bears. The good news was he remained healthy through an entire season.
"Everybody's been saying I had a bad attitude or something like that," Svatos said. "I've heard those stories. I tried hard, but it just wasn't going my way. Their expectations were pretty high. I had my chances, but I didn't put the points on the table. Obviously, the coaches were expecting goals and points, but I didn't do that, so it was frustrating."
There is something to be said, though, for players who become better as the lights get brighter.
Terry Frei is a regular contributor to ESPN.com. He is the author of "Third Down and a War to Go" and "Horns, Hogs, and Nixon Coming."
Special to ESPN.com
Terry Frei is a columnist for the Denver Post. He is also the author of "Third Down and a War to Go" and "Horns, Hogs, and Nixon Coming."
EDITORS' PICKS
Kyle Okposo's power-play goal helped push the Islanders past Jimmy Howard and the Red Wings to highlight playoff-drive action Sunday.
NYI 5, DET 4 »

The fall of Jimmy Howard will only help the rise of Petr Mrazek in Detroit's net. Who else is making noise in the push for the playoffs?
Strang »

With seven guys within five points of the league scoring lead, who better to break down the Art Ross Trophy race than The Great One.
LeBrun »
MOST SENT STORIES ON ESPN.COM