Taking a crack at preseason predictions
Updated:
September 28, 2006, 8:15 PM ET
By
Terry Frei
| Special to ESPN.com
The Flames' Jarome Iginla will be the Hart Trophy winner next spring, again causing some grousing from the Eastern contingent, whether the allegedly aggrieved runner-up is Jaromir Jagr or someone else. And because Iginla should have been the 2002 winner, as well, it will be a bit of an atonement.
There, that was the easy part.
If this were a yearbook, Iginla would be the Most Likely to Succeed.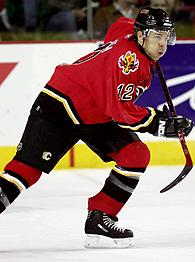 Bruce Bennett/Getty ImagesTerry Frei's early pick for the Hart Trophy: Calgary's Jarome Iginla.
Every time someone asks me how such-and-such team is going to do this season, I take a shot at it, while knowing the reality is that more than ever, I'm basically offering an educated guess.
Make no mistake, relative stability in the league was mostly a good thing. The cycles of change were relentless, yet gradual, and the ingenuity and the financial aggressiveness of astute organizations were rewarded.
If the salary cap system eventually has a long-term leveling effect, that won't be surprising, yet there still are signs that the shaky organizations will remain shaky. There is no antidote for poor judgment and ineptitude, not even spending every available dollar. Nor is there a remedy for an unwillingness to approach the cap when an extra expenditure might nudge the on-ice product to the next level.
Plus, it remains apparent that while the trading deadline has been moved up, there still can be changes in March that make September outlooks obsolete.
Finally, when there is so much change, the quick development of chemistry, or lack of chemistry, is important to an unprecedented extent. Whether through luck or design, or a combination of both, at least one team this season is going to have stumbled on a roster that meshes better than it looks on paper, and at least one that looks good on paper now is going to drastically underachieve on the ice.
So, taking a shot and saying the Stanley Cup finals will match Calgary and Ottawa (finally) comes with all the traditional disclaimers, and more.
The addition of Alex Tanguay will help Iginla, whether they end up on the same line or not, and the Flames will remain stingy even if new coach Jim Playfair feels comfortable enough with Darryl Sutter looking on from the front office to slightly loosen the reins.
The Sharks, benefiting from Joe Thornton being around and playing with Jonathan Cheechoo for a full season; the Ducks, helped by the deal that brought in Chris Pronger; and the Red Wings, who again will cruise through the regular season because of a soft division, and will certainly be better off with Dominik Hasek if he holds up physically, are the major threats in the West.
In the East, the Hurricanes are going to find that they prematurely anointed Cam Ward the long-term answer in the net, and former Hurricane Martin Gerber will be instrumental in the Senators' success. I wouldn't be shocked if John Grahame was Carolina's No. 1 by the new year. That's not a knock on Ward; it's an acknowledgment that despite winning the Conn Smythe Trophy and the Stanley Cup, Ward wasn't even consistently great during the postseason and has yet to prove himself capable of long-term greatness. The 1986 playoffs turned out to be a harbinger of Patrick Roy's Hall of Fame credentials, and maybe the 2006 finals will turn out to be that for Ward. But we don't know that yet.
The Flyers have the same question marks (goaltending and Peter Forsberg's health), but if both come with the right answers, Philly could dominate the division and come out of the East.
And I still think the Lightning, with Marc Denis in the net, could rebound.
As the regular season unfolds, it will become more obvious that under the severely unbalanced schedule, the conferences sometimes will seem as if they're distinct leagues, and almost as if they're not just separate, but on different planets. With each team playing only 10 interconference games, that makes the individual award voting even more problematic, because of both the limited direct exposure to voters and the reality that statistical comparisons aren't apples to apples, but West to East.
But short of awarding the Hart and other trophies to one player in each conference, choices have to be made.
And how might the voting go next spring?
• Hart Trophy: Iginla. He deserves consideration for attributes other than his scoring, including his leadership and fire, yet his overall effectiveness will be enhanced if he controls his temper better and realizes he's of more value to the Flames if he doesn't allow himself to be distracted as often. Other finalists: Washington's Alexander Ovechkin and the Rangers' Jagr.
• Norris Trophy (Most Likely to Be Authoritarian): Ottawa's Wade Redden. With Zdeno Chara departing for Boston, Redden will go from respected to something more as his role becomes even more prominent. Other finalists: Anaheim's Pronger and Scott Niedermayer, who will "split" the vote.
• Vezina Trophy (Most Likely to Be Miserly): New Jersey's Martin Brodeur. The reliable Brodeur steps up again and completes the adjustment to not being able to handle the puck as much. Other finalists: Calgary's Miikka Kiprusoff and Gerber.
• Calder Trophy (Most Likely to Burst Onto the Scene): Pittsburgh's Evgeni Malkin. In a walk, if he gets, and remains, healthy. Other finalists: Colorado's Wojtek Wolski and Anaheim's Dustin Penner, who both played in the postseason, but remain Calder-eligible.
• Jack Adams Award (Most Likely to Lead): Playfair. He'll benefit from the Flames being better and the rest of the Northwest Division softening, and even the perception that he had the nerve to do something other than merely duplicate the Sutter approach. Other finalists: Atlanta's Bob Hartley, who will get the Thrashers in the playoffs for the first time; and Ottawa's Bryan Murray.
The polls open soon.
Terry Frei is a regular contributor to ESPN.com. He is the author of "Third Down and a War to Go" and "Horns, Hogs, and Nixon Coming."
ESPN.com contributor
Terry Frei is a regular contributor to ESPN.com. He is the author of "Third Down and a War to Go" and "Horns, Hogs, and Nixon Coming."
SPONSORED HEADLINES
MORE NHL HEADLINES
MOST SENT STORIES ON ESPN.COM
EDITORS' PICKS
NYR 5, MTL 0: Henrik Lundqvist looked at the Canadiens and said no. All night.
Recap »

Wayne Gretzky talks pressure on great players and advice for all athletes.
Watch

#NHLrank: Who are the top 30 players in the NHL today? Our experts picked them, John Buccigross reacted.
Top 30 »