Gretzky's L.A. stage different than Beckham's
Updated:
July 20, 2007, 6:42 PM ET
By
Terry Frei
| Special to ESPN.com
What was the name of that movie?
"Bend it Like Bettman"?
David Beckham spent much of his time this week in the colonies -- when he wasn't making repeated visits to In-N-Out Burger in the Los Angeles area and perhaps asking Angelinos whether Tommy's Burgers are as good -- making ambassadorial media appearances and talking about "growing the game."
Beckham sounded very much like a certain diminutive NHL commissioner who has been doggedly determined to expand the influence of his sport in the United States.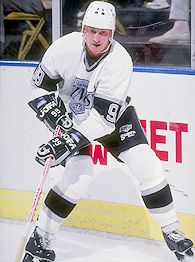 Mike Powell/Getty ImagesWayne Gretzky was traded by the Edmonton Oilers to the L.A. Kings before the 1988-89 season.
Beckham was in the Denver area Thursday, watching the MLS All-Stars' victory over Celtic FC and dropping hints that if he plays at all Saturday in his scheduled debut for the Los Angeles Galaxy, his injured ankle might limit it to a cameo. He drew far more attention, and camera flashes, in his travels around Dick's Sporting Goods Park than did the action on the pitch. And he continued to marvel that soccer isn't among what he called the U.S. "Big Three."
He didn't specify, but I'm assuming he wasn't including the NHL, the league in which one of the pregame rituals has become players fooling around with a soccer ball in the hallway.
(Perhaps soccer stars stage table hockey duels in the players' lounge before they head out on the pitch to warm up?)
Even before heading to the soccer stadium, my niece, Briana, who believes the movie's Jesminder Bhamra had the right idea as she admired Beckham's free-kick wizardry, was running around Denver on Thursday wearing a newly purchased BECKHAM jersey, drawing teasing from my nephews, Aaron and Jonathan, both hockey players who think "Mystery, Alaska" should be on all top 10 greatest movie lists.
Some of this sounded very familiar, and not just because of Beckham's MLS international superstar predecessors, Pele and Franz Beckenbauer, coming to the Big Apple, but because of Wayne Gretzky's 1988 trade to Los Angeles.
Some of it.
The comparisons can go too far, of course, and even demean hockey.
Even in 1988, the NHL had more of a tradition and foothold in Southern California -- and in other warm-weather locales -- than was recognized at the time, and especially in retrospect. Plus, the league's expansion to the Sun Belt probably was inevitable, and even was significantly in motion before Gary Bettman took over as commissioner in 1993. The comparisons also never can quite get a grip on soccer's around-the-globe hold.
But who knows?
Perhaps Beckham could end up a part owner and coach of the MLS Phoenix Free Kicks, overseeing a team playing in a dedicated soccer-only stadium next to the arena and football stadium in Glendale, Ariz.
The year before the trade, Gretzky had married dancer/actress Janet Jones, the shining light (or so I'm told) in such films as "A Chorus Line" and "American Anthem." In 1999, Beckham married Victoria Adams, the Posh one.
There are also some cross-sport links, including that Galaxy owner and MLS mogul Phil Anschutz also owns the Kings and the Staples Center, plus the Kansas City building that at some point soon will be the home of an NHL franchise. Several NHL owners also have ownership stakes in MLS and-or international soccer franchises.
It is at least part of a bigger picture, one in which hockey and soccer in the U.S. are fighting everything from misconceptions about their fan bases to battles to expand them. Plus, it comes down to accepting reality, setting realistic goals, and even reveling in the passionate and knowledgeable nature of the constituencies.
Gretzky went into a market that had been the site of hockey interest for years, both because of the transplant nature of the population and because of the passion of fans who never had lived anywhere outside of the Southlands.
But he was the new flashpoint.
Gretzky, indisputably the best player in the world, attracted general sports fans to indisputably the top hockey league in the world. He drew in members of the mainstream media and even commentators whose hockey pieces could never stoop so low to be straight discussions, but were previously 57 consecutive missives about whether the sport ever would become "legitimate." He made it to Johnny's couch. He made it to the Stanley Cup finals. He helped inspire young Los Angeles-area athletes to try and stick with the sport.
He didn't "make" hockey in the Southlands or the Sun Belt, but he sure as heck helped it, even if some of the reasons didn't make complete sense. Although this never was in his control, he also did it before celebrity-mania got completely absurd and when his skill and talent were more important than whether he could be famous for being famous.
Beckham isn't the best player in the world. The league he is joining isn't anywhere close to the best in the world, but it also has a constituency that too often has been afforded little respect by the mainstream media. And now that Beckham has signed on, there have been the new wave of 3,248 columns and monologues about how the sport is too boring for Americans and why, if it's so great, all these kids who have played it in the past three decades haven't grow up to break down the box-office doors?
After all these years, after fits and spurts, MLS still is fighting the same credibility battles. I also think part of the problem is it's still in the battle for self-identity: Do you retrench, play up the home-grown talent even more, rather than leave the uninitiated among us trying to figure out how good that guy from Argentina really is?
That's where hockey has it all over MLS. Not only has the internationalization of the talent pool improved the sport, it has been pervasive and (mostly) accepted. As Gretzky starred in Los Angeles, he was playing with and against the best players in the world, from around the world.
Now I'm going back to working on my latest screenplay.
"Wraparound Like Gretzky."
Terry Frei is a regular contributor to ESPN.com. He is the author of "Third Down and a War to Go" and "Horns, Hogs, and Nixon Coming."
ESPN.com contributor
Terry Frei is a regular contributor to ESPN.com. He is the author of "Third Down and a War to Go" and "Horns, Hogs, and Nixon Coming."
SPONSORED HEADLINES
MORE NHL HEADLINES
MOST SENT STORIES ON ESPN.COM
EDITORS' PICKS
Custance: The Ducks showed this offseason they aren't happy with just making the playoffs.
Blog

Grantland: Wikipedia isn't always right, but it's always fun.
McIndoe »

#ESPNplayerNHL: Countless stars have played in Canada, but which ones are most important?
Cross Checks »