Commentary
The Blackhawks have to come back this season, right?
Updated:
August 23, 2007, 2:23 PM ET
By
Terry Frei
| Special to ESPN.com
Every year about this time, I try to convince myself that there truly is hope for the Chicago Blackhawks to get back on track, for the Hawks to get back into the playoff mix, and for the latest offseason moves (or inertia) to turn out to be steps forward instead of retreats.
Goalie Nikolai Khabibulin, lured away from Tampa Bay two years ago? Great idea. (And it still could be.) Defenseman Adrian Aucoin, signed to the four-year deal, also coming out of the lockout? Solid move. (And it still might be ... for the Flames.) Winger Martin Havlat last year? A steal, even for Mark Bell. (And it was.) Center Robert Lang, signed this summer? Forty goals in a 2007-08 rejuvenation, for sure, so he'll be a steal in the fantasy league draft.
The "kids," including top 2007 overall pick Patrick Kane and Jonathan Toews, will tear it up.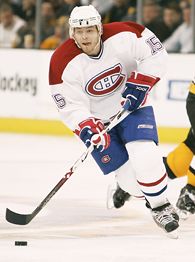 Elsa/Getty ImagesWill Sergei Samsonov help the Blackhawks return to prominence?
Winger Sergei Samsonov, acquired from Montreal, will get his head on straight and start living up to the "p" word -- potential -- that has shadowed him as relentlessly as Esa Tikkanen.
Denis Savard, the most savvy of players, is a great coach waiting to happen, and general manager Dale Tallon is getting this front-office business down, as when the defenseman-turned-broadcaster-turned golf pro went to the driving range and worked on his touch with the 3-wood.
I get carried away. I'm rooting for the Blackhawks. I admit it. I can't help it.
That said, I have no ties to the Windy City, other than the fact that my parents lived there for a few years (after I had left the nest) and my sister and her family still live there. Well, I have no other ties, unless you count White Castles (unlike many of my friends, I have actually eaten them before midnight), plus:
• Gino's East pizza.
• A weird fascination with tossing change into the basket at various junctures on Interstate 294.
• Communing with Mike Royko's spirit at the Billy Goat Tavern. The real one, under Michigan Avenue, and not the others.
"It's 106 miles to Chicago, we got a full tank of gas, half a pack of cigarettes, it's dark, and we're wearing sunglasses." (With all due respect to Jake and Elwood, I think Bobby and Dennis Hull said that first.) This rooting interest comes back to a recognition of what a rocking United Center and the return of genuine NHL excitement and Loopy affection for the franchise (even for its ownership) would mean to U.S. hockey and the NHL.
It would be exciting, invigorating, hair-standing-on-end thrilling, and not akin to when one of the NHL's "nontraditional" markets -- with the combination of transplants who were raised on hockey and natives who have discovered it -- warms up to the game. There's nothing wrong with "new" enthusiasm generated by winning, but this would be different.
More than anywhere else, Chicago is a Hockeytown in a deep freeze.
From afar, the Chicago hockey scene is a fascinating contradiction and one of the battles that defines the state of the NHL, both past and present.
If Frenchman Alexis de Tocqueville could return and do some more documenting of the American scene with the fresh approach of an outsider, I'd direct him to Chicago and tell him to tackle the issue of the fascinating relationship between the area's multitudes of hockey fans and the Wirtz family ownership, represented to most by one of the patriarchs, Bill Wirtz.
Those fans are out there and they want to come back. They're out there by the thousands, every home-game night in the arena and every game night in front of the television.
It wouldn't be a bandwagon. It would be a return following at least a slight dismantling of the Wirtz Wall of disaffection the ownership has inadvertently, and in some ways calculatingly, built between the Blackhawks and fandom.
Only in Chicago could a mention of "The Blue Line" not necessarily summon thoughts of keeping the puck in or offside or a defensive corps, but a caustic and hilarious program-type publication that not only skewered the Blackhawks' ownership, but also took the team to court, arguing antitrust violations. (Mark Weinberg's book, an anti-Wirtz tract, "Career Misconduct," was an outgrowth of "The Blue Line.")
There's a lot to overcome, including those final years of the previous collective bargaining agreement. The Blackhawks acted as if they were a small-market team, needing to pare and balance the books. Financial aggressiveness -- reasonable financial aggressiveness, not Rangers-style silliness -- still would have been justifiable given the real and potential advantages in the NHL's largest one-team metro area.
Out in the suburbs, or even in the city, where kids played at Johnny's IceHouse, they went through USA Hockey programs and moved on, but they were fans of other teams because of the Hawks' slide and the shortsighted decisions about refusing to televise home games locally.
The thunder and the organ in the Stadium, and even in the mid-1990s at the United Center, died down.
That's bad for the NHL and for all of hockey.
If the excitement comes back, virtually everybody wins.
Terry Frei is a regular contributor to ESPN.com. He is the author of "Third Down and a War to Go" and the upcoming "'77."
Special to ESPN.com
Terry Frei is a columnist for the Denver Post. He is also the author of "Third Down and a War to Go" and "Horns, Hogs, and Nixon Coming."
SPONSORED HEADLINES
MORE NHL HEADLINES
MOST SENT STORIES ON ESPN.COM
EDITORS' PICKS
John Tavares and Ryan Getzlaf are among those with momentum coming out of the All-Star break.
Eastern Conference »
West »

Pronman: The top 30 draft prospects
Story