Commentary
As Tampa Bay showed, big threes just can't exist in this NHL
Updated:
February 29, 2008, 3:14 PM ET
By
Terry Frei
| Special to ESPN.com
After nearly three seasons under the NHL's salary-cap system, this much is obvious: There are no magic formulas for coping with it.
But, at the very least, the Tampa Bay Lightning's unraveling should make GMs increasingly wary of investing anything close to a third of the available cap space in a given season in a big three of forwards, leaving less to invest in the rest of the roster.
Even limiting it to three might be arbitrary, yet it's a handy frame of reference. With disclaimers that no two situations are alike and common sense always has to come into play, the evidence is that paying a big three of forwards anything above 30 percent of the available cap space doesn't make sense.
[+] Enlarge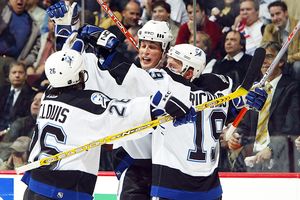 Dave Sandford/Getty ImagesThe Big Three in Tampa Bay is no more as Brad Richards was traded to Dallas before Tuesday's trade deadline.
Chances are, it doesn't add up to success.
Think back to nearly four years ago, when the Bolts finished off their seven-game victory over the Flames in the Stanley Cup finals, and the celebration began along the waterfront.
The future seemed promising, with Vincent Lecavalier, Hart Trophy winner Martin St. Louis and Conn Smythe Trophy winner Brad Richards all aboard; with Dan Boyle coming into his own as one of the better under-30 defensemen in the league; and with the Lightning becoming one of the top gate attractions in the league.
It all came apart in the cap era.
The Lightning didn't make it out of the first round in each of the past two seasons.
As of Friday, the Bolts still are 15th in the East. They're 29th overall, ahead of only the Los Angeles Kings.
Tampa's fortunes unraveled because of a lot of things, including misplaced faith in goalies John Grahame and Marc Denis after Nikolai Khabibulin's signing with Chicago. Count me among those who thought GM Jay Feaster made a savvy move in picking up the battle-tested workhorse, Denis, from Columbus. Rather, it turned out to be a disaster.
Ownership dramas didn't help, either. There was one false start in Bill Davidson's attempt to sell the team, and now film producer Oren Koules of Twisted Pictures is the owner-in-waiting, calling shots.
Perhaps with his experiences as executive producer of the Charlie Sheen sitcom "Two and a Half Men" in mind, Koules was instrumental in breaking up the Lightning's Big Three by having Feaster check into the feasibility of trading Richards, a process that included determining which teams Richards would accept joining by waiving his no-trade clause.
Koules is a novice prospective owner, and maybe his motives were as much fiscal as competitive, but he was on the right track.
So Richards is with Dallas, where the Stars are girding for Mike Modano's retirement (whether this season or next or …), and the Lightning are left hoping that erstwhile backup Mike Smith is finally the answer to their goaltending woes.
Are other GMs noticing?
In the cap era especially, isn't investing heavily in three forwards at the very least a huge risk?
This is a league with some teams operating under a budget and others pushing the cap, and the gaps between the former and latter are widening as the cap goes up. But even for the teams that have clearance to push the upper levels of the cap (leaving some wiggle room for final-minute moves is not being spendthrift, but wise), the issue of how to divide up the available payroll by position is crucial.
If a general manager tries to apply an inflexible formula in apportioning "x" percentage of cap space to forwards, "y" to defensemen and "z" to goalies, that wouldn't work because of all the variables involved, including the ages of his best players at any position. It's impossible to reach hard and fast conclusions and formulas.
Regardless of the top-paid players' positions, astute judgments on the second-tiered and lower-priced players are even more necessary. And, somewhere along the line, several in that group have to be delivering far more bang for the bucks in their contracts, whether because they're simply young, homegrown products still ascending the salary scale, or otherwise.
The higher the percentage of payroll going to a big three of forwards, the higher the risk is. They all had better be terrific, even if that means producing despite a lack of quality depth on the roster in part produced by the top-heavy salary structure in the cap age. This season, at least, Richards was just OK; at a minus-25, some might argue he was worse than OK.
The cap started at $39 million in 2005-06 and is $50.3 million this season, thanks to increased revenue and the strengthening of the Canadian dollar. That has opened up room and opportunity each season and, in a sense, increased the margin for error and bang-for-the-buck miscalculation. Next season, the cap is expected to go up at least another $3 million.
But if the Lightning had kept Richards, who is signed through 2010-11 at $7.8 million a year, the Big Three would still have had combined cap numbers of $19.9 million at Tampa Bay next season. This season, the Big Three were taking up 39 percent of the cap.
If this were the NFL, with its nonguaranteed deals driven by signing bonuses, the Lightning could have gone to Richards and said, "Brad, nothing personal, you're a great player, but you're not delivering that bang for the buck, and if you want to stick around, and especially if you want us to be able to build a better team around you, you're going to have to take a cut or, ahem, 'restructure.'" But it doesn't work that way under the NHL's hard cap and, for the most part, that inflexibility and simplicity is a good thing, especially when it's compared to the farcical NBA cap, with its luxury taxes and exceptions.
The Lightning were also looking at needing to re-sign Lecavalier after next season. And because St. Louis' contract was seriously front-loaded, he will make less in each of his next three seasons than his $5.25 million cap number.
So Richards is gone.
Before the NHL trading deadline, the Lightning were one of three Eastern Conference teams with their three highest-paid forwards taking up more than 30 percent of the $50.3 million cap for 2007-08.
The other two:
• The Rangers, with Scott Gomez, Chris Drury and Brendan Shanahan combining for cap figures of $19.7 million. Notice anyone missing? That's right, Jaromir Jagr. His cap number is $4.9 million. At the trading deadline, the Rangers were sixth; now, they're seventh in the East.
• Atlanta, which predictably unloaded Marian Hossa at the deadline. Before that, Hossa's, Ilya Kovalchuk's and Bobby Holik's combined cap numbers on the Thrashers' payroll were $16.7 million. The Thrashers were (and are) 14th in the East.
To summarize: The teams with the highest pre-deadline stakes in big three forwards were 15th, seventh and 14th in the East.
It's more nebulous out West, and Joe Sakic's long absence after hernia surgery creates an asterisk. But before the trading deadline, there were also three Western Conference teams investing more than 30 percent of their cap space in three forwards:
• Colorado had a total of $16.9 million in cap space committed to Sakic, Ryan Smyth and Milan Hejduk. The Avs were 10th in the conference at the deadline, though they have won two straight since and are now in eighth.
• Columbus was using $15.5 million in cap space for Sergei Fedorov, Rick Nash and Fredrik Modin. The Blue Jackets were 11th in the conference and, curiously, given that they were only five points out of a playoff spot, the fire sale opened.
• Calgary's cap figures included a combined $15.1 million for Jarome Iginla, Alex Tanguay and Craig Conroy. The Flames were leading the Northwest Division, putting them third in the conference. Otherwise, they would have been fourth.
Again, stars in ascension can create some skewed and strange numbers. At the start of the season, the Penguins' highest-paid forwards before the deadline -- wunderkinds Evgeni Malkin and Sidney Crosby, plus Gary Roberts -- had combined cap numbers of "only" $10 million.
But, in general, beware if the slice of the pie for three forwards is too big.
Terry Frei is a regular contributor to ESPN.com. He is the author of the just-released "'77" and "Third Down and a War to Go."
Special to ESPN.com
Terry Frei is a columnist for the Denver Post. He is also the author of "Third Down and a War to Go" and "Horns, Hogs, and Nixon Coming."
SPONSORED HEADLINES
MORE NHL HEADLINES
MOST SENT STORIES ON ESPN.COM
EDITORS' PICKS
Strang: Brendan Witt always took time to create a special experience for sick children. Now, he is making sure that doesn't end in his retirement.
Story »

Player Power Rankings: Devan Dubnyk looks solid with Minnesota Wild, but Ilya Bryzgalov not the answer for Anaheim Ducks.
Strang »

LeBrun: Wade Redden knows what it's like to be a highly paid NHLer exiled to the minors.
Story »