Commentary
The can't-miss games of 2008-09 NHL season
Updated:
July 18, 2008, 6:01 PM ET
By
Terry Frei
| Special to ESPN.com
Don't know whether you heard, but Clark and Ellen Griswold -- who won a family trip on the game show "Pig In A Poke" and turned it into a "European Vacation" in the 1985 film -- got lucky again recently.
[+] Enlarge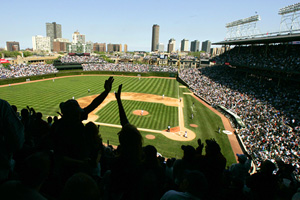 Steve Green/MLB Photos via Getty ImagesJust picture an NHL-sized rink in the middle of this field. It's happening on Jan. 1, 2009.
They won a call-in contest on NHL commissioner Gary Bettman's radio show, with Clark not only supplying the real first name of former Canadiens star "Newsy" Lalonde, but also spelling it correctly.
The prize was an all-expenses-paid trip for two -- and that was fine with them, since they are empty-nesters now -- to 10 games of their choice in the 2008-09 NHL season.
I promised that once the NHL released the schedule Thursday, I'd provide my suggestions.
My own stipulations were that the excursions be spaced out over the course of the season and involve a rough parity between Eastern and Western conference teams and cities, and that only the Stanley Cup champions could be on the schedule more than once.
Here's my list. It can work for either movie characters or real folks who have hit the Powerball or have millions of airline miles and hotel points stored up:
1. Saturday, Oct. 4: Tampa Bay vs. New York Rangers at Prague
The Lightning head to Europe with Vincent Lecavalier basking in his 11-year contract extension, Ryan Malone enjoying his free-agency deal, a new organizational chart from the owners on down and Filip Kuba, Radim Vrbata and Vaclav Prospal acting as interpreters in their homeland. The Rangers fouled it up by not convincing Jaromir Jagr to return, but there still will be plenty of drama -- and potential cultural adventures for spectators and players alike -- as the Eastern Conference opponents play the first of back-to-back games in the Czech Republic's capital. We'll also start to find out whether Markus Naslund will be rejuvenated after a change of scenery.
2. Tuesday, Oct. 22: San Jose at Philadelphia
This is here in part because interconference matchups, while more common under the new scheduling matrix, still aren't frequent enough. The Sharks, after perceived playoff underachievement under Ron Wilson, head to Philly under new, enthusiastic coach Todd McLellan, the former Red Wings assistant. Joe Thornton and Patrick Marleau still are together, and Dan Boyle and Rob Blake have been added on defense. And, after the morning skate, the Sharks can divide up and visit Gino's, Pat's and Jim's in an attempt to answer the age-old question: Who has the best cheesesteaks?
3. Tuesday, Nov. 11: Pittsburgh at Detroit
A rematch of this past season's Stanley Cup finals with a galaxy of stars and Marian Hossa wearing the Winged Wheel this time. Need we say more?
[+] Enlarge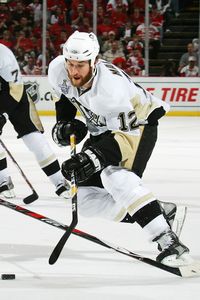 Bruce Bennett/Getty ImagesForward Ryan Malone left Pittsburgh for Tampa Bay via free agency.
4. Friday, Dec. 19: Anaheim at Edmonton
Nobody comes to games to see whether the general managers -- in this case, the feuding Kevin Lowe (Edmonton) and Brian Burke (Anaheim) -- run into each other in the hallways or the press box and drop the gloves or do anything else. But it at least would be interesting to note the reaction if Burke attended the game and his picture flashed on the scoreboard screens.
5. Thursday, Jan. 1: Detroit vs. Chicago at Wrigley Field
I was tempted to leave this off, and not because the Griswolds are from the Chicago area. The game will be a happening in the Friendly Confines, plus a showcase for NBC and the league. This might also get the Blackhawks -- loaded with young talent -- one step closer to recapturing the attention and affection of the league's sleeping-giant market.
6. Saturday, Jan. 10: Washington at Montreal
During the Canadiens' centennial season, it's a must to take in a game in Montreal … and the All-Star Game doesn't work for that kind of experience. So, the choice is Alexander Ovechkin's visit to the Bell Centre, where he will put on a show and won't hold the mustard.
7. Saturday, Feb. 21: Vancouver at Toronto
On "Hockey Day in Canada," this is the middle tilt of the CBC's three games … and the network and nation add other coverage. No word on whether Don Cherry will find himself with the "Corner Gas" cast at Ruby's in Dog River, Saskatchewan, this season, or in a real small town while tapping into the game's grassroots interests. In a way, even folks who attend the Canucks-Leafs game will feel as if they are part of the Senators-Canadiens and Flames-Oilers matchups on either side.
8. Thursday, March 12: Phoenix at New Jersey
This is thrown in to check on Martin Brodeur's chase of Patrick Roy's career wins record, to visit the league's newest arena in Newark and to see how well Wayne Gretzky's nurturing of his precocious potential stars is progressing.
9. Tuesday, March 31: Ottawa at Florida
The Senators are always interesting. Perhaps by the time this game takes place, we'll know which were the real Senators -- the 2006-07 Cup finalists or the inept crew that almost missed the playoffs and exited quickly in 2007-08. And the Panthers … aw, who are we trying to kid here? After a long winter, an early spring stop in South Florida is a nice change of pace. Don't forget the sunblock, and get in a few days early and catch some of the final Grapefruit League games.
10. Tuesday, April 7: Dallas at Minnesota
The Stars and the Wild meet in a Western Conference matchup that should embarrass former North Stars owner Norm Green. Despite the Wild's inertia, Minnesota still will be the favorite in the Northwest Division, and the Stars at least made the Red Wings sweat in the 2008 playoffs. Plus, one of the most underplayed aspects of the NHL's sometimes seemingly careless migration is Dallas has become one of the hottest markets in the United States for youth hockey. So this, in a weird way, is one of the United States' showcase market matchups.
It's all worth another movie.
Terry Frei is a regular contributor to ESPN.com. He is the author of the just-released "'77" and "Third Down and a War to Go."
Special to ESPN.com
Terry Frei is a columnist for the Denver Post. He is also the author of "Third Down and a War to Go" and "Horns, Hogs, and Nixon Coming."
EDITORS' PICKS
Washington could make a deep playoff run, and quiet superstar Nicklas Backstrom is one of the top reasons.
Story »

LeBrun: A green light for the World Cup doesn't mean a red light for the Olympics.
Story »

Fantasy: Goalie rankings and lineup tips, as well as the latest line shift intel to help you win your fantasy hockey contests.
Blog »
MOST SENT STORIES ON ESPN.COM