Commentary
Our top 10 Joe Sakic moments
Updated:
July 9, 2009, 7:54 PM ET
By
Terry Frei
| Special to ESPN.com
When the playoff game went to overtime, you always felt confident if you had Joe Sakic in the winning-goal pool.
Or if he was on your team.
His NHL-record eight overtime playoff goals don't do justice as a summary of his career but probably are the right place to start, because they always were the sort that brought his teammates off the bench, whooping, racing -- and there would be No. 19, about to be in the middle or at the bottom of a mob.
The Avalanche captain, who will officially announce his retirement Thursday, caused those celebrations; he didn't lead them. With speed, an uncanny ability to minimize the impact of hits and attention, a sneaky wrist shot that drew involuntary shakes of the head no matter how many times you saw it, and an aura of leadership that required no bombast, pulpit or even many words, Sakic was (and still is) the face of hockey in Colorado. One of the compliments to him is that so many of his signature moments or images involve team accomplishments of which he was an indispensable part.
At retirement, he is 14th in career goals (625) and eighth in points (1,641). The other half of the Avalanche's onetime peerless center combination, Peter Forsberg, couldn't be knocked off the puck and took over games. Patrick Roy made the money saves. Sakic's two-way game was as much about the "C" near his shoulder and an unpretentious yet commanding aura as it was about the numbers he produced.
Picking the top 10 moments of anyone's NHL career is unavoidably subjective, producing "Well, what about …" reactions. This is designed to be a cross-section:
Elite Company
Joe Sakic's place in history is set after a historic career. He is one of just seven players in NHL history to reach 600 goals and 1,000 assists.
| | Goals | Assists |
| --- | --- | --- |
| Wayne Gretzky | 894 | 1,963 |
| Gordie Howe | 801 | 1,049 |
| Marcel Dionne | 731 | 1,040 |
| Mark Messier | 694 | 1,193 |
| Steve Yzerman | 692 | 1,063 |
| Mario Lemieux | 690 | 1,033 |
| Joe Sakic | 625 | 1,016 |
1. Two Cups, one handoff
The iconic picture of Sakic in Colorado always will be of him on the steps of the City and County building, looking out over the 200,000 people gathered in the Civic Center plaza below. He is holding the Cup aloft, and the State Capitol dome is shining in the background.
It was June 1996, and the Avalanche had just won Denver's first major league championship. The Broncos' two Super Bowl championships followed in 1998 and 1999, and the city set a precedent for how to handle the parade and celebration.
Five years later, when the Avalanche won the Stanley Cup for the second time, tradition dictated that Sakic approach commissioner Gary Bettman and accept the most famous trophy in North American sports.
Yet it was a touch pass, and Sakic immediately delivered it to Ray Bourque, who had waited so long -- and so hungrily -- for the opportunity to raise it overhead. The most impressive thing? Not for one second did it come off as a calculated, grandstanding move on Sakic's part. He just did it. Not because anyone would say, "What a great guy!" Not because he knew the world was watching. He just did it because it was the classy thing to do.
2. Conn Smythe Trophy
In 1995, Sakic struggled against the Rangers in a first-round playoff series, which proved to be the Nordiques' swan song in Quebec. But the next season, his Mr. Clutch reputation began building, and his work was crucial in getting the Avalanche out of the first two rounds and avoiding another playoff "failure" for the on-the-rise franchise. With the first-round series against Vancouver tied at 2, he scored the game-tying goal late in regulation
and
the game winner in overtime before netting the game-winning goal in the final two minutes of the third period in the series-ending Game 6.
But he didn't stop there.
Among his eight overtime playoff goals, none was bigger than the one in the third extra period of Game 4 against the Blackhawks in the most entertaining playoff series Colorado has ever played -- the 1996 Western Conference semifinals against, among others, Ed Belfour, Jeremy Roenick and Chris Chelios. Sakic deflected in an Alexei Gusarov shot, and the Avalanche evened the series at 2 on the road. Patrick Roy's infamous remarks about not being able to hear Roenick -- blatantly hauled down in overtime by Sandis Ozolinsh without either a penalty or penalty shot called -- because of his Stanley Cup rings plugging his ears came the next day.
Sakic finished the postseason with 18 goals, only one short of the league record held by Reggie Leach and Jari Kurri, and his six playoff game-wining goals were a record at the time. He won the Conn Smythe Trophy. "You dream about this moment, and it's unbelievable," Sakic said in the early morning hours after the marathon Game 4 against Florida in the Cup finals secured the Avalanche sweep. "We've come such a long way in this organization, from the time we started rebuilding in Quebec."
3. The big haul
In 2001, Sakic scored the crucial goal in Game 7 of the Cup finals against the Devils, beating
Martin Brodeur
with a wrist shot that went between Scott Stevens' legs. Significantly, the Avalanche had played the final two series against St. Louis and the Devils without Forsberg, who had his spleen removed after Game 7 in the second round against Los Angeles. A few days later in Toronto, Sakic accepted the Hart, Lester B. Pearson and Lady Byng trophies. "I couldn't imagine a better week in the game of hockey," Sakic said.
[+] Enlarge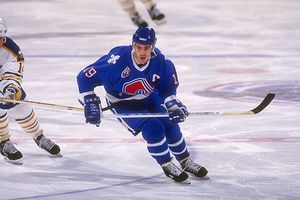 Rick Stewart /AllsportJoe Sakic started his career in Quebec before the franchise moved to Colorado after the 1994-95 season.
4. Gieuseppe, the Croatian Sensation
On Oct. 6, 1988, the baby-faced son of Croatian immigrants to Canada played his first NHL game in Hartford, and he scored his first goal two nights later against New Jersey. One of his teammates, Peter Stastny, had an infant son running around, a kid named Paul. At Sakic's retirement, Paul Stastny, a wood-stick holdout, is his heir apparent.
5. Captain Joe
During the 1992-93 season, Sakic donned the "C" as the franchise's captain for good. The designation continued through 16 seasons until his retirement. In addition to his duties in raising the Cup, he was one of the few calming influences -- along with his Detroit counterpart No. 19,
Steve Yzerman
-- during the most acrimonious days of the Avalanche-Red Wings rivalry.
6. The offer sheet
Sakic's affinity for Colorado wasn't unconditional -- at least not in 1997. He signed an offer sheet with the New York Rangers that called for him to make $21 million over the next three seasons, with $15 million paid up front. The deal was designed to make it even more difficult for the cash-starved Avalanche ownership to match, but Colorado, after lining up an infusion of capital from a couple of media operations, did just that eight days later to retain Sakic. The entire scenario left Avalanche management embittered at the Rangers, but not at Sakic, who shrugged it off as "high finances" he isn't a part of and didn't put the $15 million check through the washing machine. The contract was cited as one of the benchmarks in the subsequent escalation that led to the NHL lockout seven years later.
7. 1,000 and 1,500 points
In 1999, Sakic and Forsberg often double-shifted under coach Bob Hartley, and not always because one or the other was injured. That helps explain why, when Sakic became the 56th NHL player to crack 1,000 points, it came on an assist for a goal by
Chris Dingman
-- Chris Dingman! --- on Dec. 27, 1999 against St. Louis. Typically, he tried to divert attention to Dingman.
Sakic said of Dingman: "He told me before the game it was going to come in the second period, when we had our first shift together. You're gonna have to talk to him. He's the genius." Also, Sakic's standard line was that most of his assists came on rebounds.
His 1,500th point came on Oct. 25, 2006, when he assisted on Andrew Brunette's goal against Washington. He was the 11th player to reach that milestone.
8. Gold
During an otherwise substandard season for him, Sakic was the MVP of the 2002 Salt Lake City Olympics with four goals in six games, helping lead Canada to its first men's hockey gold medal in 50 years. "I know what this means to our country," he said then. "As a kid, you dream of winning the Stanley Cup. As you get older, you understand the importance of winning the Olympics."
9. 500 and 600 goals
On Dec. 11, 2002, his 500th career goal came in his hometown, in a 3-1 loss to the Vancouver Canucks. He was the 31st NHL player to reach the milestone, the 13th to do it all with one team.
On Feb. 15, 2007, he became the 17th player in NHL history to reach 600, scoring an empty-netter in the finals seconds of a 7-5 win at Calgary. "It feels good, especially after an important win," Sakic said. "When you look back, you probably wouldn't want to do it on an empty net, but I had no choice." By the end of the season, he had 100 points, joining Gordie Howe as the only players to reach that at age 37 or older.
10. Bowing out
His final NHL game turned out to be a cameo appearance in Phoenix on Nov. 28, when he discovered his back still was a problem. Ultimately, he had surgery, and he suffered broken fingers and tendon damage in a snowblower mishap at home. He practiced with the team late in the season, hoping to come back and play in the final week, but abandoned that plan. After the Avalanche's disastrous season ended, he said of a possible return for 2009-10: "I'll continue the rehab I'm on and make a decision soon after that."
It didn't take long.
Terry Frei is a regular contributor to ESPN.com. His books include "Third Down and a War to Go" and the upcoming "The Witch's Season." He can be reached at terry@terryfrei.com.
Special to ESPN.com
Terry Frei is a columnist for the Denver Post. He is also the author of "Third Down and a War to Go" and "Horns, Hogs, and Nixon Coming."
EDITORS' PICKS
With seven guys within five points of the league scoring lead, who better to break down the Art Ross Trophy race than The Great One.
LeBrun »

Pucks Central: The Sens face a new test, the Kings are rolling through New York, and there was an odd show in Buffalo on Thursday.
Story »

Jaromir Jagr says he could play at least seven more years, and there is no questioning the impact the 43-year-old has already had on the Panthers.
LeBrun »
MOST SENT STORIES ON ESPN.COM