Preds in the playoff hunt
After a Jekyll-and-Hyde season last year, the Predators are aiming for consistency and the playoffs.
Updated:
December 3, 2003, 8:51 PM ET
By
E.J. Hradek
| ESPN The Magazine
Last spring, the Nashville Predators played host to the NHL draft. This spring, the sixth-year expansion club hopes to host some Stanley Cup playoff games.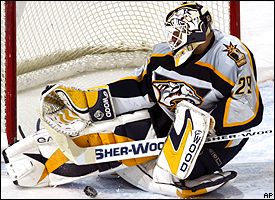 Tomas Vokoun's stamina will be a major issue for the Predators in the playoffs.
"People are getting a little excited down here," said coach Barry Trotz, whose team has gotten off to a best-ever 12-10-1 start as they begin a three-game road trip in Carolina on Wednesday. "We know it's a marathon, but I think our guys are tired of being just OK. They want to win."
Last year, after management issued a "playoff pledge" to their season-ticket holders, the Preds stumbled out of the gate like a late-night patron of one of the city's several honky-tonks. Despite a 2-10-4-4 record in their first 20 games, GM David Poile opted to stay the course with his long-time coach. A 25-15-6-1 run lifted them into the playoff mix, but they couldn't sustain the pace. A combination of injuries and perhaps a bit of burnout resulted in a 0-10-3-2 season-ending slide.
That Jekyll-and-Hyde season led to one question: Who are the real Predators?
"I really think we're the team that played so well during the middle of last season," Trotz said. "This year, we've tried to build off that success."
Veteran forward Scott Walker, among the few 30-year-olds on the roster, figures last season's small taste of success has wet the appetite of the club's many young players.
"You can't underestimate experience," said Walker, who, along with linemate Greg Johnson, is one of just two remaining original Preds remaining on the roster. "I think a lot of the guys -- especially the younger guys -- found out (during that mid-season stretch) that we can be successful if we're willing to commit to the system.
"There's definitely one thing about our team, it takes all 20 guys for us to be successful."
And is shows in the stats. Through 23 games, eight players have posted double-digit point totals. Four others have eight or nine points.
"Everybody has been chipping in," Trotz said. "We've been getting offensive production from three lines and our fourth-line guys have been strong and provided a lot of energy.
"Our defensemen are doing a good job of moving the puck, and we've been getting really good goaltending from Tomas Vokoun."
Actually, "really good" might be an understatement. An 11th-round pick of the Canadiens in 1994, Vokoun emerged as club's top stopper last December when Poile shipped Mike Dunham to the New York Rangers for a package of players. Vokoun played in 57 of the team's final 58 games, starting the last 38. He finished with 25 wins, three shutouts, a 2.20 goals-against average and a sparkling .918 save percentage.
This year, Vokoun's goalkeeping has been the single most important element in the club's recent 8-2 run. His performance is more impressive considering he's working behind a faster and younger defensive unit. Veteran blueliners Andy Delmore, Cale Hulse and Bill Houlder have been replaced by 26-year-old Czech-born newcomer Marek Zidlicky, rookie Dan Hamhuis and journeyman Jamie Allison.
Zidlicky, acquired from the Rangers in the Dunham trade, has made the biggest impact, replacing Delmore as the club's power play quarterback. Through 23 games, he leads the team and ranks third among all NHL defensemen with 17 points, 13 of which have come on the power play.
Zidlicky, a top player in the Finnish Elite League for several seasons, was picked in the sixth round of the 2001 draft by the Rangers. However, Zidlicky was reluctant to try his luck with the them because they haven't shown much of a desire to play young defenders. After his rights were dealt to the Preds, Zidlicky figured the time was right for a move to the NHL. A clever puck-mover, Zidlicky has been paired with Allison.
The club's top defensive unit remains anchored by underrated Kimmo Timonen, who's currently paired with Mark Eaton. The Finnish-born Timonen, 28, plays a team-high 25:04 minutes per game and has been a regular with the Predators since their first season.
"He's not as big as some defenseman, but he plays bigger than his size (5-foot-10, 195 pounds)," Trotz said. "He's got great instincts. I think he's been a big part of why Zidlicky has done so well for us on the power play. He had that kind of impact on Andy Delmore, too."
The club's third pair features Hamhuis, 20, and veteran Jason York. The 12th overall pick in 2001, Hamhuis was expected to spend another season with the club's American Hockey League affiliate in Milwaukee. But a rash of injuries resulted in an early promotion.
"He's been pretty steady so far," Trotz said. "He's not overly big, but he plays with a physical edge to his game. I think, down the road, he can be a guy like Wade Redden, who's good in all areas of the game."
Up front, the line of young North Americans David Legwand, Scott Hartnell and Adam Hall has been a nice complement to the European trio of Denis Arkhipov, Vladimir Orszagh and Martin Erat. The six forwards, who've combined for 30 goals and 75 points, make it difficult for opponents to focus on one line.
"We've wanted those guys to step up this year and they have," Trotz said. "We've been getting ahead in games and getting timely goals. That makes a difference."
The club's third line, Walker, Johnson and Rem Murray, also has provided some offensive support while handling most of the checking assignments. Walker and Johnson each have six goals, while Murray has three goals and six assists.
Meanwhile, rotating fourth liners Jim McKenzie, recently acquired Jeremy Stevenson and rookies Jordin Tootoo and Wade Brookbank have been more than willing to set a physical tone when called upon.
With more than two-thirds of the season remaining, the Predators are a long way from playing some serious spring hockey.
"In the past, we've been a streaky team," Trotz explained. "To make the playoffs, we've got to stay out of those long winless streaks. We can't go six or eight games without getting points."
Around the Hrink

| | |
| --- | --- |
| | |
| | Yzerman |
EDITORS' PICKS
The fall of Jimmy Howard will only help the rise of Petr Mrazek in Detroit's net. Who else is making noise in the push for the playoffs?
Strang »

With seven guys within five points of the league scoring lead, who better to break down the Art Ross Trophy race than The Great One.
LeBrun »

McDonald: The Bruins play the most important game of their season Saturday against the Rangers.
Story »
Reebok Youth New Jersey Devils Deflect Long Sleeve Red Shirt Shop »
MOST SENT STORIES ON ESPN.COM