High hopes for the highly-paid
Think bigger things are only expected from big disappointments? Think again.
Updated:
October 6, 2003, 3:06 PM ET
By
George Johnson
| Special to ESPN.com
Big names. Big tickets. Big expectations. In the game, there is always pressure to win, to excel, to lead. For some famous faces, however, the scrutiny this year will be microscopic.
They're either trying to rebound from poor seasons, live up to their salaries or help new teams make the quantum leap from pretender to contender.
Here, then, as a new season beckons, is a list of 10 men on whom the NHL spotlight is bound to shine most intensely: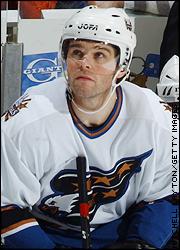 1. Jaromir Jagr, Washington Capitals:
What a waste! Of talent. Of money. So prodigious are his abilities that 36 goals and 77 points in 2002-2003 was considered an abject failure. Too often last season, Jagr appeared unmotivated and out of sorts. Well, factor in inflation and whaddaya expect for $11.5 million, anyway? Consistent production?! Alas, Jagr seems content to be what many considered him during his seasons in Pittsburgh playing off Super Mario, an extravagantly-talented second banana. Perhaps he simply is incapable of leading. The situation in Washington is far from dire. At least the Caps are a playoff-contending team. Imagine how pouty he'd be still stuck in Pittsburgh?
2. Eric Lindros, New York Rangers: It seems so painfully long ago when the Big E, at 22, won the Hart Trophy, doesn't it? When he seemed more a force of nature than a human being; a physique apparently chiseled from Tuscan marble and a mean streak as wide as the Holland Tunnel. Only a few years and few concussions later, The Next One is The Wrecked One. Five years ago, there wasn't a team in the league that wouldn't take out a second mortgage on their arena to land him. Now, given the ticket and the recent history, not many would go near him. Health wasn't an overriding concern last year (he played in 81 games), and yet Lindros only contributed 53 points as the Blueshirts bungled their way out of the playoffs for a franchise-worst sixth straight season. With Mark Messier another year older and Pavel Bure a write-off due to injury, Manhattan will look to Lindros to alleviate their suffering. No one is convinced anymore that he can deliver the goods.
3. Jeff Hackett, Philadelphia Flyers: This is the first time Hackett has played behind a team capable of winning a Stanley Cup. Now that could be a good thing. Or a bad thing. Depending. The pressures on him in Philly will be far different than he's had to deal with at any time during his career and he's never been one to handle scrutiny or second-guessing particularly well. He isn't trying to piggyback a bunch of kids or retreads anymore. Flyer fans will be judgmental, seeing as how GM Bobby Clarke decided to opt for Hackett instead of another, more high-profile goaltender. They can be an unforgiving lot. See Roman Cechmanek for details.
4. Dan Cloutier, Vancouver Canucks: Like your sideview mirror says: Objects are closer than they appear! In Cloutier's case, the object is Johan Hedberg.
5. Roman Turek, Calgary Flames: No team with a payroll of $34 million can afford to shell out $4.5 million of that on a netminder who's going to submarine its chances on far too many nights by letting in first shots or comedy-channel goals. Yet that's precisely what Turek did to the Flames last season. And they're on the hook for two more years after this one! There exists an uneasy truce between coach/GM Darryl Sutter and the man they call Large at the moment. That could change, for as Turek goes so go the Flames (now holding the distinction of the league's longest streak of non-playoff seasons). Oh well, Turek at least showed up to training camp in better shape than everyone's accustomed to. That's a start.
6. Marian Gaborik, Minnesota Wild: Assuming a contract is eventually hammered out, and for major, major coin, all eyes in Minny will be fixed on the ludicrously-gifted Gaborik. His numbers masked the fact that he scored only four goals in his final 32 regular-season games and was virtually erased from view as the Wild finally succumbed to the Mighty Ducks in the Conference final, when they needed him most. He's going to be under big pressure to live up to the outlay once a deal is agreed upon, and produce on a more consistent basis.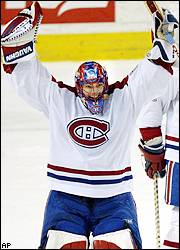 Can Jose Theodore return to his playoff form of 2002?
7. Jose Theodore, Montreal Canadiens:
As if that quantum drop-off in performance from the Hart Trophy-winning season isn't enough, there is that little matter of his father and four half-brothers being arrested in a loan-sharking ring and those unflattering photographs of him hanging with the Hell's Angels. Life can become complicated when you're the Francophone star of the big team in the largest French city this side of Paris. How much Theodore's confidence and focus have been rattled by the controversy remains to be seen. All the intrinsics remain in place, obvious for all to see -- quickness, movement, positioning. Montreal is never an easy place to play. It's a hundredfold harder if you're a local phenom under the microscope.
8. Alexei Yashin, New York Islanders: The Islanders got booted from the first round of the playoffs again, Yashin's pulling in twice as much in salary as anyone else, and his patchy play was reportedly a source of dissension within the dressing room. Besides, what would any self-respecting list of this sort be like without including Alexei Yashin?
9. David Aebischer, Colorado Avalanche: Replacing a legend is never easy, especially on a team that has stocked an otherwise already glittering talent base with two more superstars (yawn, sigh). In the shadow of Saint Patrick, every little slip-up by the Avs and it's just going to be merely assumed that Aebischer is the one at fault. With unlimited funds at his disposal, general manager Pierre Lacroix won't be hesitant to pull the trigger and bring in a top goaltender for one more Cup run before the anticipated work stoppage. So it's up to the fourth-year pro to prove he belongs.
10. Jean-Sebastien Giguere, Anaheim Mighty Ducks: New contract, new wife, new-and-lofty expectations. No one's hinting that last spring's Conn Smythe Trophy winner isn't up to the task, but he's been able to quietly go about becoming a stellar goaltender in the Magic Kingdom without much attention or fuss. Well, sorry, the secret's out.
George Johnson of the Calgary Herald is a regular contributor to ESPN.com.
George Johnson, a columnist for the Calgary Herald, is a regular contributor to ESPN.com.
SPONSORED HEADLINES
MORE NHL HEADLINES
MOST SENT STORIES ON ESPN.COM
EDITORS' PICKS
LeBrun: We've got your first-quarter awards right here.
Story »

After a 48-hour drinking binge, Jordin Tootoo chose to accept going to rehab to save his career and his life.
Book excerpt »

#LevyAndMelrose: Barry Melrose remembers all the great old buildings he played in.
Watch