Commentary
Canucks' hopes now turn to backups Sanford, Schneider
Updated:
December 5, 2008, 8:03 PM ET
By
George Johnson
| Special to ESPN.com
Imagine subbing for a laryngitis-stricken Rex Harrison during the original New York run of "My Fair Lady." Or taking the wheel from A.J. Foyt at Indy. The Doors without "The Lizard King." Rome missing its Coliseum. The Mona Lisa stripped of that enigmatic smile.
That's the Vancouver Canucks minus Roberto Luongo.
"Obviously, Louie's one of the best goaltenders, if not the best, in the world," Vancouver defenseman Mattias Ohlund said. "He's our captain. A big part of our team. He plays a lot. We count on him. But injuries are a part of the game. As a group, you have to cope with them as best you can."
[+] Enlarge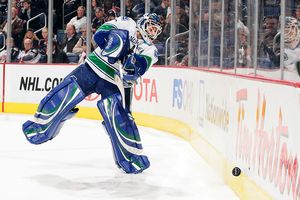 Jamie Sabau/Getty ImagesIn two starts since Roberto Luongo got hurt, Curtis Sanford is 0-2-0 for the Canucks.
Brave words. Perfectly logical rhetoric.
But there's no denying the sight of Luongo toppling slowly forward, for no discernible reason, five minutes into a game in Pittsburgh on Nov. 22, sent the Canucks and Vancouver fans everywhere scurrying to clear supermarket shelves of antacid tablets, or any available smelling salts.
An MRI discovered a strained groin. Bad, but not as catastrophic as initially feared. The club continues to list his status as "week-to-week."
Optimistic whispers are the franchise goaltender may be back much sooner than the original guesstimate of six weeks. But the Canucks are facing an exceedingly delicate period at this very moment.
They've surprised many by jousting vigorously with Calgary and Minnesota for the top spot in the Northwest Division, but a major stumble is going to leave them playing a desperate game of catch-up in a claustrophobic Western Conference.
The first night without Luongo went unexpectedly well, a 3-2 overtime win over reigning Stanley Cup-champion Detroit at GM Place. But since then, they've lost four straight, including the first three of a from-hell seven-game road odyssey.
Not that there's ever a "good" time to be Louie-less.
Tonight they're in Minnesota, then they land in Colorado and Nashville before winding up in Edmonton. That's what awaits the Canucks. Starting in Calgary last Saturday, it's seven stops in 12 days. A daunting task, even if Luongo was between the pipes.
But for the foreseeable future, the fate of the Canucks likely rests with Curtis Sanford, a 29-year-old undrafted second banana, whose main claim to fame on Canada's West Coast before Luongo's injury stemmed from a recent online contest for fans to submit entries for his mask design. He's well accustomed to this jarring relief role, though, filling in two seasons ago in St. Louis after starter Manny Legace was injured.
Vancouver's other option is Cory Schneider, a 22-year-old, first-round selection (26th overall in 2004), called up from the AHL's Manitoba Moose in the wake of Luongo's injury. Until 48 hours ago, he had not one solitary second of NHL experience.
Given his experience (relatively speaking) at the NHL level, you'd have to believe Sanford is going to the Man of the Hour, or, at least, the next two weeks.
"Do I think of myself as a No. 1? You have to," said Sanford, who became far more acquainted with Peoria and Worcester than St. Louis before signing on as a free agent for the thankless role of Luongo's caddy a year ago. "Now's the chance for me to prove it. I've played nearly 100 games in the league.
"When Roberto's healthy, he's going to play 70 games, at least. Nobody can replace Roberto Luongo. But I have the opportunity to show teams that I can be counted on," Sanford added. "There's a huge difference between this situation and the last one. In St. Louis, we were a young team, struggling to find an identity, trying to string some wins together and rebuild. Here, we have a veteran team, and there are a lot of expectations."
Sanford shaded the Wings to open his super-subbing assignment, but was beaten 4-3 by the Iginla-propelled Flames in his next assignment. Rolling the dice last Saturday, coach Alain Vigneault opted to give the 22-year-old Schneider his NHL baptism in the rematch at Calgary. Displaying no outward jitters, he performed ably, but the Canucks still lost, 3-1.
Losing is something Vancouver can simply not afford. The safety net Luongo carried with him game-to-game has gone missing. Suddenly, the unknown has infiltrated what had been the Canucks' stronghold position.
"This is the time," Sanford said, "when working your tail off in practice, showing the guys that you're ready to commit every day, pays off. Even if you haven't gotten a lot of minutes, practice habits show them that you're ready to fight on every shot, that you're prepared and ready to play."
While Luongo convalesces, it's imperative Sanford and/or Schneider win the undying trust of their teammates. If the Canucks can somehow tread water, stay close to the pace-setting Wild and Flames, they should be in enviable shape once their meal ticket is healthy enough to lash them to his back once again.
The next two weeks won't make or break the season, but it sure has the potential to set the table, one way or the other.
"Nobody grows up dreaming of being a backup," Sanford said. "And not many people outside the game give it much thought. Playing 12 to 15 games a year, staying sharp in practice, being mentally prepared, it can be a tough job. But it's an important job, too.
"And, sometimes, in times like these, it turns into a crucial job."
George Johnson, a columnist for the Calgary Herald, is a regular contributor to ESPN.com.
George Johnson, a columnist for the Calgary Herald, is a regular contributor to ESPN.com.
EDITORS' PICKS
PHI 5, PIT 3: The Flyers beat the Penguins in their own barn. Again.
Box score »

Hockey Today: Scott Harnell is experiencing a lot of new things since being traded to Columbus.
Podcast

Inside the NHL: With Slava Voynov suspended indefinitely, the Kings will focus on the players available.
Watch