Heritage Classic isn't the first Cold War
An outdoor game in 2001 pit Spartans against Wolverines before the largest hockey crowd in the world.
Updated:
November 21, 2003, 8:12 PM ET
By
Jim Kelley
| ESPN.com
EDMONTON, Alberta -- The Heritage Classic may be the first regular-season outdoor game for the National Hockey League, but it isn't the first of its kind.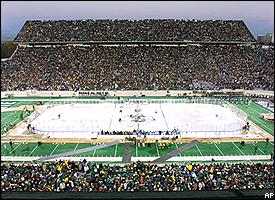 Michigan State hosted Michigan in the Cold War at Spartan Stadium, Oct. 6, 2001.
On Oct. 6, 2001, Michigan State and Michigan faced off in the Cold War and set a world record for attendance at a single hockey game -- 74,544 -- at Spartan Stadium in East Lansing, Mich.
Considering the normal weather patterns of early fall in the Great Lakes region, the concern wasn't about the cold, or snow, but rather about the wind and rain.
"It rained the whole week," said Michigan State junior captain Jim Slater, who played in the game as a freshman. "Our biggest worry was that the game wouldn't be played at all."
That's the one worry at Commonwealth Stadium, where an expected crowd of 52,500 will have to brave bone-chilling cold and perhaps a slight wind to watch an old-timers game between Edmonton Oilers and Montreal Canadiens alumni and then a regular-season NHL contest between the current editions of the two teams.
Temperatures are warming slowly from about 2 degrees (minus 19 Celsius) early Friday morning. Game-time temperature is expected to be zero (minus 18 Celsius), maybe a tad warmer.
Besides taking special precautions for the temperature, Slater said players wore eye black, a staple of the National Football League, to cut down on glare. Once the puck dropped, their biggest challenges were skating into the wind and, for the goalies, picking up the puck against various backgrounds and different levels of light.
"There was a lot of hype, but once the game started it was just like playing out on a pond (albeit a pond surrounded by 75,000 people)," said Los Angeles Kings forward Mike Cammalleri, who was a junior at Michigan at the time. "It was quiet on the ice, but then you would look up and see the people, and anytime anything happened, there was this amazing roar."
Both Slater and Cammalleri remember the event being more of a spectacle than a hockey game, which seems to be the case with Saturday.
Friday, the stadium was abuzz with workers still putting final touches on the temporary rink set up in the center of the football field. They were watched by thousands of locals, mostly school children who made the trek to the stadium in their bright orange buses. The cold was bitter, but the kids didn't seem to mind; the payoff was seeing the old Oilers and Canadiens skating on the ice in a morning practice session.
The players wore almost as much protective clothing as the kids, with many choosing to wear a thin glove underneath their hockey gloves and extra-warm long underwear. More than a few wore a combination toque (hats usually with ear flaps) and neck protector, a garment they could easily adjust to keep their head and neck warm, and also pull up to cover at least a part of their face as they skated in the cold.
"Once we worked up a sweat, [the cold] wasn't a factor," former-Oilers-and-current-Rangers captain Mark Messier said. "We'll probably be the warmest [people] out there tomorrow because we'll be moving and we'll have heated seats."
The extreme cold will produce a burning sensation in players' lungs when they breathe deeply and will contribute to windburn on their faces. It also tends to activate tear ducts, which can be a problem for the goaltenders, who won't have the same opportunity to retreat to the heated bench as the forwards and defensemen will once their shifts are over.
However, no one really seems to mind.
"I played in an outdoor game for fun a few years ago, and it was 20 below," said Canadiens defenseman Sheldon Souray, who'll be a part of the regular-season game Saturday night. "I loved it. I'm sure we're all going to love this, too."
Tickets are impossible to come by. Fortunately, the game will be televised coast-to-coast in Canada and replayed Nov. 29 in the U.S. on ESPN Classic.
It clearly has touched something in a great many people, especially in Edmonton, where it's impossible not to see a smiling face even if it is mostly bundled up against the cold.
"From the time when you're a kid in Canada -- or wherever you live in North America where snow falls and you can make a rink -- your dad takes you out and he turns you loose and you're gliding on this thing, and there's some magic in that," said Alan Watt, the Oilers vice president of marketing and communication and one of the driving forces behind the event. "The thought of seeing multimillionaire hockey players skating around outside playing for real points has captured something."
It has captured the same thing the Cold War did back in 2001.
"I knew even then that that game was going to be the most outstanding experience I'll ever have," Slater said.
Jim Kelley is the NHL writer for ESPN.com. Submit questions or comments to his mail bag.
SPONSORED HEADLINES
MORE NHL HEADLINES
MOST SENT STORIES ON ESPN.COM
EDITORS' PICKS
#LevyAndMelrose: Barry Melrose provides an important reminder of why you don't want to give Stu Grimson bad news.
Watch

Patrice Bergeron is the odds-on favorite to win the Selke. Right?
Story

Wondering if the Lightning and Blues are ready to take the next step in the postseason.
Hockey Today »