Cold weather but a hot idea
The conditions weren't ideal, but the NHL's first regular-season outdoor game accomplished its task.
Updated:
November 23, 2003, 1:49 AM ET
By
Jim Kelley
| ESPN.com
EDMONTON, Alberta -- Montreal Canadiens alumni coach Jacques Demers positively gushed over the experience of coaching in an old-timers game played outdoors.
Paul Coffey, an Edmonton Oilers defenseman of legendary renown was almost moved to tears during a lengthy postgame speech about what it meant to come back to the city that launched and nurtured his NHL career.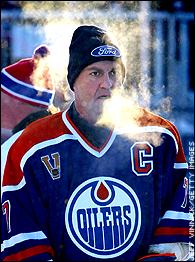 Oilers old-timer Ron Chipperfield braved temperatures that hovered near zero.
Canadiens legend Steve Shutt thought it was a great moment for hockey. Wayne Gretzky, shut out of the scoring column in the Heritage Classic MegaStars game, searched mightily to find a comparable first experience in his lengthy career.
He missed.
So it was left to Rema Thomas, a government office worker in Edmonton, to bring the National Hockey League's flirtation with something different -- its first regular-season game held outdoors and preceded by an alumni game -- into some kind of perspective.
"I'd do it again in a heartbeat," said Thomas from the wheelchair station in Section K of Edmonton's Commonwealth Stadium on Saturday. "My only regret is that the Canadiens (old-timers) didn't score a goal."
Despite the outpouring of good feeling, it's difficult to say where this is will lead. As a marketing event, a revenue producer, and a to-be-seen-at event, it was a stunning success. But a tremendous roll of the dice didn't come up all sevens and elevens for the Oilers and the NHL in their joint foray into cutting-edge marketing. Quite frankly it was too cold for just about everyone's liking.
The Oilers risked millions, but they will reap the rewards. No one is yet willing to put a final price tag on costs or returns, but Alan Watt, the Oilers vice president for marketing and communications, did say that there were "several million dollars at stake on the revenue side and the expense side." He also said that it would be months before the bottom lines are tallied.
Given the magnitude of the event and the size of the record crowd -- 57,167 -- profit figures substantially upward of $1.5 million do not appear to be out of line. All of it is ticketed to the Oilers' coffers. It was, after all, their home game. The Canadiens and the NHL were just along for the ride.
IN THE SLOT
The home team didn't win. That's about all you can say went wrong for the Edmonton Oilers and their general manger, Kevin Lowe, after Saturday's first regular-season National Hockey League outdoor game. The visiting Montreal Canadiens beat the Oilers in front of a sellout crowd in Edmonton's Commonwealth Stadium, the home of the Canadian Football League's Grey Cup champion Edmonton Eskimos, 4-3 in a game that will forever be remembered as hockey's version of the Ice Bowl. "It would have been nice to win it too," said Lowe. "But give the guys a couple of days to get over it (the loss) and I think you'll find that they really enjoyed the experience. It was a bit of history out there." Lowe and members of the Oilers front office came up with the idea of playing outdoors after an All-Star game as they were brainstorming about doing something different to celebrate the franchise's 25th anniversary.
Asked if he would subject his team to something like this again, Montreal general manager Bob Gainey gave an unequivocal "yes." "There isn't much weight on the con side," Gainey said. "For the 36 hours we've been in Edmonton (and associated with the event) it's been nothing but pros."
Despite the extreme cold, Edmonton alumni coach Glen Sather, currently the coach and general manger of the New York Rangers, went the distance without a hat, ear muffs or a hat. Sather, who coached the Oilers to four of their five Stanley Cup championships said the heated benches were so warm the extra protection wasn't necessary. "It was quite warm on the bench," he said. "Players said it was no problem staying warn on the bench."
The folks who manufacture the legendary Zamboni ice-flooding machine won't be happy to hear this, but the cold did one of their machines in. NHL senior vice president and director of hockey operations Colin Campbell said that one of the Zamboni's "froze up." The NHL uses two to resurface the ice between periods, but one was more than capable of finishing the job.
The length of the game -- two hours, 29 minutes -- was pretty much average for an NHL game these days. There was some thought that the game could take longer because of the condition of the ice or could be shorter because players would be reluctant to engage in traditional delaying tactics (fights, scrums, arguing with officials and the like), but it was pretty close to a normal game. "For us as a team, we were out there maybe three hours max," said Montreal Canadiens coach Claude Julien. "But those fans were out since maybe two in the afternoon, so hats off to them for making this a success."
Gainey said there was never any doubt in his mind that the game would be started and completed. "Right from the beginning it was always 'game on'," he said. "From the beginning, once the warm-ups were completed, our players knew the conditions were well within what they could expect and compete in. They knew they could play in these conditions and be safe."
"There was only one thing lacking from our perspective and that was we couldn't deliver the win," said Oilers coach Craig MacTavish. "The ice was bumpier than usual and because of that you had to simplify the game. If you could get the bounces you knew it would be a big part of the hockey game. "We made some mistakes that we shouldn't have made though and that cost us the game basically. I don't think the temperature played into it. It impacted the quality of the ice which impacted the strategy of the game, but at no point did I think it was going to be canceled. "From a physical standpoint and a players standpoint, I don't think the weather had an impact on the outcome of the game."
Considering the state of the offensive side of hockey today, Thomas' complaint about the 2-0 loss by the Canadiens alumni was minor, one ultimately proved slightly nagging by today's edition of the team which broke from its scoring slump with a 4-3 win in the "two-point" game that followed.
But what Thomas and her fellow fans ultimately endured to take in the two contests amounted to high praise.
Game-time temperature for the legends game, played largely in brilliant cold and equally brilliant sunshine was minus 16.8 degrees Celsius. That's 1.76 degrees above zero Farenheit. At game time of the regular-season meeting between the Canadiens and the Oilers on the same ice, darkness took hold and the temperature dipped to minus 18.59 Celsius -- 1.4 degrees below zero Farenheit. Wind (thankfully) was not a factor.
Despite all the warm sentiments expressed after both games, the painfully cold temperatures led to poor ice as well as cold fans. Not any worse than the sloshy ice of indoor rinks during June's Stanley Cup playoffs or the ice in Madison Square Garden, but poor nonetheless.
That's a minor aside, however. To Thomas and her friends, a total non-factor.
One of a legion of Oilers fans, Thomas wrapped herself in bolts of extra fabric. Her hat covered almost all of her face. She had gloves, boots, and leggings, with a solar blanket draped across her lap. She also wore her beloved Edmonton original sweater with the Oilers oil drop logo proudly on her chest.
"I'm a huge sports fan," she said, "and this is history.
"Besides, it's not that bad."
The hockey was pretty good, too. The Oilers alumni beat a Canadiens team featuring Guy Lafleur and a host of other Hall of Famers, largely on the tandem goalie play of Grant Fuhr and Bill Ranford and the fine play of Ken "The Rat" Linsman. It was a fast-paced game, surprisingly crisp given the cold and the age of the players involved.
The game between the franchises' current editions had a sense of novelty but was hardly an artistic success. It was not all that far removed from an NHL game played on an indoor rink, albeit with somewhat snowier ice. As the game went along, it actually got better instead of worse.
"Everything was great except the outcome of the game," Edmonton coach Craig MacTavish said. "We wanted the two points desperately and it was unfortunate that we didn't get them."
MacTavish said the crowd was "way above my expectations" in terms of size and enthusiasm. "All week long I was surprised by the talk this game had generated, but once we got here and we saw the crowd and the way things were set up, it was easy to understand why everyone was so excited about it.
"It was a great day with one exception, we didn't win."
Given the fact that the alumni game featured the return of hometown heroes and the first-ever old-timers appearance by Gretzky, the turnout was to be expected. It remains to be seen, though, whether hockey fans here would want to do this again, especially now that they've experienced both the event and the conditions.
In some ways, these games were a challenge to Edmonton fans. They are a hardy lot and willingly embrace challenge. Tell them it's too cold, too hot, too difficult or even too near impossible, and they'll prove you wrong every time. Ask them to endure these conditions again, without the attached sense of challenge, history or Gretzky, and it's fair to suspect that a second time might be a more difficult sell.
That shouldn't deter other franchises, however. What Edmonton general manger Kevin Lowe and staff have done is break new ground, and that may prove to be of lasting significance for this affair. Edmonton proved that change could be good for the NHL -- that different can be better, that risk can bring reward and that even greater risk, expertly managed, can bring even greater reward.
"I thought it was a statement," Lowe said regarding the fact many of the fans stayed in the stadium for nearly seven hours. "I thought it was a statement from our fans about embracing the game, the city, the team and the event and even our country & Initially, our thought was that this would be a one-time thing, but probably we would have it again here.
"I think other teams will look at doing it as well."
Understandable. Edmonton's Heritage Classic weekend, whether you are a hockey fan or not, was an event not to be missed. Those who were here will never forget it. Those who weren't will, in years to come, lie and say they were.
There's much to be said for that.
All totaled, the weekend was a near perfect blend of nostalgia, excitement (both orchestrated and unscripted), calculated risk and some pretty darn fine hockey. Conditions were less than ideal, but when it was over, you couldn't leave the stadium without a sense of accomplishment and with a sense of having been a part of history.
That Rema Thomas and her friends knew that before any of us is a given. But where it goes from here is open to debate.
"Maybe next time we'll do it in October," Lowe joked, a chilled to-the-bone smile still plastered on his face.
That might not be a bad idea.
Jim Kelley is the NHL writer for ESPN.com. Submit questions or comments to his mail bag.
EDITORS' PICKS
Jaromir Jagr says he could play at least seven more years, and there is no questioning the impact the 43-year-old has already had on the Panthers.
LeBrun »

Buccigross: 50 things to know about Jack Eichel, Noah Hanifin and the NCAA hockey tournament.
Story »

Burnside: Matt Hackett getting the start against the Coyotes is yet another sign the Sabres aren't serious.
Blog »
MOST SENT STORIES ON ESPN.COM