Flyers trade future for blueline help
The Markov-Williams trade addresses needs of the Flyers and Hurricanes. But does it fill their needs?
Updated:
January 20, 2004, 5:08 PM ET
By
Jim Kelley
| ESPN.com
Some teams prefer to just play through the big hurt. Lose a key player like Jarome Iginla, Joe Thornton or Jocelyn Thibault and the team is usually asked to just soldier on.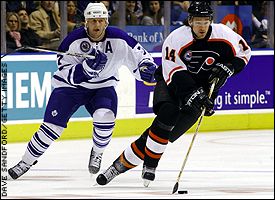 The 'Canes are hoping Justin Williams can find his scoring touch in Carolina.
The
Philadelphia Flyers
are not one of those teams.
Beset by a string of injuries to their defensemen -- Eric Desjardins is out at least two months with a broken arm, Marcus Ragnarsson is out 10-12 days with a sprained shoulder and Dennis Seidenberg is out indefinitely with a broken leg -- the Flyers moved one of their offensive hopes for the future, Justin Williams, to the Carolina Hurricanes for veteran defenseman Danny Markov on Tuesday.
Philadelphia definitely addressed its need on defense, acquiring an experienced player who can move the puck smartly out of his own end and can chip in with the offense from time to time. In 44 games with the 'Canes this season, Markov had four goals and 10 assists.
At first glance, it appears the Flyers gave up a lot for the help; after all, the 22-year-old Williams, the 28th pick in the 2000 draft, has long been considered one of the Flyers' offensive hopes for the future and frequently is mentioned in teams' requests when trading with the Flyers.
However, Williams hasn't been scoring much lately. He has just six goals in 47 games this season, and though he has 20 assists, it's not a prolific rate. The big concern is that Williams has lost a bit of his confidence, the confidence that helped him earn a roster spot at the tender age of 18 and created enough of a stir that the NHL selected him to play in its 2002 YoungStars Game. But after registering 40 points (17 goals, 23 assists) in 2001-02, Williams was limited to just 41 games and 24 points by a serious knee injury last season.
The upside is Williams has played over 225 NHL games, likely prompting the Hurricanes to hope that a change of scenery will bring back some of the promise that seems to have faded this season and that he can step up and help replace aging stars like Ron Francis and Rod Brind'Amour.
The Flyers didn't get an all-star in return, but they do get a serviceable defenseman. Considered a strong and talented skater, Markov likely will see serious time on the power play and in situations when the Flyers need someone to carry the puck out of their own end. The downside is that Markov can be mistake-prone in his own end at times.
The 'Canes can come out on top in this deal if Williams returns to form and begins to redevelop his game from there. He is the younger player and clearly has the most upside if he can find the best parts of his game again.
Still, the Flyers have done well for their immediate future by addressing a desperate need on their injury ravaged blue line. And when those injured players return, the Flyers will have what every team wants entering the postseason -- experienced depth on defense.
It's a decent deal for both teams, and likely not the last for either.
The Flyers are said to be dangling another of their younger players, Simon Gagne, as part of a package for goaltending help. Meanwhile the Hurricanes are strongly rumored to be shopping veteran forward Jeff O'Neill in a move to both get younger and shave some salary.
Jim Kelley is the NHL writer for ESPN.com. Submit questions or comments to his mail bag.
EDITORS' PICKS
Strang: Though Patrick Kane and Jonathan Toews are as different as players can get, they have found harmony in that balance.
Story »

NHL chat replay: ESPN.com's NHL crew is here to answer all of your questions.
Transcript »

Time to set the record straight about Barry Melrose's place in the official NHL record books.
#LevyAndMelrose