Avs eyeing first overall
ESPN's Barry Melrose offers a viewer's guide to a Thursday filled with big games across the NHL.
Originally Published:
February 26, 2004
By
Barry Melrose
| Special to ESPN.com
Editor's note: This week's edition of Melrose's Place offers up Barry's viewer's guide to four of the biggest games being played on Thursday.
In the standings:
Colorado currently second in the Western Conference with 81 points, one point behind first-place Detroit; St. Louis currently ninth with 67 points, two points out of the eighth and final playoff spot held by Nashville.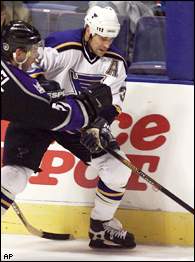 Doug Weight is picking up the offensive pace in St. Louis.
The breakdown:
If the playoffs started today the Blues would be on the outside looking in. St. Louis is certainly more talented than the two teams in front of it -- the
Nashville Predators
and
Edmonton Oilers
-- but both are playing better hockey right now and will make it tough on the Blues down the stretch.
It will be interesting to see if the firing of coach Joel Quenneville sparks St. Louis. GM Larry Pleau is no doubt hoping the firing will embarrass the players and motivate them to step up their game, and they only need that spark for a month in order to make their playoff push. The Blues come in having lost two in a row and need to right the ship in a hurry. But Doug Weight has come alive up front with three goals in his last four games, which is a good sign.
Colorado is also struggling a bit while top defenseman Rob Blake and Adam Foote nurse injuries. The Avalanche has lost four of its last five entering Thursday, making this a key game in their pursuit of the first-place Detroit Red Wings. The goal of the Avs is to pass the Wings and finish first overall in the NHL, thereby securing home-ice advantage throughout the playoffs, but unless they get better at both ends of the ice it will be a struggle to do so. And as we saw in Colorado's Game 7 loss to Minnesota last season in Denver, home ice isn't always a determining factor, anyway.
More important than where these teams finish, though, is that they enter the postseason laying their best hockey of the year. No team wants to limp into the playoffs by losing four of its last five or seven of its last 10 games. The importance of entering the playoffs on a roll cannot be overstated.
Who to watch: The goaltenders and defensemen. Both defensive units are beat up right now -- St. Louis is without top blueliners Al MacInnis and Barret Jackman -- so the pressure falls to Colorado's David Aebischer and St. Louis's Chris Osgood. Whichever team plays better in its own end and limits the high-percentage shots its goalie faces will win this one.
In the standings:
Boston currently fifth in the Eastern Conference with 79 points, one point behind fourth-place Toronto and just three behind first-place Philadelphia. Montreal is seventh in the East with 70 points, eight behind sixth-place New Jersey.
The breakdown: Montreal has been without top defenseman Sheldon Souray since he went on injured reserve Feb. 11 with a sprained left knee, and with his nearly 24:00 of ice time out of the lineup the Canadiens have had to work extra hard in winning three of its last four games. When a player of Souray's caliber goes down a team finds out a lot about the rest of the roster. Players like Saku Koivu, Mike Ribeiro and Patrice Bresbois get the chance to step up and take on added responsibility, gaining some confidence before the playoff grind.
And don't forget about Montreal goaltender Jose Theodore. The former Hart Trophy winner as the NHL's MVP comes in having won consecutive games against the New York Rangers and the Senators after a rough stretch. The injury to Souray may have hurt the Canadiens in the standings but it will make them a better overall team, and when he comes back Montreal will no doubt be very confident in its depth.
Boston enters Thursday's game unbeaten in its last five but looking for defensive help. The Bruins' current defensive corps -- which includes Nick Boynton, Jeff Jillson, Dan McGillis and Sean O'Donnell -- has plenty of guys who fit the category of a fifth or sixth defenseman but none who are true top-four guys, and that group is not good enough right now to take Boston deep into the playoffs. They need a top-four guy who can play big minutes in key situations, but then again so does just about every team jockeying for playoff position.
Who to watch:
Boston's rookie goaltender
Andrew Raycroft
has been a rock for the Bruins all season, ranking fourth in the league in both goals against average (1.95) and save percentage (.931). It's also time for the big names like
Mike Knuble
,
Glen Murray
,
Joe Thornton
and
Brian Rolston
to assert themselves even more. They've been solid but have to be even better if Boston hopes to make a run. Theodore is obviously the key for Montreal tonight and beyond. He lost five straight before his current two-game winning streak and has to revert to his Hart Trophy form of 2001-02 if the Canadiens are to make the playoffs and do any damage when they get there.
In the standings:
Philadelphia currently first in the Eastern Conference with 82 points, one point ahead of second-place Ottawa.
The breakdown: This matchup of the two most talented teams in the East could be a preview of the conference finals. Ottawa comes into the game with just one regulation loss in the last nine games and the hot-handed Martin Havlat having scored five goals in his last three games. The Senators talented from top to bottom and have the skill to reach the Stanley Cup Finals, but they probably won't because of a lack of toughness, grit, or whatever else you want to call it. They just don't seem to have enough of it to win a hard-fought seven-game series.
As for the Flyers, they've made several deals in recent weeks to bolster the roster but the biggest acquisition, goaltender Sean Burke, has yet to play extremely well in a Philly uniform. It was still a good pickup, though, and with the team sorely missing the injured Keith Primeau and Jeremy Roenick the Flyers may not be done dealing just yet. Among the Flyers who are healthy, John LeClair and Tony Amonte are getting back in the offensive groove lately and have helped the team win two straight entering the showdown in Ottawa.
Who to watch:
Keep an eye on Philadelphia's
Alexei Zhamnov
, who came over from the
Chicago Blackhawks
last week. It will be interesting to see who coach Ken Hitchcock has him playing with and how well Zhamnov is grasping Philly's system. Ottawa also has a recent big-name acquisition to watch in the person of
Peter Bondra
. He has been on a line recently with
Marian Hossa
, and anytime those two are on the ice together good things can happen.
In the standings:
San Jose currently third in the Western Conference with 76 points. Vancouver has 77 points but is fourth in the standings because San Jose gets seeding preference as a division leader.
The breakdown: Both teams are treading water right now -- Vancouver has lost five of seven while San Jose lost three of five before winning its last two -- and if they hope to make any noise in the playoff they have to get better right now.
Vancouver has been without leading scorer Markus Naslund since its leading scorer suffered a concussion on Feb. 16, and while Daniel Sedin scored four goals earlier in the week against Detroit there still needs to be more contributions from the big guys. Todd Bertuzzi is one of the best forwards in the NHL but has had a very subpar season -- he has just 17 goals after getting at least 36 each of the last two seasons -- and now is the time when he has to become the go-to guy for the Canucks. Fellow first-liner Brendan Morrison also needs to pick up the pace as he has just two goals in his last 15 games.
San Jose has gotten solid goaltending from Evgeni Nabokov and Vesa Toskala and good play in its own end for most of the season, but that has fallen off lately and will have to return if the Sharks are going to make a playoff run. If young guys up front like Patrick Marleau and Marco Strum continue to make plays -- the two have combined for 14 points in the last five games -- and the defense bounces back the Sharks will be dangerous in the postseason.
Who to watch:
Bertuzzi needs to pick up his game if Vancouver wants to stay afloat until Naslund returns. When Bertuzzi plays the physical game he is capable of he changes the way the entire team plays, and if he starts scoring regularly the Canucks will enter the playoff push with renewed confidence. For San Jose, Marleau has been the best player all year and must continue to be, and whether Nabokov or Toskala is in goal does not matter as long as whomever is in there can keep the Canucks' big guns quiet.
Barry Melrose, a former NHL defenseman and coach, is a hockey analyst for ESPN. He'll answer selected questions submitted to his e-mail bag each week. Also, click here to send Barry a question for possible use on ESPNEWS.
NHL studio analyst
Former NHL player and coach Barry Melrose is an NHL studio analyst for ESPN.
SPONSORED HEADLINES
MORE NHL HEADLINES
MOST SENT STORIES ON ESPN.COM
EDITORS' PICKS
Hockey Today: Matt Beleskey drops by to talk about the mumps and scoring for the Ducks.
Podcast

Burnside: Fair or not, the perception around the hockey world is that there is a distinct lack of buzz surrounding the NHL's marquee regular-season game.
Story »

A mumps outbreak is hurting the NHL's image, but Randy Carlyle's team is doing just fine.
Inside the NHL