Crosby leading race; Bruins in downward spiral
Updated:
November 23, 2005, 6:03 PM ET
By
Barry Melrose
| Special to ESPN.com
I can't think of any other way to start this week's column than to tell all hockey fans to keep praying for the Wings' Jiri Fischer.
The news continues to be good for the Detroit defenseman since he suffered an in-game seizure Monday night. He should be on everyone's mind this holiday weekend, and I hope he can return to the game he loves.
THE GOOD

We got to see a great display of talent Tuesday night, when Washington's Alexander Ovechkin and Pittsburgh's Sidney Crosby squared off in their first game against each other. It's great for the league that we get to see two of its future stars in the same game.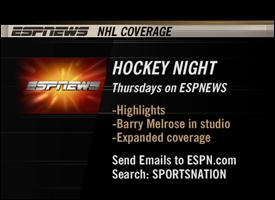 There has been a great debate over which rookie is better. Before I give my take on the issue, I think we need to realize that they are two different kinds of players.
Ovechkin is a natural goal scorer, but he also likes to create havoc. He'll hit and run through whoever is in the way to get the puck in the net. The Capitals have been overachieving, and Ovechkin is a big reason why. Crosby is a thinker and likely will have more assists than goals because he sees the ice so well. I am not saying the kid won't score, but his passes are already great.
So, who's better? Both players have been great so far, but if I had to pick a Calder winner right now, it would be Crosby.
Another great story has been the New York Rangers. Yes, I think it's good to see a team in one of the league's biggest markets do well. The one thing that stands out about these Rangers is their resilience. In the past, they've seemed to wallow after a few losses. Now, they bounce right back.
Jaromir Jagr is playing like a madman (he leads the league in scoring with 37 points). Henrik Lundqvist and Kevin Weekes are giving the Blueshirts solid goaltending. And I don't see New York's special teams going to crap any time soon. Barring any significant injuries, I see the Rangers easily making the playoffs.
And finally, I have to say it again, how good are the Los Angeles Kings? First in the Pacific Division, plus L.A. is getting bang for the puck from Pavol Demitra.
THE BAD

The Boston Bruins have been struggling lately, dropping their last six games heading into Wednesday night.
Boston is one of those teams that has had a hard time adapting to the new rules. It's not that the Bruins don't have good skaters; they do, but they play a slow-tempo game that is ill-suited to this new league. Ottawa plays fast. Montreal plays fast. Those two teams stretch the zones and move the puck. Boston does not.
Joe Thornton and Sergei Samsonov are great skaters. They can jump in and make things happen. But they can't do it alone. The B's need to open up the offense. Andrew Raycroft has to play better, as well. He has been just average up to this point, with a 3-8 record and a 3.56 goals-against average. The loss of Brian Leetch and the lack of production from Alexei Zhamnov (just two assists) also are hurting the team.
The Bruins should be better than this.
Another bad item this week has been all the diving talk. It's definitely a problem, and the referees have to call it. But they can't have it both ways. If it's a dive, it's a dive; don't hand out the hooking call on the opposing player along with the diving call to the other.
Referees have to have the guts to make the call, but at the same time, coaches have to back up the referees. That means backing them up even when the call is against your team.
THE UGLY

Not even the acquisition of Sergei Fedorov could snap the Columbus Blue Jackets' skid. Usually after players are traded, those first games with their new team are the biggest. You're pumped up, you want to make a good impression. Not so in this case.
Just compare the Jackets with the Capitals. On paper, Columbus is much better than Washington. The whole team is underachieving. The Jackets have one of the league's best leaders in Adam Foote, yet they're the worst team in the league (just 10 points).
Someone needs to grab the bull by the horns and get this team together.
Barry Melrose, a former NHL defenseman and coach, is a hockey analyst for ESPN.
NHL studio analyst
Former NHL player and coach Barry Melrose is an NHL studio analyst for ESPN.
SPONSORED HEADLINES
MORE NHL HEADLINES
MOST SENT STORIES ON ESPN.COM
EDITORS' PICKS
Kyle Clifford's son was the perfect size to fill the Stanley Cup.
Tracker »

All the Islanders need is the right players surrounding dynamic center John Tavares and they have the makings of a great team, says four-time Cup winner John Tonelli.
Strang »

Defenseman Jeff Schultz had a career year in 2013-14, which earned him a one-year deal worth more than $3.5 million.
Strang »