Devils turn season around, while Leafs in free fall
Updated:
January 25, 2006, 6:32 PM ET
By
Barry Melrose
| Special to ESPN.com
I am very thankful to be back at work here at ESPN, and I appreciate your patience.
I was away for a week to be with the family of Marc Potvin after his sudden death on Jan. 13. I very badly needed the week off, but I hope I never have to go through anything like this again.
But to all the hockey fans out there who watched Marc play or coach, or knew him on any of the teams he was associated with, say a prayer for him. I think that would make Marc very happy.
So, thanks for coming back to read this week's column. Here we go …
THE GOOD

Since the last time we were here, the New Jersey Devils have turned their season around. I previously said I didn't think one player -- Patrik Elias -- could single-handedly change a team's fate, but he has turned out to be the spark for the team. In his second game back, vs. the Canadiens, he netted four points. His confidence is rubbing off on players like Scott Gomez, and the confidence is contagious.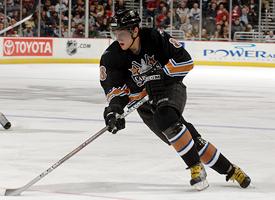 Mitchell Layton/Getty ImagesAlexander Ovechkin leads all rookies in overall goals and points.
Another big factor in the turnaround is having Lou Lamoriello behind the bench, where I think he'll stay for the rest of the season. Lamoriello brings stability. The players know he is the boss, they know what's going on. They are not worried about who might be coming in to coach as the season wears on. There's no lack of discipline.
The result? The Devils have gone from a struggling nonplayoff team to a strong playoff contender in the East.
Another contender will be the Carolina Hurricanes. This team continues to keep pace with Ottawa, which seems to get all of the attention given its three offensive stars (Dany Heatley, Daniel Alfredsson and Jason Spezza).
We've all said at some point, "they can't keep this going," but the Hurricanes are 9-1-0 in their last 10 games and second overall in the East. Carolina also has the league's best home record (22-4-1). Peter Laviolette got a raw deal on Long Island, but he went to Carolina and didn't talk about the past. He just went in and did his thing, and he's being rewarded for the hard work.
We also have to talk about that spectacular goal by Alexander Ovechkin. What makes the goal, and his overall play, even more special is that teams have only one task in their game plan when they face the Capitals: Stop Ovechkin. Yet the Russian rookie has been able to overcome all that and emerge as a force. He plays with a ton of passion and physicality.
Overall, I think this goal represents the great young talents who have entered the league this season. Sure, the game has lost some of the best players ever to be in the sport, but the young crop is going to give us great highlights for years to come.
THE BAD

What is going on with the Toronto Maple Leafs? They've lost six straight games, including two straight against the rival Senators.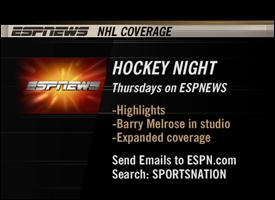 We said early on that this team could not afford any injuries, but the injuries have come and the team is in a free fall. Eric Lindros (wrist) is still out; Bryan McCabe (groin), their best player, is out; Darcy Tucker (ribs) … out. These are three key players, and the Leafs don't have the roster depth to rebound in their absence. Heck, they're just lucky they signed Alexander Steen early on.
I think all the rumors about Pat Quinn being fired are just that: rumors. He isn't going anywhere and, quite frankly, coaching isn't the problem. It's depth. What the team needs now is for Ed Belfour to steal a few games for it in the hopes of turning things around.
Then, there's the Bryan Berard situation. Folks, he wasn't trying to beat the system. I think he was taking supplements he thought were fine. It was an embarrassing situation for Berard. The bottom line is the league and the NHL Players Association both need to continue to educate players on the rules. The positive test was a wake-up call for everyone leaguewide.
THE UGLY

I know we've talked about it before, but the Pittsburgh Penguins just keep getting worse. I thought things couldn't get worse for them, but they have. Now, Mario Lemieux is gone, as well.
Basically, it's time to blow up the whole game plan and let the kids play. Trade as many of the veterans as you can and give more ice time to Sidney Crosby, Ryan Malone, Michel Ouellet, Ryan Whitney and Marc-Andre Fleury.
If you're going to lose 10 straight games, at least let the kids play, bite the bullet and start a foundation for the future. That's all the Penguins have at this point.
Barry Melrose, a former NHL defenseman and coach, is a hockey analyst for ESPN.
NHL studio analyst
Former NHL player and coach Barry Melrose is an NHL studio analyst for ESPN.
SPONSORED HEADLINES
MORE NHL HEADLINES
MOST SENT STORIES ON ESPN.COM
EDITORS' PICKS
Burnside: The defending champions are accustomed to stepping up at the most crucial times, but time might be catching up with them this season.
Story »

McDonald: As big as Johnny Boychuk's presence has been to the contender Islanders, his absence has been equally devastating for the Bruins.
Story »

Burnside: It is clear their hopes for winning are tied to Max Domi and the highly anticipated draft.
Story »