Team Sweden was a deserving champion
Updated:
March 1, 2006, 7:23 PM ET
By
Barry Melrose
| Special to ESPN.com
After a break of Olympic proportions, we're in for another week of fun. It's good to have the NHL back, isn't it? And it's going to come at you in full force, so get ready for a jam-packed run to the playoffs.
But before we look ahead, let's take a look back at the last week or so. You remember the Olympics, don't you?
Here we go …
THE GOOD
The good has to be the Swedish national team winning the gold medal. The Swedes played so well, they deserved it. They were without Markus Naslund and Mattias Ohlund and were still able to win the gold. It made up for when it ended so disastrously for them four years ago with that infamous goal by Belarus from inside the blue line. Now maybe the Swedes can leave poor Tommy Salo alone.
Speaking of goaltenders, let's not forget about Henrik Lundqvist's role. Sweden took a chance and went in with a young goaltender, and he proved he's the real deal. And that's good news for the New York Rangers. Really, he's not going to face much more pressure in the playoffs than he did in the Olympics -- the Olympics are a bigger deal to Europeans than they are for the North Americans. I think the Swedish team has found its goaltending for the next Olympics, so the Swedes must be feeling pretty good about their chances. Another good thing about the Swedes' winning, to me, is that the Detroit Red Wings had five gold-medal winners, which shows you what winners those guys are.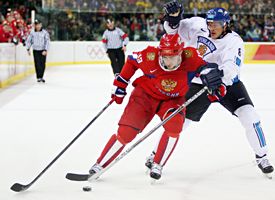 Robert Laberge/Getty ImagesSelanne (right) was the star of the show for Finland, Melrose says.
Other good stories from the Olympics included Switzerland, which came out of nowhere, beating Canada 2-0, and the Italian team, which played in front of a full house every time.
Another big story to mention, I think, is the Finns. They play a great style, and they know each other really well. The way Teemu Selanne came in there, he's having a great year in the NHL, and it continued in the Olympics. He looked great offensively, like the Selanne of 10 years ago. And then there's Antero Niittymaki, who went and did the same thing he has done in Philly -- with Robert Esche injured, Niittymaki has made the Flyers realize they don't have to go out and trade for a goaltender because he can play in the playoffs. The Finns found a great goaltender the same way, with Miikka Kiprusoff being hurt.
THE BAD

The bad is the performance of the North American teams. Canada was the outright favorite to win the gold, but to lose the way it did -- well, the Canadians played very, very poor hockey. They were shut out by Switzerland! This team had everything going for it and got nothing done.
They didn't succeed because of the style of play they had; the game plan they used didn't work well at all for Canadian players. Canadian players are aggressive; they like to attack, to forecheck. Instead they were very passive, they didn't attack, they ended up looking very untalented, as if they had no imagination, no creativity. The style of game they used was completely wrong for their type of team.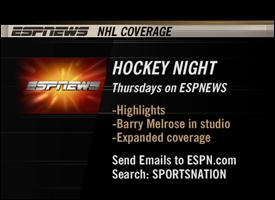 The Americans weren't as bad. They certainly weren't expected to win the gold, but they were expected to win more than the one game. I thought the Americans played much better than the Canadians. They were in every game; they just didn't have one guy who stepped up. When the Finns needed a goal, Selanne would score it. When the Russians needed a goal, Alexander Ovechkin would score. The U.S. didn't have that guy. It's sort of a passing of the torch, I guess, because in the third period you didn't see Bill Guerin; Mike Modano wasn't on the ice. This was more Scott Gomez's team, Brian Gionta's team, Erik Cole's team. And the Americans didn't get great goaltending; you can't really blame the goalies, but the U.S. needed better goaltending than it got.
THE UGLY

The injuries the players suffered in the Olympics will have an ugly influence. We knew it was going to happen, but it was worse than people thought it would be. The worst one was to Dominik Hasek. We don't know how long he'll be out, but Ottawa went from being the best team in the league to being a team looking for goaltender. You had injuries to Pavol Demitra, Alexander Frolov and Simon Gagne, and Jaromir Jagr got beat up pretty bad. All those injuries could affect playoff races. L.A., for instance, is fighting for eighth place, so if the Kings lose two games because they're without Demitra and Frolov, they're going to miss out on a playoff spot.
And it's not over. Teams are going to be playing 25 games in 50 days down the stretch, so that means there will be more injuries because of tiredness.
Which leads to questions: Will it be ugly again in 2010? I think the NHL will play in Vancouver in 2010 but won't play after that. I know they league is evaluating what its athletes are going through to see whether they get enough out of it. I don't think the NHL gets enough out of it to keep going back.
Barry Melrose, a former NHL defenseman and coach, is a hockey analyst for ESPN.
NHL studio analyst
Former NHL player and coach Barry Melrose is an NHL studio analyst for ESPN.
SPONSORED HEADLINES
MORE NHL HEADLINES
MOST SENT STORIES ON ESPN.COM
EDITORS' PICKS
NYR 3, NJ 1: Derek Stepan provided all the scoring as the Rangers made it eight in a row.
Recap »

Strang: A dramatic shift in the landscape has left many enforcers being escorted out of the game.
Story »

LeBrun: We predict who's in and who's out of the playoffs.
Story »