Kings use 'shock therapy' for late push
Updated:
March 24, 2006, 4:43 PM ET
By
Barry Melrose
| Special to ESPN.com
The playoff races are continuing to add fuel to the fire in this last month of the regular season. Many of these races are going to come down to the wire, so let's take a look at the teams in the mix.
And for some of you who have asked whether I am going to return to coach the Kings, all I can say is, it would be the smartest thing GM Dave Taylor ever did, but he won't do it! (Ha, ha, ha!) More on Andy Murray in a bit …
THE GOOD

There are three teams that are playing really well right now: San Jose, Anaheim and Atlanta. All three are fighting for their playoff lives after being behind the eight ball for most of the season. But I love the competitiveness of all three teams, all of which have a legitimate shot at the postseason.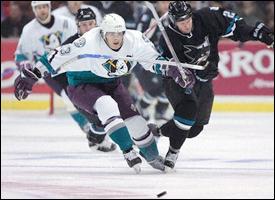 AP PhotoTeemu Selanne has 29 goals and 36 assists this season for the Mighty Ducks.
Here are the keys so far for those teams:
San Jose: It's Joe Thornton. He makes this team go. He helped Jonathan Cheechoo have a career season. If Big Joe scores in a game, chances are the Sharks will win.
Anaheim: Teemu Selanne. His return to the Ducks is the best free-agent signing of the summer. When they need a big game, he provides it. And the team is still finding a way to win even after it got rid of Sergei Fedorov and Sandis Ozolinsh.
Atlanta: Ilya Kovalchuk gets a lot of the attention, which he deserves, but the unsung hero here is Marc Savard. I think Savard is quietly putting together one heck of a season and is tied with Kovalchuk for the overall lead in team points (84). And chances are it's Savard setting up one of Kovalchuk's goals.
I think we should also point out how some of the league's lower-half teams, such as Pittsburgh, Columbus and St. Louis, are not just rolling over and dying off. They are all putting younger players in the lineup and playing some great hockey. This is so important down the stretch to build confidence for the next season. This is a great thing for hockey as well.
THE BAD

While San Jose, Anaheim and Atlanta are building up speed, three teams are starting to struggle: Edmonton, Vancouver and Montreal. Here's why:
Edmonton: The Oilers said they needed goaltending at the trade deadline. They went out and got Dwayne Roloson, but they've managed to win only two games since the March 9 deadline. That's what's so frustrating about the Oilers. They are so dangerous, they compete hard and they are fast skaters. If they have good goaltending, they can beat anyone. If they make the playoffs, I would not want to play them in the first round.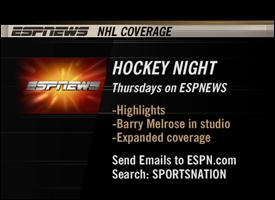 Vancouver: Same problem here. The Canucks' deadline moves have not paid off. If you had told me at the beginning of the season that Anson Carter and the Sedin twins would be this good, I would have thought they would be far ahead in the West. But Todd Bertuzzi and Markus Naslund have been major disappointments. I think the team is missing some chemistry in the dressing room. The Canucks haven't been able to overcome things so far and time is running out.
Montreal: At this point, I think Atlanta is going make the playoffs and the Canadiens will miss out. Montreal is just too erratic. After watching a few of their games over the past week, there is an impression of inconsistency.
My other "bad" this week was the Barret Jackman injury (he broke his jaw and is out for the season). It was an ironic end to a terrible season for the Blues. Jackman does all the right things as a player, only to get hurt. Any injury at this point of the season is hard to take. As a player, you see the light at the end of the tunnel or the playoffs on the horizon. So to see them get hurt now is tough.
THE UGLY

From Murray's point of view, it's been an ugly week.
I don't enjoy seeing coaches being fired, but I think the Los Angeles Kings had to fire Murray. Even Murray himself said the team wasn't competing after Los Angeles' recent 5-0 loss to the Avalanche. When the players don't compete, teams spend a lot of money and make a lot of changes, and GM Dave Taylor made this change to grab the players' attention. It's shock therapy.
If a coach remains with a team for more than three seasons, he's a magician! But it's hard to find new ways to deliver the same message to players, and the players stopped listening to Andy. A lot of the time, when a new coach comes in, the team gets a jump-start for a few games. With only 12 games left in their regular season, the Kings will have to hope the change helps them win five or six of those games to get them into the playoffs.
Now, interim coach John Torchetti is interviewing for the job. He has to get the Kings to become the hardest-working team in the league. He has to tell them that they need to work as hard has their opposition.
As for Murray, he'll be an NHL head coach again some day. It might not be at the start of the 2006-07 season, but he will be back.
Barry Melrose, a former NHL defenseman and coach, is a hockey analyst for ESPN.
NHL studio analyst
Former NHL player and coach Barry Melrose is an NHL studio analyst for ESPN.
EDITORS' PICKS
LeBrun: With a quarter of the season remaining, we predict the winners of the NHL's biggest awards.
Story »

Hockey Today: What's it like to be traded? Ben Lovejoy, formerly of the Ducks but currently of the Penguins, lets us in on it.
Podcast

Roberto Luongo went from a hospital to the ice on Tuesday, meaning Florida's goaltending coach didn't have to play.
Pucks Central »
MOST SENT STORIES ON ESPN.COM