Devils best team in East heading into playoffs
Updated:
April 21, 2006, 11:25 AM ET
By
Barry Melrose
| Special to ESPN.com
It's been a long wait, too long. But finally, the playoffs are here. Sit back and enjoy.
THE GOOD

I've always said that how you play entering the postseason is a huge factor for success. Well, the New Jersey Devils are on one heck of a roll.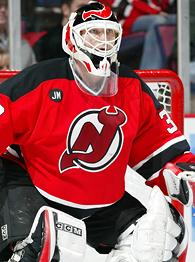 Len Redkoles/Getty ImagesWith Martin Brodeur in net for the Devils, anything is possible.
The Devils' season was in doubt a few months ago after coach Larry Robinson resigned. But with general manager Lou Lamoriello behind the bench, New Jersey rebounded to make the playoffs. Brian Gionta set a team record for goals in a season, Martin Brodeur had another 40-win season and the Devils are riding an 11-game winning streak heading into their first-round series against the Rangers.
I think they are the best team out of the East right now. The team is healthier than it has been all season and this is the Devils' time of year.
Another good thing this season has been the performance of the rookie class. What an amazing season for the rookies. Alexander Ovechkin and Sidney Crosby each reached 100 points. Dion Phaneuf has become a force to be reckoned with in Calgary, scoring 20 goals as a defenseman.
I know there has been much debate over the Calder Trophy, but I have to go with Ovechkin. I think Crosby had a better supporting cast around him. The fact that Ovechkin scored 52 goals with that Capitals lineup is unbelievable. Ovechkin is not just a one-dimensional player and he is such a competitor. It will be exciting to see how all of these players continue to progress in the NHL.
THE BAD

While the Devils are on a roll, the Rangers are struggling heading into the playoffs after losing five straight games.
This seemed to be their season, rebounding from all the bad predictions and making all the right moves, even trades. Jaromir Jagr is having a great season, Henrik Lundqvist came out of nowhere to become the Rangers' top goalie and Petr Prucha has had a strong rookie campaign.
Now, they have issues at the wrong time and only a few days to fix it. The team just has to think positive. It sounds simple, but coach Tom Renney just has to tell his team that those five losses are gone now, a new season is starting and if they win 16 games they'll have the Cup.
The Rangers know their recipe for wins -- Jagr and the top two lines have to score and the power play has to click in front of Lundqvist.
The recipe went completely sour for the Thrashers, however, who failed to made the postseason.
I don't know why this happened. After an unlucky string of goaltender injuries to start the season, Atlanta fought its way back into the hunt with one of the faster, offensively gifted teams in the league. But ultimately, I think their lack of defense hurt the Thrashers. They gave up too many goals.
Now, they have to try and regroup during the offseason and get their goaltending situation solidified. Kari Lehtonen is a talent, but he needs help. And if they are going to sign players, they need to sign solid defensive players so the Thrashers can get better in their own end.
THE UGLY

I think the two ugliest ends to the regular season were in Los Angeles and Vancouver. It was really sad to see both teams play so poorly down the stretch.
In Los Angeles, with Sean Avery's dismissal and the firings of Andy Murray and Dave Taylor, the team is going to have to start over. A new president, GM and coach. The team also has to get rid of some of the older players it had this season and get some cohesiveness in the dressing room.
For Vancouver, the big decision will be, do you keep coach Marc Crawford? Keep Todd Bertuzzi? It's a big decision. But one of them will go.
The Canucks also have some big signings, Ed Jovanovski and Anson Carter and the Sedin twins. And the team also has to get some players who will give them more punch beyond their two usual lines.
Either way, it's going to be a busy offseason for these two teams.
Barry Melrose, a former NHL defenseman and coach, is a hockey analyst for ESPN.
NHL studio analyst
Former NHL player and coach Barry Melrose is an NHL studio analyst for ESPN.
SPONSORED HEADLINES
MORE NHL HEADLINES
MOST SENT STORIES ON ESPN.COM
EDITORS' PICKS
McIndoe: The Islanders and Maple Leafs have been laughingstocks recently, but they're making the right kind of news now.
Grantland »

Strang: Former Blue Keith Tkachuk likes the pieces St. Louis added during the offseason.
Cross Checks »

Willie Mitchell took the Stanley Cup fly fishing with his friends in British Columbia.
Tracker »