Goalies can't be concerned about offense
Successful goalies focus on opponents' goals, not how many their team is scoring at the other end.
Updated:
January 20, 2004, 8:56 PM ET
By
Darren Pang
| Special to ESPN.com
Don't worry about things you can't control. It's a phrase every goalie has heard from every sports psychologist he's met.
It seems simple enough. A goaltender can't get caught up thinking about anything on the ice other than what he can do and that is to stop the puck.
This is an era of 2-1 games. There is very little margin for error for the teams that struggle to generate offense, so perfect defense is the only way to win. That also means perfect goaltending.
The Carolina Hurricanes have scored 1.87 goals per game, the worst in the NHL. How can Kevin Weekes win games when his team is scoring just 1.87 goals per game? By focusing on his job and not worrying about goal support.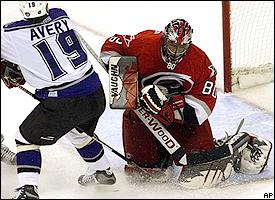 Carolina's Kevin Weekes leads the list of goalies with the least goal support.
If Weekes went into every game worrying about his team's brutal power play (tied for 28th at 11.1 percent) or why
Jeff O'Neill
only has eight goals or why
Ron Francis
is a minus-12, he'd be a basket case by now.
So don't expect Weekes to react all that much now that the Hurricanes have acquired offensive help in the form of Justin Williams.
Do you think Brian Boucher would have had a record-setting run of five shutouts if he was constantly worrying about whether his teammates were going to score the first goal of the game or whether they were going to knock the puck behind him inadvertently and break the streak? He would be worn out mentally before the game even started.
If Dwayne Roloson got so caught up in the Wild's lack of offense, do you think he'd be the goalie he is? Not a chance. He would force things. He would overplay pucks just so he could advance it up the ice to create offense. Would that help? Absolutely not. His job is to stop the puck. He has to give the Wild every chance to win games. If that means 1-0 finals every night, then that's what it's going to be. His mind-set has to be on stopping the first puck, and then going from there so his team can feed off of that. If he gives up a bad goal, his job is to make the next save to reassure everyone that there will be no more.
When a goalie puts on the pads and gets ready for a game, all his focus has to be on thinking positive thoughts and envisioning the great saves he has made. He is only consumed with stopping the puck, nothing else.
If you are aspiring to be a top golfer but get so emotionally wrapped up with the one bad shot that pushed the ball into a hazard and resulted in a double bogey, could you really compete with the big boys? Or would you likely end up making another bad swing and another bad bogey? The good players move ahead and forget about the bad one, focusing only on a positive thought for the next one.
A goalie is no different. It is not Weekes' job to score goals for the 'Canes, nor is it his job to manage the power play. It is not up to him to make trades. His job is to give his team the best chance of winning; that means not giving up a goal that would be a momentum crusher. If he loses every game 2-1 for the rest of the season, he will still be their MVP. He will still be their No. 1 goaltender and a guy everyone said should have gotten more credit to go to the All-Star Game. But if he's worrying about things he can't control, then he'd be giving up one or two bad goals a game. They certainly can't afford that right now in Carolina.
Around the NHL

| | |
| --- | --- |
| | |
| | Thibault |
In Chicago, Jocelyn Thibault has begun skating after undergoing hip surgery following a win at Nashville on Nov. 7. That road win, by the way, was the Hawks' last victory on the road. That is a dubious stretch of 15 games. If they lose Wednesday in Minnesota, they'll tie a franchise record. Thibault, who played in the All-Star Game last year, has proven to be one of the Hawks' most valuable players.
Good to see the team that drafted Bruce Cassidy in the first round of the 1983 draft has brought him back on board. Hawks assistant GM Dale Tallon has hired Cassidy as a pro scout for the East Coast, which is an important assignment at this time. There are plenty of teams interested in Alexei Zhamnov, who will be an unrestricted free agent next year, and the Hawks have to get some return value for their current captain. Cassidy didn't deserve many of the comments fired his way after his firing in Washington. He made a mistake in the way he spoke about the team, admitted it and apologized. He is a good hockey person who made the jump to the NHL too quickly. His rise up until that point was impressive, and that shouldn't be forgotten. Keep your eye on the progress of Norfolk coach Trent Yawney, who has done a tremendous job with the Hawks' young players in the American Hockey League. If he takes over in Chicago, I am sure Cassidy will get consideration for the Norfolk job; he was once a coach of the Hawks' farm team in Indianapolis of the now-defunct International Hockey League.
| | |
| --- | --- |
| | |
| | Fleury |
Marc-Andre Fleury remains in Pittsburgh for the time being. Sebastien Caron was sent to Wilkes-Barre of the AHL on Monday. It was a good move. Now Fleury can get plenty of shots in practice and not worry about standing around and the other awkward situations that arise when there are three goalies on the team. Plus, Caron needs to get in some work and build confidence; so going to the AHL will only help -- if he goes down with the right attitude. Fleury still likely will head to his junior team before he hits the 25-game mark and his bonuses kick in. When he does, he should have a strong foundation of confidence to work with.

Jean-Sebastien Aubin, a much-forgotten man and free agent on July 1, will start tonight at home against New Jersey as Fleury breaks in a new set of Bauer "Vegas Gold" pads. He will not wear them during a game just yet, but he did try them in training camp with Team Canada before the World Junior Championship.
Meanwhile in New Jersey's net, Scott Clemmensen will make his first NHL start of the season against Pittsburgh as Martin Brodeur is given a rest. Clemmensen, 6-foot-2 and 205 pounds, is in his third pro season and has only 20 minutes of previous NHL experience, but he has real strong fundamentals in the net, as he displayed during his senior season at Boston College by winning 30 games and leading the Eagles to the NCAA title.

Impressive juniors
During the weekend, I had a chance to watch the North American Hockey League Windy City Showcase, a 20-team tournament in Orland Park, Ill., hosted in conjunction with the NAHL and USA Hockey.

The teams came from as far away as Fairbanks, Alaska, and Fernie, British Columbia, where my father, Gerry, is an assistant coach with the Ghostriders, and from warmer places such as Texas, which boasted four teams.

There were a lot of NHL scouts and U.S. college coaches in attendance getting a look at players who are preparing to make the jump to college hockey or major junior.

I ran into former NHLer and Hall of Famer Michel Goulet, who was watching his son, Vince, play for Tony Curtale's Texas Tornado. It's a great team that has good NHL bloodlines -- former Dallas Stars defenseman Craig Ludwig's two sons, Tyler and Trevor, and former NHL goalie Mike Liut's son, Justin.

Former NHLer Kelly Chase was there, attending the Board of Governors meetings as an owner with the Springfield (Mo.) Spirit and the Texarkana Bandits.

LPGA star Meg Mallon was watching her nephew, Trevor, play for the Cleveland Jr. Barons. Meg is a very passionate hockey fan; her favorite NHL team is the Detroit Red Wings.

Remember the name Philip Kessel. The Madison, Wis., native was a member of the U.S. National U-17 Team, which plays in the NAHL, until he was called up by the U-18 team just prior to the tournament. He's a game breaker who, by all accounts, will play in the NHL at some point in the near future.

Darren Pang, a former goaltender with the Chicago Blackhawks, is a hockey analyst for ESPN. His goalie rankings appear every other week in Net Effect.
NHL analyst
Darren Pang joined ESPN2 as an NHL game analyst in September 1993. He also works select ESPN National Hockey Night playoff contests and ABC Sports' telecasts. Pang played for the Blackhawks and was named to the All-Rookie team in 1987.
EDITORS' PICKS
Even a flurry of good trades might not save Dave Nonis in Toronto, and the Canucks face a tall task making the playoffs.
Pucks Central »

Trade Countdown: The Devils are clinging to playoff hope, but have pieces to deal.
Story »

Burnside: A trade for a player who might never play again is a fitting end to David Clarkson's time in Toronto.
Blog »
MOST SENT STORIES ON ESPN.COM