Bertuzzi's mind on task at hand
After a slow start, the Canucks' Todd Bertuzzi is back to his old self. Amazing what a new contract can do.
Updated:
November 15, 2003, 1:37 PM ET
By
Rob Parent
| Special to ESPN.com
PHILADELPHIA -- Even if he didn't want to dwell on it, the daily recitations of facts and figures are such that Todd Bertuzzi can't ignore them. He's ascended to a different level now, one that involves big numbers on the statistical charts, bigger numbers in the payroll ledgers and constant attention to both.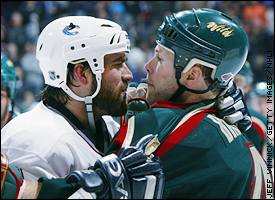 Todd Bertuzzi reputation as a player might have been damaged beyond repair.
The first-round pick who never found a home on Long Island has gone from gritty and good to fearsome and fabulous in the past two years in Vancouver. It was there that Bertuzzi relocated his once-dormant scoring prowess, registering 25 goals in each of his first two full seasons with the Canucks.
Handed the keys to the right side spot next to Markus Naslund and Brendan Morrison on a skilled and scary top line, Bertuzzi then leaped to 36 goals and 85 points in 2001-02 and finally to 46 goals and 97 points last season.
His accelerated pace reaffirmed many opinions that the Canucks now had the best trio of top-line forwards in the league. Bertuzzi doesn't disagree.
"We're deserving of that (title)," Bertuzzi told ESPN.com on Wednesday. "Each and every night our line has to lead our team offensively without being a defensive liability. We're capable of taking care of things in our own end."
While that top line usually takes care of every challenge presented, it's the continued development of Henrik and Daniel Sedin and the rookie Jason King that has Vancouver fans salivating about a march to the championship.
"We're a deeper team now," said forward Matt Cooke, who along with former captain-turned-checker Trevor Linden is a constant contributor for the Canucks. "I think that's the biggest change this year ... we're not a one-line team anymore."
Although the workload is being shared now, it's still a nightly, high-profile mission that Bertuzzi is asked to perform. Staying focused on that job while his financial future was being combated behind the scenes proved to be somewhat distracting -- especially since he wasn't producing as well as the fact-checkers and his own resume said he should.
With his contract set to expire at the end of this season, Bertuzzi, 28, was off to a slow start on the October scoreboard and admitted "it would be nice" to have the dragged-out negotiations for an extension over and done with. Even his own coach said the burly, budding superstar had his thoughts elsewhere during games.
| | | |
| --- | --- | --- |
| | " | There's no more pressure. I'm not going to change my game. I'm not going to throw a cape on and be a different person." |
| | | — Todd Bertuzzi |
When this testy Todd finally put pen to paper on Oct. 28, he had but one goal, courtesy of a power play, and four points in eight games. He's scored four goals and 10 points in the eight games since, and the Canucks have gone 6-2 en route to a league-best 22 points and a 10-4-2 record.
"There's no more pressure," Bertuzzi proclaimed to the media the day after signing the contract. "I'm not going to change my game. I'm not going to throw a cape on and be a different person."
So why then the supernatural change?
"Obviously it is easier as a player when you know where you're going to be and what the future holds for you," said Bertuzzi. "It's structured around my playing well for an organization that wants me as a part of its future."
Interesting, that contractual structure. Worth nearly $27.8 million, it reportedly calls for an increase of Bertuzzi's orginal base salary for this season from $3.7 million to $4.3 million. Then the deal mandates consecutive salary payments of $6.63 million, $6.93 million and $6.93 million over the next three seasons. It's also been reported that if there is a work stoppage next fall, the Canucks agree to carry over a significant portion of Bertuzzi's salary, essentially enabling him to earn an average of $8.7 million for two years after a one-year lockout or $10 million during the final year if there's a two-year lockout.
It's clear the Canucks think Bertuzzi is well worth the time, trouble and money.
"It comes down to respect and what I've done for this organization," Bertuzzi said. "It's just structured for me to be here and help this team out in later years."
And this year, as well. If the Canucks are going to contend for the Stanley Cup, they didn't need a distracted team leader like Bertuzzi chasing his thoughts instead of the puck.
"I feel that we're in a situation as an organization and a team where this year is our chance to get to the Cup," said Bertuzzi. "We have to take advantage of it while this window of opportunity is open. We have to trust each other and keep working hard, but talk is cheap. We have to all go out and do the jobs we're capable of to really make that happen."
Rob Parent of the Delaware County (Pa.) Times is a regular contributor to ESPN.com.
EDITORS' PICKS
Trade deadline: Additions James Wisniewski and Keith Yandle tipped the scales, and the big deadline sellers did too.
Burnside »

Trade deadline: Take another look at all the deals and analysis with our panel of experts right here.
Coverage »

NHL general managers got in 24 trades before time ran out on the trade deadline.
Watch
MOST SENT STORIES ON ESPN.COM