NHL fans sold on proof, not potential
For NHL teams struggling at the gate, winning is an easier sell than hope.
Updated:
September 3, 2003, 3:58 PM ET
By
Darren Rovell
| ESPN.com
Frustrated team owners often advocate firing the coach or signing a high-priced free agent in the offseason to help ring up sales at the box office. But this offseason in the NHL proved that, for the most part, winning is the most important marketing tool of them all.
The Anaheim Mighty Ducks are seeing a significant return from last season's surprise run to the Stanley Cup finals. Team officials are optimistic that more than 20 games will be sold out at The Pond this year -- compared to just seven last season -- thanks to a season-ticket base that will grow by at least 2,000 fans, according to Al Coates, the team's senior vice president of business operations.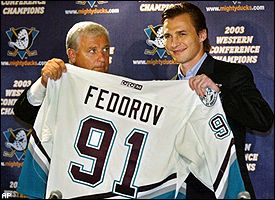 The Ducks capitalized on their playoff run, but needed to replace Paul Kariya with Sergei Fedorov to maximize it.
The Ducks are already coming off a positive attendance year. They experienced one of the largest increases in the NHL last season, drawing almost 14,000 fans per game, an increase of almost 2,000 per game from 2001-02.
Coates said there'd be less reason for optimism had the team been unable to replace departed captain Paul Kariya with a star of equal magnitude. On July 19, two weeks and two days after Kariya signed with the Colorado Avalanche, the Ducks signed Sergei Fedorov.
"Our fans in this market care about having a marquee player and picking up Sergei negated a potential slide," Coates said. "This area thrives on the star syndrome."
Reaching the second round of the playoffs has helped turn around things for the Tampa Bay Lightning, whose St. Pete Times Forum is the second-largest arena in the NHL at 20,500 seats.
The Lightning expect their season-ticket base to increase from 9,000 fans last season to 11,000 this season, said team president Ron Campbell. Add a 25 percent increase in purchases on all ticket packages and the Lightning should draw more than 17,000 fans per game and net about $21.5 million in ticket sales -- $4.5 million more than last season.
"Teams that don't have to work too hard to get their crowd, like the Tampa Bay Buccaneers, can take away 90 percent (profit) from each ticket," Campbell said. "But since we have to advertise more, we only come away with about 70 percent."
Simply showing improvement during the second half of last season might be good enough for the Atlanta Thrashers, who have yet to make the playoffs since joining the league in 1999-2000. Bob Hartley coached the team to a 19-14-5-1 record after taking over in mid-January and Dany Heatley followed up his rookie-of-the-year season with 41 goals and the All-Star Game MVP award.
"We'll be significantly north of where we were last year," said team president Stan Kasten, who expects attendance to be up at least 10 percent. "We played the second half like we were a playoff team."
Kasten said he didn't expect a possible change of ownership to affect the average fan's feelings for the team. AOL Time Warner has been trying to complete a sale of the Atlanta Hawks, Thrashers and operating control of Phillips Arena to Dallas businessman David McDavid for the past couple months.
"Our hockey franchise is more stable than the basketball franchise in that the Thrashers are moving in a very clear direction," Kasten said. "That's unlike the Hawks, where the general manager and the coach were in limbo until two weeks ago."
Things are less clear with the Stanley Cup champion New Jersey Devils, whose regular-season attendance last year fell by seven percent from 2001-02 and the team played in a Continental Airlines Arena that was, on average, 22-percent empty.
"We definitely saw the effects of 9-11 in the 2001-02 season," said Devils' president and general manager Lou Lamoriello. "And we've certainly been effected by the economy since our area has been hit as hard as any."
Though Lamoriello said it was too early to determine how winning the Stanley Cup will translate into new season-ticket sales, he said that season-ticket holders from last year are returning at the highest rate ever.
"The market here is not New York City, it's not a situation where mass transportation isn't an issue," Lamoriello said. "But we're trying to make things as accessible as we possibly can."
While the Devils attempt to parlay their third Cup in nine years into ticket sales with an all-out publicity blitz this week -- an advertising campaign occupying 60 billboards and space on a few buses -- the Minnesota Wild don't require the hardware or the effort to draw fans.
The Wild have sold out every game in their three-year existence and have more than 16,000 season-ticket holders, minimalizing the impact of reaching the Western Conference final last season.
The Columbus Blue Jackets haven't made the playoffs since they joined the league with the Wild in 2000-01, but ticket sales haven't lagged. The team has 13,500 season ticket holders -- roughly 1,500 more than it had in its inaugural season -- and the retention rate during the offseason is expected to be around 94 percent, said Mike Humes, the team's senior vice president for business operations.
"We think the arena experience we give our fans is one of the reasons why we have such a great following," Humes said.
Last year's ESPN.com's SportsNation Ultimate Standings, fans ranked the Blue Jackets second overall in best in-arena experience -- behind only the Wild -- among teams in all of the four major professional sports leagues. Although there is lack of professional sports competition in Columbus, it is also the second-smallest market in the league. The team has been a key beneficiary of the recent revitalization of the downtown area, Humes said.
Missing the playoffs is starting to hurt the Nashville Predators, who haven't qualified for the postseason since joining the NHL in 1998-99. Attendance has dropped by about 1,000 fans per year since the team's inaugural season, and last year it ranked last in the league in average attendance.
"When you are an expansion franchise there is a honeymoon period, but when you are building from within the way that we have, there is a lull in there," said Gerry Helper, the Predators' vice president of communications and development. "People have said make a coaching change, make a big trade, sign a big free agent, and fans give you pressure to do that. But it's only if those changes coincide with results on the ice do you get a long-term response in terms of attendance."
Last year, in order to slow down the erosion of ticket sales, the team offered season-ticket holders a refund of the price increase -- six percent -- if the team didn't make the playoffs. Fans were refunded between $42 and $250 each, according to Helper, who noted that the team won't be offering the guarantee again this season.
Though the clock is ticking on the current Collective Bargaining Agreement -- it expires in Sept. 2004 -- team executives said the potential of a protracted work stoppage hasn't had an affect on ticket sales ... yet.
"The end of the Collective Bargaining Agreement is not an issue yet," Kasten said. "This time, next summer, we expect it to obviously be much more of a factor."
Darren Rovell, who covers sports business for ESPN.com, can be reached at darren.rovell@espn3.com.
ESPN.com Sports Business reporter
ESPN.com's sports business reporter since 2012; previously at ESPN from 2000-06
Appears on SportsCenter, ESPN Radio, ESPN.com and with ABC News
Formerly worked as analyst at CNBC
SPONSORED HEADLINES
MORE NHL HEADLINES
MOST SENT STORIES ON ESPN.COM
EDITORS' PICKS
Burnside: After falling behind by two goals, the Pens stormed back to take Game 1.
Story »

Burnside: The Bruins are going to win it all. And here's why.
Story »

Forecast: Our panel will tell you today who is taking home the league's top awards.
Hart Trophy »