In Chicago, the kids are all over
For a sign of teams preparing for the future, look no further than the Chicago Blackhawks.
Updated:
October 14, 2003, 2:37 PM ET
By
Jim Kelley
| ESPN.com
Want a clear indication of how teams are heading into what they perceive to be a final season before a lockout and a hard (some say very hard) salary cap? Look no further than the Chicago Blackhawks roster.
Hawks general manager Mike Smith started the season with six rookies on his dance card.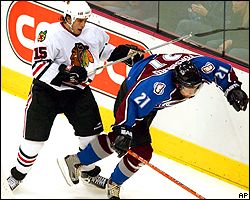 Tuomo Ruutu has earned early accolades for his physical play.
You've likely already heard of highly touted rookie center
Tuomo Ruutu
(20), but the Hawks are also dressing goalie
Michael Leighton
(22), left wingers
Igor Radulov
(21) and
Travis Moen
(21), defenseman
Lasse Kukkonen
(22) and right winger
Pavel Vorobiev
(21).
Ruutu is centering the first line with Eric Daze and Steve Sullivan. Radulov is playing on a second line with Alexei Zhamnov and Kyle Calder. Kukkonen is playing among the top four defensemen and is paired with Jon Klemm.
Insiders say Smith isn't likely to keep all six, but one source said that if the kids can play, especially Ruutu, then the Hawks might consider moving Zhamnov if it appears the team is not a playoff contender. That would put some substance behind the rumor of the Detroit Red Wings' interest in the veteran playmaker, a possible replacement for Sergei Fedorov, who now centers the top line for the Anaheim Mighty Ducks.
When did the clock start? Oct. 11 was six months to the day that Theo Fleury was suspended for what the league and the Blackhawks said was then a minimum of six months. Don't look for the veteran right winger to apply to Commissioner Bettman's office for reinstatement to the league anytime soon. Fleury was suspended in April, but did not start another rehabilitation program for a reported substance-abuse problem until late May or early June. It's expected he'll have to complete that program -- and likely miss the entire 2003-04 season -- before the league considers a plan for reinstatement.
IN THE SLOT
A return on the horizon
| | |
| --- | --- |
| | |
| | Leetch |
New York Rangers defenseman Brian Leetch has resumed skating, but is not expected to play in the home opener Thursday. He likely won't be fully recovered from his left ankle injury until near the end of the month.
Cover your ears, Mom
| | |
| --- | --- |
| | |
| | Hackett |
Newly-acquired Philadelphia Flyers goalie Jeff Hackett had his mother in the stands when he made his Flyers debut -- a 2-0 shutout of the Sabres. He said he didn't want her to come to the game because he was afraid that if the outing didn't go well the fans would boo him. Not to worry; the still-anemic Sabres managed just 17 shots on goal, none that Hackett couldn't see or stop. Oddly enough, Hackett's only other shutout the past three years came last season when he debuted for the Boston Bruins -- at Philadelphia.
Young hunters
Including Jordin Tootoo, the Nashville Predators had four players make their NHL debuts last Thursday. Three of the team's seven defensemen -- Wade Brookbank, Dan Hamhuis and Marek Zidlicky -- were playing in their first league games, while another defenseman, Robert Schnabel, was playing in his third.
Where's the brotherly love?
| | |
| --- | --- |
| | |
| | Roenick |
Keep an eye on what appears to be growing tension between Flyers coach Ken Hitchcock and star forward Jeremy Roenick. There has always been a bit of built-in tension between the button-down coach and the free-spirit player, but Hitchcock's recent remarks about not wanting to have players too comfortable in Philadelphia was interpreted by many to be aimed straight at Roenick. Philadelphia sources maintain Hitchcock was unhappy with Roenick's approach to training camp and wants the talkative player to be more of a leader by example.
It's getting chilly in Edmonton
Early word out of Edmonton is that the Oilers are prepared to let unsigned forward
Mike Comrie
sit for awhile. Comrie's agent, Rich Winter, is already citing "irreconcilable differences" between his client and Oilers general manger Kevin Lowe, but Lowe isn't concerned about the heat.
Comrie has made some $8 million over the past three seasons, largely by hitting a great many individual bonus clauses. Lowe wants him more in line with other salaries on the team, while Comrie is likely looking for a long-term deal that will protect him should the NHL have a new salary structure once the new collective bargaining agreement is in effect.
Right now it's a somewhat bitter standoff and a trade could be in the future.
In Comrie's absence, Mike York is playing in the first-line center spot, while Ryan Smyth centered the second line in the opener against the San Jose Sharks. There's talent there, but not enough to overcome Comrie's absence.
A bond that doesn't break
Curt Fraser is no longer the coach of the Atlanta Thrashers (he's now an assistant with the New York Islanders), but he hasn't forgotten his charges there.
Fraser had a bond with both Dan Snyder and Dany Heatley, and he's kept in regular contact with Heatley in the wake of Snyder's death. Fraser left the Islanders in order to attend Snyder's memorial service in Elmira, Ontario, then rejoined the team in time for New York's 6-0 triumph over the Sabres on Saturday in Buffalo. He said he didn't like the way that Heatley was being portrayed in some sections of the media and that the young Atlanta forward simply made a mistake.
Fraser was scheduled to be with the Islanders on Tuesday in Atlanta. He said he was going to miss Snyder and that he would continue to work with Heatley in an effort to "help him get through this."
Heatley is facing vehicular manslaughter charges for his role in the automobile accident that took Snyder's life.
A lot more than a broken jaw: Here's the lowdown on Heatley's physical problems: He had reconstructive surgery on his right knee. Doctors used a tendon from his left knee to help repair the torn anterior cruciate ligament in his right knee. He also had work done on a torn medial collateral ligament and a partially torn meniscus in that knee. Heatley also has left shoulder problems, but it's largely muscle and tissue injury, no broken bones or serious nerve damage, and likely will heal before he recovers from the broken jaw.
General manager Don Waddell has been extremely careful in regards to putting a timetable on Heatley's return, especially in light of the legal charges and psychological issues still to be addressed. But Waddell did say he thought Heatley would be able to play games at some point in the season.
That's assuming he can get past his legal troubles.
Heatley has hired a pair of high-profile Atlanta lawyers. Ed Garland was prominent in the defense of Baltimore Ravens linebacker Ray Lewis when he was under investigation in a homicide case in Atlanta. His other attorney, Don Samuel, worked with Garland in defending high-profile NBA players who were caught up in the Gold Club scandal a few years back.
'Nothing against Cujo, but ...'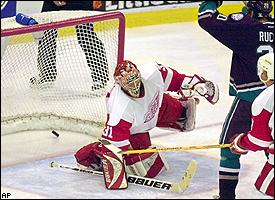 Curtis Joseph doesn't deserve all the blame for last year's playoff flop.
That seems to be the common refrain in the Red Wings' locker room as the players start to reunite behind goalie
Dominik Hasek
, who brought them to a Stanley Cup the season before
Curtis Joseph
arrived.
"Nothing against Cujo, but just having Dom in the room, on the ice, gives the team more confidence," said defenseman Chris Chelios after Hasek led the Wings to a season-opening win against the Los Angeles Kings. "The thing is, we can't relax just because Dom's back there. It takes time, but in training camp, he looked great, like the old Dom. You don't worry about his conditioning; he's skinny as a rail. I don't see a difference."
Maybe Chelios doesn't have anything against Joseph, but those are the kind of comments the Buffalo Bills used to make after they lost the first of four straight Super Bowls when Scott Norwood's potential game-winning field goal sailed wide right. Nobody blamed Norwood by name, but most of the Bills were content to let him take all the blame despite having so many "star" players in that game who also came up short.
The Red Wings were swept by Anaheim in the first round last spring in huge part because they couldn't figure out how to beat goalie Jean-Sebastien Giguere and because few players were willing to pay a physical price to win. Yet, much of the blame fell on Joseph.
Nothing against the Red Wings, but getting Hasek back makes it easier still to let Joseph take the unspoken blame. Truth be told, all the Red Wings lost that series, not just the goaltender.
Sage advice
Last year at this time, Brent Burns was a fourth-line right winger playing junior hockey.
Last week, he logged 16 minutes and one second in the Minnesota Wild's opener, making him the second-youngest Wild player to ever start the season there. Burns was 18 years, 6 months and 29 days old when he set skate to ice for the Wild, missing last year's rookie sensation Pierre-Marc Bouchard's age record of 18 years, 5 months, 14 days.
Burns, however, sees Bouchard as a veteran and recently asked him how long he should nap on game days. Bouchard told him 90 minutes, but Burns recently slept for four hours and had to hustle to get to the rink on game day.
Jim Kelley is the NHL writer for ESPN.com.
SPONSORED HEADLINES
MORE NHL HEADLINES
MOST SENT STORIES ON ESPN.COM
EDITORS' PICKS
NYR 3, NJ 1: Derek Stepan provided all the scoring as the Rangers made it eight in a row.
Recap »

Strang: A dramatic shift in the landscape has left many enforcers being escorted out of the game.
Story »

LeBrun: We predict who's in and who's out of the playoffs.
Story »
Reebok Men's New York Rangers 2014 Nhl Stadium Series Team-colored Scarf Shop »