The yin and yang of playing in Toronto
Players in Toronto skate in front of rabid fans and full houses, but also must deal with the constant scrutiny that comes with being the best show in town.
Updated:
December 24, 2003, 11:22 AM ET
By
Scott Burnside
| Special to ESPN.com
TORONTO -- Tom Fitzgerald has seen them at his 9-year-old son's hockey games, whispering, pointing.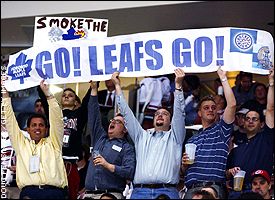 Maple Leafs fans are some of the most rabid in the league, which isn't always a positive for players.
"There he is, Fitzgerald's son."
"I'm like, 'he's a mini-celebrity,'" says Fitzgerald.
Though he's a veteran fourth-liner who has managed to score slightly more than one goal every 10 games during his career, Fitzgerald still has to politely establish ground rules when he goes to watch his son at the local rink. He'll stop for autographs and pictures, but not during the game.
"I don't want to go to the hockey rink to talk about the Toronto Maple Leafs. I want to go to the rink and watch my son play hockey," said Fitzgerald, a father of four boys who was an integral part of two fledgling franchises in Florida and Nashville but has stumbled into a parallel universe here in the epicenter of hockey in North America.
It's a Monday morning in December, an off day for the team, and Fitzgerald nods to the knot of cameramen and reporters that number 25 milling about the Leafs' Air Canada Centre locker room. Forward Darcy Tucker, who has enjoyed an emotional love/hate relationship with the local media, enters the room loudly humming a circus theme song. Defenseman Bryan Marchment is trying his best to avoid the fray when asked about the move to his hometown after playing 14 NHL seasons in Winnipeg, Chicago, Hartford, Edmonton, Tampa Bay, San Jose and Colorado.
"You don't really realize how big the Leafs are until you play for them," said Marchment, who brings with him the reputation as one of the game's most intense, some would say dirtiest, competitors.
As soon as he signed with the Leafs in the offseason, Marchment's friends and relatives were ecstatic.
"It's as though I really hadn't done anything before I signed with the Leafs," he said with a wry grin.
Backup netminder Trevor Kidd, who has played in hockey-mad Calgary as well as in the hockey backwaters of Florida and Carolina, said young players in Toronto should take a course so they understand what they're dealing with in terms of the pressure and the media. And indeed, the team does offer a special media training session for its draft picks.
"I used to tell people it was a lot like playing an all-star game every day the way you were treated," said Travis Green, a native of Castlegar, British Columbia, who spent two seasons in the blue and white but was exposed in the waiver draft at the start of the season and is now a Boston Bruin. "Especially for a Canadian kid, it's a good place to play hockey."
For Alyn McCauley, it's equal parts longing and relief when he talks about his six seasons as a Toronto Maple Leaf.
"Win one game, order the rings. Lose another fire the team," said McCauley, who was dealt last March to San Jose for Owen Nolan. "I laughed then. I guess I laugh a little harder now.
"Do I miss it? Yes I do. I saw bowling highlights the other night (on TV) before I saw hockey."
And therein lies the great yin and yang of playing in Toronto, the pointy horns of a hockey dilemma.
The warmth from the glow of a following that never wavers, that never fails to sell out a home game, that never fails to debate the home team regardless of the season or month juxtaposed against the potential for blistering attacks in the largest media market in the NHL and one of the largest in pro sports; the perpetual feeling of being under the microscope, knowing that a significant portion of the population agonizes over every turnover, every bad goal, every missed opportunity and are quick to give voice to that agony.
Understand it, embrace it, and a player can thrive, feeding off the constant buzz that surrounds the team, said the team's player development coach and scouting coordinator Paul Dennis. Fail to do so and "it could swallow them up."
"There's a lot of harsh criticism directed towards the players," said Dennis, who owns a Ph.D. in sports psychology. "That can be a unifying force."
But if such external criticism fails to create the siege mentality that many coaches love to perpetuate, the pressure can be unimaginable.
"If the player is too sensitive, if you have a player that's incredibly shy, then that could work against that individual," Dennis said. "If they choose to let that get to them in a negative way, it's going to happen."
And so it is that for every Doug Gilmour and Wendel Clark that will be revered for all time by Leafs fans, there is a Jonas Hoglund or Robert Reichel whose time in Toronto is marked by relentless criticism. Hoglund left to a chorus of boos, the result of a big man playing a small man's game in a town where a host of physical and mental shortcomings will often be overlooked but not softness or slothfulness. Reichel continues to play in the shadow of his crabby media personae in spite of Quinn's repeated insistence the Czech hero is one of the smartest players he has ever coached. So disenchanted has Reichel become that he has sparked a running joke that he leaves the Air Canada Centre in full gear so he doesn't have to deal with the media, regardless of how well he's played.
The list of players similarly cast out by Leaf Nation is long and often puzzling.
One Maple Leaf driven from the team by fans and the media went on to earn a Stanley Cup ring, after which he promised sarcastically to take the Cup by Maple Leaf Gardens to remind the Leaf faithful of what it looks like. And therein lies the rub.
If, as Travis Green suggested, it's the hockey equivalent of playing for the New York Yankees, it is so without the attendant glory, without the required payoff.
There is intense pressure playing in Montreal, where the language and politics of Quebec will always provide a dramatic backdrop to the team, but the Canadiens remain the most successful team in NHL history and one of the greatest franchises in all sport. Likewise playing for the Rangers in Manhattan brings with it a high level of scrutiny, but the Blueshirts are still only a decade removed from their glorious run to the Cup in 1994.
Only the embarrassing Chicago Blackhawks have endured a longer Cup drought than the Leafs' 36-year famine. The lack of a championship since 1967, the last season of the Original Six, adds a layer of urgency, indeed longing to the proceedings that sets it apart from other sports centers.
When considered against what are believed to be among the league's biggest profits, this history of failure at the greatest level leaves the organization open to perpetual criticism.
Since Pat Quinn arrived after two non-playoff years in the summer of 1998, the Leafs have made the playoffs five straight seasons. During the first four years, before losing to Philadelphia in the first round in seven games last spring, Quinn's teams won at least one playoff series and advanced to two Eastern Conference championships.
In spite of what many would argue has been a successful stint, Quinn has been a regular target for a host of perceived failings, including not being able to communicate with his players, not being able to entice big-name free agents (in spite of obvious evidence to the contrary), not being able to pull off deadline deals and running practices poorly. The pressure has taken its toll on Quinn, who was hospitalized during the Eastern Conference finals in 2002 and went on a strict diet and workout regimen that helped him shed nearly 50 pounds.
''It's been a pretty good time here," Quinn said recently. "The other parts (the media) ... I understand your business, I think I do. No, I don't. I guess sometimes I can understand it, but I don't understand it, if that makes any sense. That's just something you have to deal with when you work in this place. So you go ahead and deal with it and send the papers where they belong -- to the fish and chip store.''
With four daily newspapers, all-sports radio, three all-sports television channels and a digital television station devoted entirely to the comings and goings of the team, not to mention various and sundry local television and radio stations, there is no element of the team that is not newsworthy, that will not generate discussion on some level.
Fourth-liners whose presence on most NHL teams would go unnoticed by all but family and friends, are celebrities and their ice time or lack thereof is fodder for often contentious stories in the papers.
It is why, at the behest of newcomer Joe Nieuwendyk, who holds more than a little sway thanks to his three Stanley Cup rings and an Olympic gold medal, newspapers and stats sheets are now banned from the Leafs dressing room. No exceptions.
"There couldn't be a better rule for our hockey club," said veteran Gary Roberts.
It may explain, in part, how after a team meeting during a rocky western trip earlier this year, the Leafs responded with an eight-game winning streak, the longest in a decade, and vaulted to the top of the NHL standings.
"Huge, huge change," over last season, said Fitzgerald. "The bottom line is we don't care what people say or write. But I care so much what Tie Domi and the other guys think of me."
When the Leafs are on a roll, as they were through December, but especially during the playoffs, the city is positively alive with excitement and hope. Two years ago the Leafs opened the playoffs with a home win over the New York Islanders. Minutes after, cars festooned with Leaf flags had clogged the streets around the Air Canada Centre, honking their horns in celebration.
One game.
Roberts took less money to play for the Maple Leafs. Likewise Joe Nieuwendyk and Bryan Marchment, both of whom have essentially come home to Toronto.
"Some days it's tough," said Fitzgerald. "But some day I'm going to look back on this and realize I do, I have the best job in the world playing for the Toronto Maple Leafs."
Scott Burnside is a freelance writer based in Atlanta and is a frequent contributor to ESPN.com.
Hockey writer for ESPN.com
10 years at Toronto Sun, Windsor Star and National Post
Wrote best-selling true crime book "Deadly Innocence"
EDITORS' PICKS
LeBrun: With a quarter of the season remaining, we predict the winners of the NHL's biggest awards.
Story »

Hockey Today: What's it like to be traded? Ben Lovejoy, formerly of the Ducks but currently of the Penguins, lets us in on it.
Podcast

Roberto Luongo went from a hospital to the ice on Tuesday, meaning Florida's goaltending coach didn't have to play.
Pucks Central »
MOST SENT STORIES ON ESPN.COM