Staying out of the way of greatness
The Mag's Lindsay Berra scores with a little help from Glen Anderson during the second day of Wayne Gretzky's fantasy camp.
Updated:
February 18, 2004, 2:55 PM ET
By
Lindsay Berra
| Special to ESPN.com
ESPN The Magazine sent writer Lindsay Berra to Scottsdale, Ariz., to live out a dream of many hockey fans and participate in Wayne Gretzky's fantasy camp. Lindsay will be filing a daily diary about her experience:
Monday, February 16
Well, we lost.
The score was 11-10. Twenty-one goals. That's the most that I've ever been associated with in one game at any level in my entire life. But at one point, my team (Team 4) was down 9-3, so you have to be proud of the comeback.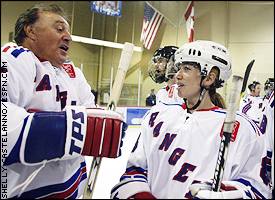 Phil Esposito shares a story with The Mag's Lindsay Berra.
Wayne Gretzky, who plays one game with each team at his camp, played with us today, so right before the start of our game, defenseman Paul Coffey was traded to our rival to even up the rosters. Sure, we still had Gretz and Kirk Muller and Phil Esposito, but carrying the puck in on the defensive pairing of Coffey and Glenn Anderson is pretty intimidating, regardless of who's on your wing. Really, what can you do? Coffey can pick the puck right off your stick and be halfway up the ice before it's even occurred to you that you should stop and turn around. I swear, he skates faster than the synapses in my brain can fire, and that's without even cracking a sweat.
I skated with a half-shield for the first time today. I've always worn a cage, but it makes for lousy pictures and lousy television, so the ESPN/ABC camera guys and still photographer asked if I'd try a shield. I did, and I was pretty paranoid about busting up my already-fake front teeth, but I did OK. I can, however, see what NHL players don't like about the visor. If you've never worn one, it's like looking through a scuba mask underwater -- everything is magnified, and when your eyes shift from looking through the visor to looking down, the puck looks like it changes size. It's very bizarre. So, it'll be back to the cage for me as soon as everyone thinks they've gotten their shots, both for the sake of my teeth and my puck perspective.
Anyway, I did score a goal today, and Glenn Anderson should probably get the second assist. I was parked in front of the net, and Anderson was out on defense. The puck was behind the goal, and he kept saying "Yogi (he's taken to calling me that), move up in the slot. Get a little higher, Yogi." So, when a pro like Anderson tells you to move, you do it, even if he is on the other team. A pass went out to the point man, who took a shot on goal that was blocked and then thrown back in front. It came right to me, and I whacked it through the five-hole of goaltender Stacey McAlpine. (Coincidentally, Stacey told me last night that no matter how hard he tries, he can never get the five-hole totally covered). I was right in front of Stacey, though, and didn't see the puck hit the back of the net. I didn't know I'd scored until Anderson started whooping "I told you so," Esposito hugged me and I saw the ESPN camera guys going nuts on the other side of the glass. Opposing right winger Danny Gare of Buffalo Sabres fame pulled the puck out of the net and saved it for me.
I played a lot with Esposito, and for a 62-year-old man, he can still move and pass the puck really well (better than I can, anyway). Plus, he's plain funny. He told me a story about how the old wooden benches used to give him splinters you-know-where.
As for Gretzky and Muller, I just tried to stay out of their way. They could find each other through all kinds of traffic and hit each other with tape-to-tape passes without even really looking. I was out on shifts with the two of them a few times, and they want to weave and skate and move the puck; clearly, it wasn't even worth me trying to keep up. So, I'd stick to my lane on the left side and just let Wayne and Kirk rush up ice. That way, when Coffey picked it off and came down the other way, I could at least give our defensemen a hand. I think we get Coffey back tomorrow, which will be nice because we lose Gretzky.
Walter Gretzky was behind our bench giving pep-talks for most of the game, chanting "Espo, Espo" mixed in every once in a while with a few bars of a song. D.B. Sweeney was there too. He kept telling me to get out there and hit somebody, which I would have done if I could have caught up with anybody. I hear D.B. is pretty rough out there, so I'll have to keep an eye out for him tomorrow.
All in all, I'm not doing too badly. I obviously can't keep up with the big dogs, but who can? And I'm right in the middle of the rest of the pack. So far, Team 4 is 0-1. We have to win tomorrow if we want to make the championship game on Wednesday at the Coyotes' new arena. So, the pressure is on.
The Magazine's Lindsay Berra can be e-mailed at lindsay.berra@espnmag.com.
Lindsay Berra is an avid CrossFitter and a national correspondent for MLB.com. Follow her on twitter @lindsayberra.
SPONSORED HEADLINES
MORE NHL HEADLINES
MOST SENT STORIES ON ESPN.COM
EDITORS' PICKS
Kyle Clifford's son was the perfect size to fill the Stanley Cup.
Tracker »

All the Islanders need is the right players surrounding dynamic center John Tavares and they have the makings of a great team, says four-time Cup winner John Tonelli.
Strang »

Defenseman Jeff Schultz had a career year in 2013-14, which earned him a one-year deal worth more than $3.5 million.
Strang »