AHL already reaping benefits of lockout
Updated:
September 27, 2004, 11:17 AM ET
By
Scott Burnside
| Special to ESPN.com
Fast, innovative, cheap and recently armed with a little more star power, the American Hockey League stands ready to fill the gaping North American hockey void quite nicely, thank you very much.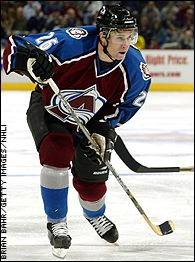 Colorado defenseman John-Michael Liles has gone from the NHL all-rookie team to the World Cup to the AHL in less than five months.
With the National Hockey League doors locked because its owners have driven it off the economic rails, the AHL has become the best alternative, high-level hockey, and doesn't force fans to break into junior's college fund to take the family down to the rink.
And it's all a bit ironic considering many rosters are stocked with exceptional young NHL talent and the odd, aging all-world goalie.
"It's a bargain considering the caliber of player," AHL president Dave Andrews said as the league prepared to launch its 69th season with the opening of training camps Sunday.
When the 28-team league opens October 13 -- the same day the NHL season was scheduled to begin -- fans will be treated to as many as 14 World Cup of Hockey participants, including Tuomo Ruutu in Norfolk, Jay Bouwmeester in San Antonio, Mikko Koivu in Houston and John-Michael Liles in Hershey.
There are top draft picks Eric Staal in Lowell and Kari Lehtonen in Chicago, crowd-pleasing Jordin Tootoo in Milwaukee and the electrifying Nikolai Zherdev in Syracuse.
Binghamton may offer the best bargain with super-prospect Jason Spezza leading its power play while being backstopped by a guy named Dominik Hasek, who is expected to be guarding the pipes during a two-week injury reassignment from his new team, the Ottawa Senators.
Compared to the NHL's average ticket price of $44.22, this year's $12 AHL ticket is even more of a bargain.
No wonder Binghamton tickets, already a hot item for the 4,717-seat home rink, are expected to be in extremely short supply.
"I'm really excited," said rookie Binghamton coach Dave Cameron, who arrives from St. Mike's in the Ontario Hockey League to find a roster that includes Hasek, Spezza and fellow NHLers Antoine Vermette and Anton Volchenkov. "I don't think anybody knows, exactly, what Hasek's plan is, how many games he's going to play. But obviously we're going to benefit from the players coming down."
Already enjoying unprecedented fan interest and exposure (the league has recorded an increase in attendance in 15 of the past 16 years), it's impossible to know how great a windfall the current NHL lockout will be, but it's expected to be significant. The AHL, which operates with its own collective bargaining agreement with the Professional Hockey Players' Association, will receive about twice the exposure it would normally get in Canada, with Sportsnet carrying between 20-25 games nationally, a number that could increase if the lockout scuttles the entire NHL season. The bonus, according to Andrews, is that the telecasts will look much like NHL telecasts because of the production values and broadcasting talent employed.
In cities where AHL franchises share the sporting market with the NHL -- like Edmonton, Philadelphia, Chicago -- and in the metropolitan Boston and New York areas that are surrounded by several AHL franchises, Andrews expects hockey fans will migrate to games.
The Chicago Wolves, for instance, have seen their new season-ticket and group sales deposits double after an aggressive marketing campaign last winter.
The additional attention marks the second time in a decade that the AHL will enjoy the windfall of an NHL lockout.
When the NHL shut down for 103 days in 1994-95, the AHL was "below the radar screen, way further below than it should have been," said Andrews who had just taken over the presidential duties at that time. But thanks to expanded television coverage nationally in Canada and regionally in the United States, increased media coverage and word-of-mouth praise of the caliber of play, the AHL saw its profile grow exponentially. Since that time the league has almost doubled in size with the absorption of the International Hockey League.
In the hours after the start of the current NHL lockout last Wednesday, Andrews and AHL teams were flooded with interview requests as sports writers shifted gears quickly from cancelled NHL training camps to the AHL.
"We have a much different footprint and a much different presence now," said Andrews.
Because it is the prime developmental league for the NHL, the AHL has always appealed to fans' notion that their hometown players are "one shift away from the National Hockey League," Andrews said.
According to Andrews, about 400 of the AHL's 700 players played in the NHL last season and 95 percent of AHL players are under contract to NHL teams.
"It's not like there's 700 guys in our league looking wide-eyed at the players coming down to play," he said. "It's not as though they've been sent to a place where they shouldn't be playing with those other players."
The difference in ability between the player that gets called up to the NHL in the middle of the season and the player who takes his place in the AHL is "is not that great," Andrews said.
And now, with the NHL's doors closed, AHL fans will no longer have to wonder if their top player will be in the lineup on any given night or on a plane to the show.
"Any time you can stabilize your roster and have your team set, as long as you're a good team as we expect to have, and work with them over the course of a season, certainly stability breeds confidence," said Cameron.
On the ice, the AHL will once provide a testing ground for the NHL and its perpetual search to speed of the game and increase offense with a series of rule and format changes. Among those changes are no-touch icing, tag-up offsides, goal lines moved two feet closer to the end boards, from 13 to 11 feet and an expansion of the width of the blue lines and red line from 12 inches to 24 inches. A shootout will decide tie games after a five-minute overtime session.
Perhaps the most interesting innovation will be the restriction of how goaltenders are able to play the puck for the first seven weeks of the season. During this test period, AHL goaltenders will be prohibited from playing the puck anywhere behind the goal line except in a 28-foot safe zone directly behind the net.
A reduction in the width of goaltenders' pads from 12 inches to 10 inches has been delayed until next season.
The wildcard for the AHL this season is the potential for more established NHLers to join rosters. There are no restrictions on any team signing any player, although the AHL does have a veteran rule which limits each team to five skaters in a lineup who have a combined total of 260 or more professional games (goalies are exempt from this rule). Few teams approached that level, which last year allowed for six such skaters, mostly for economic reasons.
Although most teams have full partnership agreements with NHL clubs, and as a result will have little roster room given the influx of players from parent NHL clubs, some teams like Chicago, Grand Rapids, Hershey and Manitoba may have both the roster flexibility and the financial wherewithal to bring in bigger stars like Detroit Red Wings defenseman Chris Chelios, who has expressed interest in playing in Chicago.
"I think we'll see some of it," Andrews said.
Scott Burnside is a freelance writer based in Atlanta and is a frequent contributor to ESPN.com.
Hockey writer for ESPN.com
10 years at Toronto Sun, Windsor Star and National Post
Wrote best-selling true crime book "Deadly Innocence"
SPONSORED HEADLINES
MORE NHL HEADLINES
MOST SENT STORIES ON ESPN.COM
EDITORS' PICKS
Tyler Seguin is leading the Stars' surge while the Isles are solidifying their standing.
West »
Eastern Conference »

CHI 4, TOR 0: The Blackhawks ripped into the suddenly slumping Leafs on Sunday night.
Recap »

Who's trending up and down in the NHL this week? We're here to tell you who's hot and not.
Strang »