NHL would benefit from skate battle
Updated:
November 1, 2004, 1:06 PM ET
By
Terry Frei
| Special to ESPN.com
Following its acquisition of The Hockey Co., Reebok is getting into the hockey act. New ads featuring NHL stars (e.g., Tony Amonte, Chris Pronger and Mike Modano, who of course have lots of time on their hands to go through multiple takes and poses), are scheduled to burst on the scene early next year. The Jofa and Koho brands soon will be history, with Reebok becoming the showcase name in the company's lines.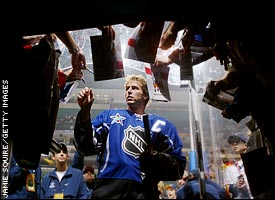 Getty ImagesCan Reebok extend Mike Modano's star power beyond the rink?
Nike has been involved in the sport since 1995, primarily through its absorption of Bauer.
Despite especially Reebok's protestations to the contrary, one can't help but ask: Are we headed for a "shoe war" in hockey?
Let's hope so.
The clash of corporate giants has been a long-running and often garish sideshow in basketball. And it also has become one of the game-within-the-game intrigues in big-money NCAA sports, as universities align themselves with the companies -- for huge prices, of course.
We know, we know. Hockey traditionally has looked down its nose at such absurdity. Both the culture and the code of the sport rejects the sort of egocentric, look-at-me showboating and arrogance that goes hand in hand with the culture that has led to the enrichment of the marquee athletic shoe companies.
Especially in the United States, becoming the "in" athletic brand is more about marketing and pandering to a herd celebrity-driven mindset, than it is about quality. That isn't a knock on the products; it's an acknowledgment of reality, especially in basketball.
In basketball, 12-year-olds on Brooklyn playgrounds don't dream only of that NBA contract, plus the security, riches and toys that come with it; they see the "shoe contract" as validation. LeBron James was a $90 million Nike guy -- at least according to the figures that slipped out as he signed his deal -- before he played a game in the NBA.
But since its forray onto the ice, Nike has taken a lot of heat for not understanding hockey -- and by that, we mean the culture more than the game. Applying the traditional Nike concepts from the mid-'90s on fell flat. Flash, not substance, groused the critics. And even in announcing its upcoming ad campaign and product lines, Reebok/The Hockey Co. proponents have professed to have learned from Nike's "mistakes."
This view is offered with great reluctance, because so much of the modern showboating, showcasing-individuals mentality that turns us off in other sports is truly abominable -- especially because of the trickle-down effect it has on young athletes.
Hockey needs more of it.
Sorry.
Up to a point, it does.
Shove Jarome Iginla and Vincent Lecavalier and Chris Drury and Scott Gomez and Ilya Kovalchuk and all the other young stars, whether Canadian, U.S.-born or European, into the spotlight -- and combat the traditional hockey mentality that seeking attention (at least openly) is a character flaw. Let them not only rush headlong into pursuit of celebrity, let them say what they really think without fear of being stamped as boorish jerks, and let them not be embarrassed if they end up becoming regulars in the pages of "Us" and on "Regis and Kelly."
Let them be part of a Nike and Reebok world, and rather than make those companies tone down their acts to gain acceptance in the hockey world, tell them to bring it on.
One of the reasons the NHL is in the mess it is in is the traditional reluctance -- or even refusal -- by general managers and coaches to promote its stars. They don't encourage others to promote them, either. And the hockey code dictates that blatant self-promotion, arrogance and showmanship are unacceptable.
Right or wrong, Carmelo Anthony was on more billboards in Denver by his 20th birthday than Joe Sakic and Peter Forsberg combined in the Avalanche's first nine years in town. That's because the Avalanche wouldn't stand for promotion of individuals over team. Both those stars not only didn't have a problem with that, they preferred it that way.
As the NHL lockout continues, and the likelihood looms that the game will return only with a redrawn financial order, reassessment of the culture makes sense, too. In the U.S., rinks have gone up in the non-traditional territories, and the ads -- and the shoe-company mentality -- can be targeted for those markets. (The University of Denver, the reigning NCAA champions, have 10 Coloradans on the roster. A decade ago, before the Avalanche's arrival, the Pioneers all were imports.)
But more than that, the NHL needs to tap into the culture of celebrity -- as repugnant as that can seem at times.
So go to it, Reebok and Nike. Lead the way.
Terry Frei is a regular contributor to ESPN.com. He is the author of the recently published "Third Down and a War to Go," and "Horns, Hogs, and Nixon Coming."
ESPN.com contributor
Terry Frei is a regular contributor to ESPN.com. He is the author of "Third Down and a War to Go" and "Horns, Hogs, and Nixon Coming."
EDITORS' PICKS
Hockey Today: Scott Burnside and Pierre LeBrun preview the East.
Hockey Today

LeBrun: Jason Spezza says Stars' offense could be "headache" for foes.
Blog »

Custance: The Bruins are still searching for the right combinations in their top six.
Blog