Rediscovering the game through a winding detour
Originally Published:
December 1, 2004
By
Scott Burnside
| Special to ESPN.com
Swiss Alps, well past midnight, team bus lurching around hairpin curves miles above solid ground, Hollywood movies blare out hard-to-decipher German.
Suddenly it's clear: This isn't the NHL anymore.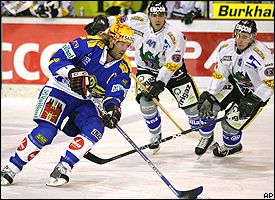 As Davos's leading scorer, Joe Thornton has the honor of wearing a yellow helmet during games.
Later, when the two most famous players on HC Davos uncoil themselves from their seats on the team bus, pull their hockey bags from the luggage compartment beneath the vehicle and hang their still-sweaty equipment in their own dressing room stalls, that notion of being a stranger in a strange land is reinforced.
"I think we get spoiled in the NHL," said Rick Nash, the first player picked in the 2002 draft.
Nash's normal routine with the Columbus Blue Jackets does not include packing his own equipment bag for road trips, carrying it out of the arena or tossing it under the bus.
Teams in the Swiss elite league travel by bus, with some journeys lasting up to 6½ hours. For Nash and Boston Bruins captain Joe Thornton, the experience conjures up memories of their junior hockey days in Ontario. Simpler days to be sure and part of the allure of playing in Switzerland.
"It just brings back a lot of good memories. You get used to it. I certainly don't mind packing and carrying my own bag," said Thornton, the first overall pick in the 1997 draft.
Nash has a collection of English magazines, brought by visiting family and friends, plus his trusty iPod to help pass the time.
"It's tough to sleep. You're driving down the mountain, turning, slowing down and speeding up," Nash said.
Still, when they wake up in the morning they are pleasantly reminded by Der Zauberberg (Magic Mountain) looming above the town that they have chosen wisely a place to wait out the NHL lockout.
"Just the scenery and the views, that's what I'll remember. I think I'll just take a picture of the mountains home with me and that's all I'll need for my memories," said Thornton who said he hasn't ventured onto the slopes. "I've never skied before. I don't think I'll start here."
The history of Davos dates back to 1160, when peasant farmers settled the area. During the mid to late 1800s, the town began establishing its reputation as an international health resort when Dr. Alexander Spengler discovered the restorative effect the mountain air had on tuberculosis patients. Several clinics still exist today.
In 1923, his son, Dr. Carl Spengler, donated a trophy to be contested for by international hockey clubs -- including representatives of Germany and Austria, which had been banned from the International Ice Hockey Federation after World War I -- thus beginning Europe's oldest hockey tournament, the Spengler Cup, which is played in Davos each year between Christmas and New Year's Eve.
The literary world also has found inspiration in Davos. Robert Louis Stevenson, who spent time in the town for health reasons, wrote the final chapters of "Treasure Island" there, and 1929 Nobel Prize winner Thomas Mann set his 1924 novel, "The Magic Mountain," at a sanitarium there.
Also, the town annually plays host to the World Economic Forum.
The year-round population is 13,000, but it swells to 23,000 when the tourist population is taken into consideration -- 23,002 when erstwhile North American hockey stars are counted.
Nash, 20, and Thornton, 25, arrived hours after Thornton's successful turn with Canada at the World Cup of Hockey and literally went straight to the rink.
"We kind of got here and played that night," Nash said. "It was the team's home opener. No practice or anything. And we played the next night, too. It was kind of whirl-wind when we first got here."
The Olympic-size ice surface and playing without the restrictions of the center red line have forced both players to dramatically adjust their style.
"As much as I try to make hits, you get tired skating too much to do it," Nash said.
Still, the players must be doing something to draw the attention of Swiss referees given they lead the team in penalty minutes.
"But we're definitely not over here to pick fights," Nash said. "You're expected to do things that no one else can do. It's tough to meet those expectations, though. These guys are all pros here. These guys are all good hockey players."
HC Davos plays in a stunning wood structure and fans routinely bang drums, whistle and sing throughout games.
| | | |
| --- | --- | --- |
| | " | It definitely took a couple of games to get used to, especially that ugly helmet with the flames. " |
| | | — Joe Thornton |
Given the team's long history, there are ardent Davos fans pretty much everywhere the team travels throughout Switzerland.
"The fans are great. Our games are almost like a European soccer match," Nash said.
And then there's the garish yellow jersey and matching yellow helmet, complete with designer flame motif, that denotes the team's leading scorer. Through most of the season that honor has gone to Thornton, who leads the club with 31 points through 25 games. Nash is second with 27 points -- close but not too close.
"I make sure I stay just behind Joe so I don't have to worry about wearing it," Nash said.
"I've been trying to let him catch me. As soon as I can get it off me I'll be happy," Thornton said of the garish uniform that evokes images of Lance Armstrong and the Tour de France. "It definitely took a couple of games to get used to, especially that ugly helmet with the flames."
Though the two first met when Nash was a 16-year-old playing for the London Knights and Thornton was skating with the team while waiting out a contract dispute with the Bruins, this is the first time the two young stars have spent any significant time together.
During the first 2½ weeks in Davos, Nash lived with Thornton while his own three-bedroom apartment was being readied.
"He's a real great guy, very upbeat and very easy to get along with. I think it was good for the both of us," said Nash, who now occupies the apartment directly below Thornton.
"He's pretty loud. I don't know if he's got parties going on up there or what," Nash joked. "But it's kind of nice to be able to just go up or down the stairs and hang out."
Both Thornton and Nash take pains to stay up on the lockout and both are aware of the negative backlash surrounding players' decision to play in Europe.
"I don't really buy that to be honest with you," Thornton said. "They've opened up an extra import spot here. I play hockey, that's how I make my living. It's no different than anybody else."
"If a Swiss guy's good enough to play in the NHL does that mean he's taking a job from a guy from North America? I don't think so," added Nash.
As for their embracing of the Swiss German dialect that dominates commerce and conversation, let's just say team officials helped getting cable television and telephone hook-ups arranged in the players' apartments.
"There's no way we could have done it ourselves," Nash said. "And we could be in a lot worse places where there's not this much English."
Scott Burnside is a freelance writer based in Atlanta and is a frequent contributor to ESPN.com.
Hockey writer for ESPN.com
10 years at Toronto Sun, Windsor Star and National Post
Wrote best-selling true crime book "Deadly Innocence"
EDITORS' PICKS
Roberto Luongo went from a hospital to the ice on Tuesday, meaning Florida's goaltending coach didn't have to play.
Pucks Central »

Two important trade acquisitions face off when Keith Yandle's Rangers visit Marek Zidlicky's Red Wings.
Strang »

Part II: Which players figure to spend their entire careers with one team? Some answers might surprise you.
Buccigross »
MOST SENT STORIES ON ESPN.COM