Commentary
Is something bothering our gurus about this stretch run?
Editor's note: In our "Friday Faceoff," ESPN.com NHL writer Scott Burnside (based in Atlanta) and Toronto Star columnist and frequent ESPN.com contributor Damien Cox (based in Toronto) duke it out over any given hockey topic. Let the games begin!
This week's topic: Are we seeing the best the NHL has to offer in this current playoff format?
Scott Burnside: Hello, Damien. I trust this finds you well in the land of the Leafs (or is that Leaves?). But some fun battles galore across the NHL landscape. Can't think of a better segue into the playoffs. Or is there something about this stretch run that bugs you, too (not that you're a crotchety sort, but you know, well, you are a bit).
[+] Enlarge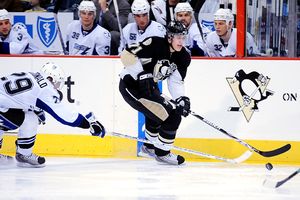 Joseph Sargent/NHLI/Getty ImagesOur gurus believe Evgeni Malkin and the Penguins are a legitimate playoff threat.
Damien Cox: Crotch comments aside, I am intrigued by the races for eighth in the East and West. My question, I guess, would be: Is this enough? In other words, the lack of heightened intrigue over how the teams finish 1-7 seems unfortunate, even if the battle for eighth goes down to the last day.
Burnside: I think that's understandable, though, don't you? If you're talking the drama of getting in or going home, and admitting your entire season was at least, in some regard, a whopping failure, I think that's always going to be more compelling than if you draw the fourth, fifth or sixth seed. I think the Eastern Conference race is the most compelling because a ticket to the dance could be a ticket to the conference finals or Cup finals given the mediocrity in the group. In the West, as interesting as the Oilers' run is, the eighth seed is likely going to get waxed in the first round. Of course, I think I said that back in 2006, too.
Cox: Don't worry, you know I never hold you to your predictions as long as you don't hold me to mine. But couldn't there be a way to introduce more drama to other parts of the standings in the final weeks? I mean, Dallas and Anaheim played Wednesday night, and while it had divisional implications and thus seeding implications, to me, there was no sense of urgency in the result. I've long thought finishing first in the conference, for example, should be worth more than one playoff game against an eighth-place team that might be heading into the postseason on a roll.
Burnside: How would you reward the conference champs? Give them five home games in the first round? Let them choose their opponent? Actually, I think that might have some merit. How do you stand on the whole divisional alignment situation wherein you're going to have Carolina getting home ice for winning the Southeast Division, but likely ending up with a handful of fewer points than the sixth seed, whom the Canes will face in the first round?
Cox: I like five home games. And I don't mind every divisional winner getting a playoff berth, but they shouldn't get the automatic home ice in the first round. I think adding more weight to regular-season results would only make the league more competitive, more drama-filled.
But hey, I've been saying that for a long time. Meanwhile, I do agree both races for eighth are interesting. To me, Philly could get away with missing the postseason, given how much they've improved already and the fact the team chasing the Flyers is last season's Presidents' Trophy winner.
In the West, the Oilers do always make it interesting late, don't they? What's amazing is how they've made it this interesting despite losing Sheldon Souray, Ethan Moreau, Shawn Horcoff and Raffi Torres for the season. Who knew Curtis Glencross was going to be such a valuable midseason pickup?
Burnside: Agreed. As much as I think the Panthers are a blight on the NHL landscape given their record of futility in South Florida, it's been interesting to see them jump back into the fray. They seem to do it every season, but this time seem to be doing it with more purpose. I think the league would benefit from having Alexander Ovechkin and the Caps in, plus it would take away the issue of whether to give Ovechkin the Hart Trophy if Washington doesn't make it. I know we're not talking trophies, but do you think coaches should be considered for the Jack Adams Award if they don't make the playoffs just as players are handicapped if their teams don't make the playoffs?
Cox: Yes. To me, making the playoffs is a minimum for consideration for major awards unless we're talking about some incredible, mind-blowing performance. I mean, you could, in theory, argue that Patrick Kane deserves the Hart because he has been so instrumental in the revitalization of hockey in Chi-town. Or that Ilya Bryzgalov deserves it. But you gotta make the playoffs. Otherwise, to me, it means you just haven't been as valuable, 'cause any team that misses postseason play should deem their season a failure.
Burnside: Yes, as much as there's been great improvement in Phoenix, I think it diminishes what other coaches did if Wayne Gretzky gets on the ballot (although it wouldn't surprise me if he did when the broadcasters have their say), and I think by rewarding only those players/teams/GMs/coaches whose teams make it to the playoffs with the hardware is entirely just. Do you subscribe to the notion that those teams that surge into the playoffs, regardless of where they are in the standings, are more dangerous? Like, say San Jose? Or the team I'm really curious about, Buffalo? They're starting to look like that team that lit it up almost every night for the first two post-lockout seasons and could be a handful no matter who draws them in the playoffs (if they can sneak in).
Cox: Disagree on one of the two. San Jose, to me, looks very, very dangerous now because it appears Brian Campbell was in fact the missing piece that has made everything else on that team work just a little better. Buffalo? So many injuries, and I think making the playoffs has become the goal of its season, like it was for the Islanders a year ago. Anything more than a postseason berth, to me, is gravy in western New York.
Burnside: I think your fear of having to go to Tonawanda at some point during the playoffs has clouded your judgment. But that's what makes the East so interesting. The Sabres could sneak in and play one of four teams at the top: New Jersey, Ottawa, Montreal or Pittsburgh. Even the Rangers have a shot at taking over one of the top two seeds. As of Friday morning, not one Eastern Conference team had secured a playoff berth with fewer than 10 games to play. Go figure. Over in the West, Dallas (figures a team I wrote about a week or so ago) has taken a high dive and now could drop into the bottom half of the conference bracket. So do you have a dark horse to make a move in the final eight or nine games?
Cox: Not allowed to pick the Kings, right? Being in Toronto, it's the bottom half of the standings that have become most interesting. To me, the story to watch might be Pittsburgh, a team that has made incredible strides this season playing without Sidney Crosby. Marc-Andre Fleury has come back at just the right time and they're still waiting for Marian Hossa to have an impact. The Pens could win the East, and wouldn't that be amazing?
Burnside: I think you're right, although until Fleury delivers a playoff-round win, I think the jury is still going to be out on him and Ty Conklin, one of the feel-good stories of the season who seems to have evened out a bit. The team I'm curious about is Boston. Not sure how they've managed to stick around as long as they have. And with Zdeno Chara on the gimp, I wonder if that last regular-season game with Buffalo could be all about who makes it and who doesn't. And if that's the case, a Bruins team that's been long on excuses and short on results for a long time could be in big trouble.
Cox: Talk to me about Calgary. The Flames are a lowly seventh in the West right now, but something tells me that's a team nobody wants to play in the first round. Coach Mike Keenan has the great playoff résumé, and the team has two big-time players in Jarome Iginla and Dion Phaneuf. Calgary might be No. 7 in the West, but I'm not sure Keenan's squad wouldn't be No. 1 in the East.
Burnside: All those Northwest teams, and I now include Edmonton in the mix, are pretty much interchangeable in terms of their long-term playoff potential. I'd be surprised if any of them are around after the second round.
Cox: See, you've been in Atlanta too long and have lost faith that any team can really put it all together when it counts. I believe some teams are better playoff teams than regular-season teams, with Anaheim as a fine example, and we'll see if Calgary follows suit.
Burnside: Now you've done it, you've invoked the shutdown trigger "Atlanta." When the playoff discussion touches on the fair city of Atlanta and its poor hockey team, it's time to shut it down. Until next week?
Cox: I'm sure the Kings will be back in it by then. See ya, pal.
Scott Burnside is the NHL writer for ESPN.com. Damien Cox, a columnist for The Toronto Star, is a regular contributor to ESPN.com. He is the author of "Brodeur: Beyond The Crease" and "'67: The Maple Leafs, Their Sensational Victory, and the End of an Empire."
Hockey writer for ESPN.com
10 years at Toronto Sun, Windsor Star and National Post
Wrote best-selling true crime book "Deadly Innocence"
Damien Cox, a columnist for the Toronto Star, is a regular hockey contributor to ESPN.com. In this role, he writes numerous columns on the NHL.
SPONSORED HEADLINES
MORE NHL HEADLINES
MOST SENT STORIES ON ESPN.COM
EDITORS' PICKS
It is time to check the weather in Tampa Bay. Is Steven Stamkos already the face of the Lightning franchise? Or are the heroes of the Cup winning team still on top?
#ESPNplayerNHL »

Highlighting the top potential rookies and sophomores for fantasy purposes in 2014-15.
Allen »

Justin Williams takes a moment to bask in the glory of his achievement.
Map: Following the Cup »