Discussion
How does Gretzky move forward?
Maybe there just is no good way to fire the greatest player of all time.
Maybe that's why Wayne Gretzky suddenly finds himself unemployed; the game's greatest player now suddenly estranged from the game and his reputation, if not in tatters, at least somewhat bruised.
In the wake of Thursday's announcement, it becomes difficult to assess Gretzky's legacy as a coach other than to suggest he is another victim of the mess in the desert that threatens to leave no one unsoiled, ...

Read full story
WAYNE GRETZKY RESIGNS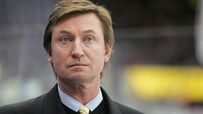 As the Coyotes' bidding war continues, Wayne Gretzky stepped down as coach. Here is reaction to his decision:
NEWS/ANALYSIS
WATCH
Barry Melrose says Gretzky's dislike for controversy led to his decision. Watch