Discussion
How to define 'dynasty' in today's NHL?
CHICAGO -- You might have forgiven long-suffering Chicago Blackhawks fans, confetti still stuck in their hair from the Stanley Cup parade, for staring incredulously when GM Stan Bowman began tossing bodies out of the United Center this summer.
The players' post-Cup parties were just starting to roll across North America and Europe when Bowman, trying to stay ahead of the salary-cap leak that threatened to capsize the Blackhawks vessel, began bailing.
By the ...

Read full story
2010-11 NHL SEASON PREVIEW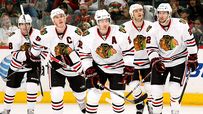 As we count down to opening night on Oct. 7, ESPN.com previews the 2010-11 season:
TEAM PREVIEWS: WESTERN CONFERENCE





•
Watch: Hradek & Barnaby's Central preview





•
Watch: Hradek & Melrose's Northwest preview





•
Watch: Hradek & Barnaby's Pacific preview
TEAM PREVIEWS: EASTERN CONFERENCE





•
Watch: Hradek & Barnaby's Atlantic preview





•
Watch: Hradek & Barnaby's Northeast preview





•
Watch: Hradek & Melrose's Southeast preview
Northeast Division:
Coming Friday
Atlantic Division:
Coming Monday
FEATURES
FANTASY/INSIDER
COUCH SESSIONS
The NHL's biggest stars talked to ESPN.com about the new season. Watch the series