Discussion
Flyers receive good sign in opener
PITTSBURGH -- The Pittsburgh Penguins' new slogan for their new building is: "Destiny Has A New Home."
The Philadelphia Flyers may have a new slogan for their goaltending situation: "Who The Heck Is Bob The Goaltender?"
That would be rookie netminder Sergei Bobrovsky.
Let's start with this: You certainly have to love Peter Laviolette's chutzpah.
Instead of playing it safe and starting veteran netminder Brian Boucher in the Flyers' season ...

Read full story
2010-11 NHL SEASON PREVIEW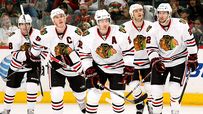 As we count down to opening night on Oct. 7, ESPN.com previews the 2010-11 season:
TEAM PREVIEWS: WESTERN CONFERENCE





•
Watch: Hradek & Barnaby's Central preview





•
Watch: Hradek & Melrose's Northwest preview





•
Watch: Hradek & Barnaby's Pacific preview
TEAM PREVIEWS: EASTERN CONFERENCE





•
Watch: Hradek & Barnaby's Atlantic preview





•
Watch: Hradek & Barnaby's Northeast preview





•
Watch: Hradek & Melrose's Southeast preview
Northeast Division:
Coming Friday
Atlantic Division:
Coming Monday
FEATURES
FANTASY/INSIDER
COUCH SESSIONS
The NHL's biggest stars talked to ESPN.com about the new season. Watch the series