Discussion
Mayne Street: Alex Ovechkin
Kenny Mayne chats with the Washington Capitals star
Updated:
December 6, 2010, 11:19 AM ET
By
Kenny Mayne
| ESPN The Magazine
KM: You're on the road right now. Are you boring on road trips? Or do you go out and have fun? AO: We go out to restaurants, but it's not fun like at home, when you have friends around. KM: Speaking of home, I saw those pictures of you from last summer. It was like a blend of James Bond and The Hangover. You were shirtless with earmuffs. Unless those were Photoshopped. AO: [Laughter] Yes, maybe it was Photoshopped.
KM: Right. How is life in Washington, D.C.? That's one of our most ...

Read full story
ESPN The Magazine: December 13, 2010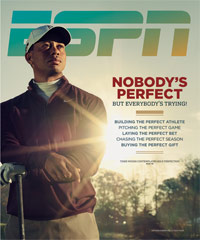 Check out ESPN The Magazine's December 13, 2010 issue -- the Perfect Issue -- below.
Features