Discussion
A little rain won't derail Winter Classic
PITTSBURGH -- As the rain teemed down in the third period of the NHL's fourth Winter Classic on Saturday night and the puck bounced around the rink plunked down in the middle of Heinz Field like a tennis ball on steroids, we were reminded that sometimes you have to choose between the spectacle and the game.
And if spectacle is OK, then the Winter Classic is once again a winner, even if the unusually heavy rain first pushed the start time back seven hours and then stripped the game ...

Read full story
2011 WINTER CLASSIC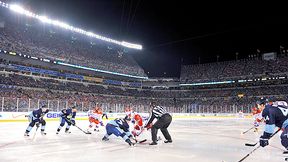 Our gurus recap the 2011 Winter Classic:
CAPITALS 3, PENGUINS 1
LIVE FROM THE WINTER CLASSIC
Steve Levy, Barry Melrose, Scott Burnside and Pierre LeBrun previewed Saturday's game. Check out all the interviews, practice reports, weather updates and answers to your questions.
BONUS COVERAGE