Discussion
First-round breakdown: Bruins-Habs
Didn't you just know these two teams would end up playing each other in the playoffs?
One of the NHL's richest rivalries resumes with Montreal and Boston renewing Original Six hostilities, a history that has produced some of the game's most memorable moments.
From Rocket Richard to Don Cherry to Patrick Roy and Ray Bourque, it's a rivalry with boundless stories.
Thing is, the 2010-11 season series provided ample fireworks on its own.
"You don't ...

Read full story
2011 STANLEY CUP PLAYOFFS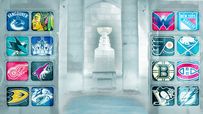 Follow the NHL on ESPN: Twitter / Facebook
EASTERN CONFERENCE
No. 1 Washington vs. No. 8 N.Y. Rangers
No. 2 Philadelphia vs. No. 7 Buffalo
No. 3 Boston vs. No. 6 Montreal
No. 4 Pittsburgh vs. No. 5 Tampa Bay
WESTERN CONFERENCE
No. 1 Vancouver vs. No. 8 Blackhawks
No. 2 San Jose vs. No. 7 Los Angeles
No. 3 Detroit vs. No. 6 Phoenix
No. 4 Anaheim vs. No. 5 Nashville
FIRST ROUND