Discussion
Young D-men thriving on big stage
ARLINGTON, Va. -- At some point, perhaps we'll see some of the baby-faced Washington Capitals display some nerves.
Maybe it will happen Sunday, when the team takes its 2-0 Eastern Conference quarterfinals series lead into Madison Square Garden.
Maybe it will be blown coverage or an ill-advised pass or an ill-timed pinch at the opposing team's blue line. Or maybe not.
While most of the attention in this series has been focused on 23-year-old rookie netminder ...

Read full story
2011 STANLEY CUP PLAYOFFS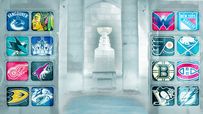 Follow the NHL on ESPN: Twitter / Facebook
EASTERN CONFERENCE
No. 1 Washington vs. No. 8 N.Y. Rangers
No. 2 Philadelphia vs. No. 7 Buffalo
No. 3 Boston vs. No. 6 Montreal
No. 4 Pittsburgh vs. No. 5 Tampa Bay
WESTERN CONFERENCE
No. 1 Vancouver vs. No. 8 Blackhawks
No. 2 San Jose vs. No. 7 Los Angeles
No. 3 Detroit vs. No. 6 Phoenix
No. 4 Anaheim vs. No. 5 Nashville
FIRST ROUND