Discussion
Stunning finish leaves Sharks in lead
LOS ANGELES -- Devin Setoguchi had never heard of the Miracle on Manchester.
That is, until he walked into Staples Center on Tuesday and happened to glance up at the TV in the dressing room.
"It was one of those History Will Be Made commercials by the NHL," Setoguchi said. "When I saw it, I said, 'No way, 5-0? How do you come back from that?' After the second period tonight, it was 5-5, and it kind of ran through my head that it was ironic I saw that ad earlier today."
And ...

Read full story
2011 STANLEY CUP PLAYOFFS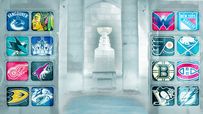 Follow the NHL on ESPN: Twitter / Facebook
EASTERN CONFERENCE
No. 1 Washington vs. No. 8 N.Y. Rangers
No. 2 Philadelphia vs. No. 7 Buffalo
No. 3 Boston vs. No. 6 Montreal
No. 4 Pittsburgh vs. No. 5 Tampa Bay
WESTERN CONFERENCE
No. 1 Vancouver vs. No. 8 Blackhawks
No. 2 San Jose vs. No. 7 Los Angeles
No. 3 Detroit vs. No. 6 Phoenix
No. 4 Anaheim vs. No. 5 Nashville
FIRST ROUND