Edmonton picks WHL's David Musil
Updated:
June 25, 2011, 10:00 PM ET
Associated Press
ST. PAUL, Minn. -- From Saskatchewan to Stockholm, NHL prospects came to the draft, hoping to hear their names called.
Rocco Grimaldi's height made him wait until the second day, but the delay couldn't keep him down.
"I'd heard that I was the wild card of the draft. No one really knew when I was going to go. It depended on if someone wanted to 'take a risk' on a small guy," said Grimaldi, who was selected Saturday with the third pick of the second round, 33rd overall, by the Florida Panthers. "It's crazy."
Grades, top picks for all 30 teams

Gare Joyce and Grant Sonier grade each team's prospect haul and provide analysis. The Wild pleased the home crowd, but the Blackhawks may have had the best draft. Grades



• Burnside: Wrapping up the NHL draft
• Joyce: Intriguing late-round picks


• Blog: Long-term deals moveable?
• Photo blog: Sights from the draft
Grimaldi is a center who scored 34 goals in 50 games last season for the U.S. national development team, a dynamic player committed to the University of North Dakota who has had scouts smiling about his offensive skills.
One problem: He is 5-foot-6.
"It's kind of annoying after a while, but it's also kind of exciting to sit there not knowing what's going to happen next," Grimaldi said. "It keeps you on your toes. I still have to go out and prove people wrong, which I've done my whole life and I'm going to continue to do."
Being small isn't all bad, of course.
"I like to play low, with good balance and a center of gravity. I think it's the perfect height for the way I like to skate and be quick," Grimaldi said. "I think it's a lot harder on the bigger defensemen who have longer legs and can't move as quick as a small guy, so I think it fits my game perfectly. A lot of people have underestimated me, so I like that factor."
Born in Southern California, Grimaldi speaks openly about his Christian beliefs and wants to start a sports-related church some day. He has a favorite Bible verse stitched to one of his shoes that fits his situation well: the story of David and Goliath.
"The verse goes, 'The Lord looks at the heart, not as man does,' " Grimaldi said.
Panthers general manager Dale Tallon was plenty excited.
"We're in the entertainment business, too, and I like watching good players play at the ultimate level," Tallon said. "He gives it all every shift. He's got skill, speed, and he's got tremendous competition."
2011 NHL Lottery Picks
The Oilers selected center Ryan Nugent-Hopkins with the No. 1 overall pick in Friday's NHL entry draft.
Pk
Tm
Player
Position/League
1
EDM
Ryan Nugent-Hopkins
C, Red Deer (WHL)
2
COL
Gabriel Landeskog
LW, Kitchener (OHL)
3
FLA
Jonathan Huberdeau
C, Saint John (QMJHL)
4
NJ
Adam Larsson
D, Skelleftea (Sweden)
5
NYI
Ryan Stromer
C, Niagara (OHL)
6
OTT
Mika Zibanejad
C, Djurgarden (Sweden-Jr.)
7
WIN
Mark Scheifele
C, Barrie Colts (OHL)
8
PHI
Sean Couturier
C, Drummondville (QMJHL)
9
BOS
Dougie Hamilton
D, Niagara (OHL)
10
MIN
Jonas Brodin
D, Farjestad (Sweden)
11
COL
Duncan Siemens
D, Saskatoon (WHL)
12
CAR
Ryan Murphy
D, Kitchener, (OHL)
13
CAL
Sven Bartschi
LW, Portland (WHL)
14
DAL
Jamie Oleksiak
D, Northeastern (NCAA)

Draft tracker
Two picks before Grimaldi, the Edmonton Oilers continued their reconstruction project by selecting defenseman David Musil to start the second round. Musil had six goals and 19 assists for Vancouver in the Western Hockey League last season.
"Edmonton is a great organization, and I'm really looking forward to going there," Musil said, echoing the sentiment of center Ryan Nugent-Hopkins, the first overall pick Friday.
Musil's father, Frantisek, once played for the Oilers.
The Oilers had three of the first 31 picks and six of the first 92, after taking left wing Taylor Hall first overall last year.
"This is the year where we have some great young talent. We don't necessarily have to place these players on our roster now, but we know now that they're there and they're coming soon," general manager Steve Tambellini said, adding: "We're definitely going in the right direction."
One player the Oilers couldn't secure before leaving Minnesota is Ryan Smyth, Edmonton's former star who could return for a second stint with the club.
The Oilers have been discussing reacquiring the left wing from Los Angeles, but Kings general manager Dean Lombardi told reporters the deal has been held up and complicated by the salary cap. Smyth has reportedly agreed to drop his no-trade clause. Tambellini declined to comment on the potential swap.
There were 33 players taken from the WHL, starting with Nugent-Hopkins, second only to the Ontario Hockey League, which produced 46 picks this year. In the native country category, Canada topped the list, of course, with 79 selections. The United States had 64, and Sweden followed with 28 over the seven-round event.
A record four Swedish players were taken in the top 10, a fitting milestone for a draft held in Minnesota, where Scandinavians are everywhere.
"It's really cool," said defenseman Jonas Brodin, who went to the hometown Wild with the 10th pick Friday.
The Wild kept their fans cheering Saturday by trading their third and fourth-round picks to the Vancouver Canucks and moving into the second round to take left wing Mario Lucia at No. 60. Lucia played at Wayzata High School in the Twin Cities area, and his father Don is head coach at the University of Minnesota.
Though there are different ways to count them, based on birthplaces, sites of their current teams or the states of their formative years, Minnesota essentially produced 14 draft picks, though none in the first round for the first time in 10 years.
Seth Ambroz, the 31st-ranked North American skater by the NHL's Central Scouting Service, had to wait until the fifth round, 128th overall, to hear his name called by Columbus.
Draft Trade Tracker

Want to keep up with every deal? Our NHL Trade Tracker keeps tabs on all of the deals from the 2011 NHL draft. Trade Tracker
The right wing from nearby New Prague told Blue Jackets fans, "Hopefully you got a steal."
With what's considered a weaker-than-average free agent market this year, several trades of significant players took place during the weekend. Tallon's Panthers acquired defenseman Brian Campbell from the Chicago Blackhawks.
"There are a lot of teams looking for the same types of players. I'd rather make sure we have some things done before we get to July 1," Tallon said, adding: "He's a top-four defenseman in the NHL. It was his choice to come to Florida, so that speaks volumes."
The Calgary Flames traded veteran defenseman Robyn Regehr to the Buffalo Sabres in another headliner transaction.

Copyright 2011 by The Associated Press
2011 NHL DRAFT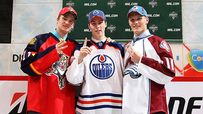 Coverage from the 2011 NHL draft in St. Paul.
Follow the NHL on ESPN: Twitter / Facebook
DAY 2: ROUNDS 2-7
DAY 2: TRADE ANALYSIS
DAY 1: FIRST ROUND
DAY 1: TRADE ANALYSIS
MORE FROM ESPN BOSTON

Want to submit a question for Mike Reiss' weekly Patriots mailbag? Click here and come back every Tuesday around noon for the 'bag.
Latest headlines on ESPNBoston.com:
MORE FROM ESPN DALLAS

Check out ESPN Dallas, the place for your local Dallas sports coverage.
MORE FROM ESPN LOS ANGELES

Check out the new ESPN Los Angeles, the place for your local Los Angeles sports coverage.
MORE FROM ESPN NEW YORK

Check out ESPN New York, your destination for sports coverage in the Big Apple.
MOST SENT STORIES ON ESPN.COM