Commentary
The questions don't always get answered at the draft
OTTAWA -- The road between the draft and the 2009 playoffs is long and filled with unknowns, but each of the 30 NHL teams hopes -- nay, believes -- it has started that journey on the right foot today.
Along the way, that belief will be shattered for many teams. In some cases it will be rewarded beyond the wildest expectations.
Here's a look at the steps -- and missteps -- taken by some of those teams.
Going big
Every year there are a handful of NHL teams that seem to say, "We're going for it and darn the consequences." So far, it appears the
Montreal Canadiens
are that team. T he Habs have received permission from the
Toronto Maple Leafs
to initiate discussions with Toronto captain Mats Sundin's agent, J.P. Barry, about signing a deal. Sundin's intentions aren't known, but by making the pitch, the Canadiens are sending a clear signal to Sundin and other potential free agents that they are intent on taking the next step after finishing first in the East last season.
[+] Enlarge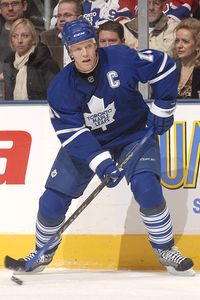 Graig Abel/Getty ImagesSeeing Mats Sundin in a Canadiens jersey would surely send Leafs fans reeling.
GM Bob Gainey added
Alex Tanguay
on Friday in a deal that cost Montreal the 25th overall pick in 2008 and a second-round pick in 2009. It wasn't quite Cliff Fletcher's famous "draft, schmaft" line when he was running the Maple Leafs the first time around, but it certainly suggests the mentality is win now or bust for the Habs, who were upset in the second round of the playoffs by Philadelphia. Tanguay might be rejuvenated by a return to his home province, so with or without Sundin, the Habs look ready to ice one of the most potent offensive teams in the conference next fall. "This is a year for us, and our purposes, where there were some things that we were able to accomplish while we were here," Gainey said. "We'll leave this year's draft with a good feel."
Going boldly forward

Phoenix Coyotes
GM Don Maloney was asked if he thought he might some day look back on this draft as the moment the Coyotes came out of the hockey wilderness (or something to that effect). Maloney won't know for a while, but the Coyotes took bold steps toward taking that difficult jump from improving to arriving: Maloney will likely be in the market for a free-agent defenseman (can anyone say "
Ron Hainsey
"?) to try to fill the void created by the departure of
Keith Ballard
, who was the centerpiece of the deal that brought Olli Jokinen to the desert. The feelings about Jokinen run the gamut from giant underachiever to superstar-in-waiting. One Eastern Conference GM said he doesn't see the big center, who has yet to play in a playoff game after a decade of NHL work, making a difference in the Western Conference, yet there were probably six or eight teams in the hunt for Jokinen's services. The Coyotes hope Jokinen becomes a leader along with Shayne Doan and that he can help take some of the pressure off top prospect and center of the future,
Kyle Turris
. The Coyotes also did their homework in selecting Viktor Tikhonov with the 28th pick to complement skilled Dane Mikkel Boedker, both of whom will bolster the Coyotes' anemic offense. "Our offense dried up on us in the last 30 games," Maloney said of last season.
Jury's still out
If the pressure is on the Coyotes to continue to improve to keep an uncertain fan base interested in the game in the desert, then there is even more pressure on the woeful
Florida Panthers
to show a pulse after making the playoffs just once since 1996. Was Jokinen the bad seed that was hampering development? Can Ballard, gritty and all-character, instill some urgency to the Panthers' dressing room? Rookie GM Jacques Martin had better hope so. Martin still has his work cut out for him. He must re-sign restricted free agent
Jay Bouwmeester
. If he does, the Panthers' defense, which ranked a respectable 14th in goals-against average, should be even more solid. If he can't, Martin will have to make sure he finds top-level talent in return for Bouwmeester's services. And then he's got to hope young forwards
Stephen Weiss
and
Nathan Horton
can fill the void created by Jokinen's departure.
Back in the hunt
A year ago, the
Calgary Flames
looked to be a team that was ready to get back into the Stanley Cup contention game, but turned out to be the same maddeningly inconsistent team they have been since the end of the lockout. The Flames ranked 14th in scoring, and in an effort to change the dynamic, shipped Tanguay to Montreal and brought in Mike Cammalleri from Los Angeles. Cammalleri is two years removed from a 34-goal, 80-point campaign, but look for him to get back to those levels centering a line with Calgary captain
Jarome Iginla
.
[+] Enlarge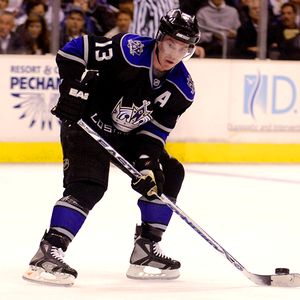 Kirby Lee/Image of Sport/US PRESSWIREMike Cammalleri will be counted on by Calgary to return to his scoring form.
In a Northwest Division that again promises to be achingly tight, the Flames look to be back in the early hunt.
Looking ahead
Speaking of the
Los Angeles Kings
, they added another young gem in defenseman Drew Doughty with the second pick. He'll join a young roster that includes
Jack Johnson
,
Dustin Brown
,
Anze Kopitar
and Patrick O'Sullivan. Kings GM Dean Lombardi had been looking to move Cammalleri for some time and said Saturday it was simply because he didn't think he could keep him beyond next season, when Cammalleri will become an unrestricted free agent. The Kings put
Dan Cloutier
on waivers this weekend before buying out the veteran goaltender, and that position remains a major weak spot for a team that would desperately like to get back in the playoff chase. The Kings haven't been to the postseason since 2002. But if Lombardi has his way -- and having drafted three straight defensemen in Doughty, Colten Teubert with the 13th pick and then Vjateslav Voinov with the 32nd pick -- he will have stockpiled as deep a young defensive contingent as anyone in the league. "I like our chances. We now have a chance to have something down the road," he said.
Jury's still out, Part 2
The Tampa Bay Lightning surprised no one by selecting the stylish Steve Stamkos with the No. 1 pick in the draft. While it's always unwise to expect too much of an 18-year-old, no matter how talented, there will be a nice cushion playing behind another former No. 1 draft pick: Vincent Lecavalier.
Ideally, Stamkos would be playing behind Lecavalier and
Jeff Halpern
but Halpern won't be ready for the start of the season after injuring his knee at the World Championships. Still, the real issue for the Lightning, under new ownership, will be getting Lecavalier to sign a long-term extension. Rumors suggest such a deal could be signed in the coming week. If that's the case, that will take a potentially destructive distraction out of the equation for the Lightning, who haven't won a playoff round since winning the Cup in 2004. They finished 30th a year ago but aren't all that far removed from being a playoff team once again, and having Lecavalier around for the long haul is a major key to that rebound.
Scott Burnside is the NHL writer for ESPN.com.
Hockey writer for ESPN.com
10 years at Toronto Sun, Windsor Star and National Post
Wrote best-selling true crime book "Deadly Innocence"
EDITORS' PICKS
Showdown: The Senators' Andrew Hammond faces off against a Red Wings duo with questions to answer.
Strang »

While it's too late for this season, the Blue Jackets are getting healthy and showing how tough they will be moving forward.
LeBrun »

The ESPN.com NHL crew is here to discuss playoff races, the Presidents' Trophy and more.
Chat replay »
MOST SENT STORIES ON ESPN.COM